Jared Gaither to San Diego Chargers: Deal Analysis, Grade and Twitter Reaction
March 14, 2012
A day after releasing long-time left tackle Marcus McNeil, the San Diego Chargers re-signed Jared Gaither—the team's injury replacement for McNeil last season—to be the Chargers new long-term option charged with protecting the blind side of Philip Rivers. 
Michael Gehlken of the San Diego Union-Tribune reports that the Chargers agreed to re-sign Gaither on a four-year deal Wednesday afternoon.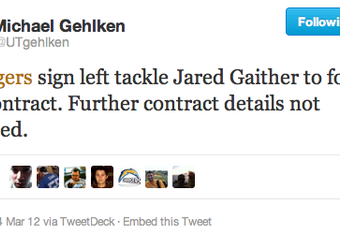 A waiver wire pick up after the Kansas City Chiefs cut him loose during November of last year, Gaither stepped right in for McNeil at left tackle in San Diego and played surprisingly well. McNeil, who has struggled to stay on the field over the last two seasons with knee and neck injuries, was due to make $10.5 million in base salary in 2012—forcing the Chargers to release him and look long and hard at re-signing Gaither.
The Chargers likely weren't expecting for the 6'9", 340-pound Gaither to play as well as he did down the stretch. 
According to Pro Football Focus, Gaither allowed just three quarterback pressures and no sacks or hits on almost 200 pass-blocking snaps. He also had a positive grade in each of the Chargers final five games.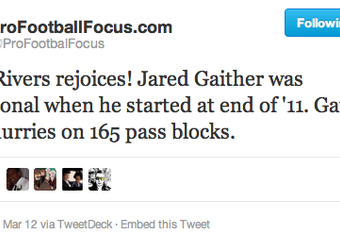 While the talent has always been there for Gaither, there has been serious question marks about his durability. He missed the entire 2010 season with a back injury, and the Baltimore Ravens had enough question marks on him that they allowed Gaither to walk in free agency the next summer. 
If the Chargers can get him to play at level that nears what he brought to end 2011 or in previous years with the Ravens, San Diego will be getting a really good football player at a price that isn't even close to what top left tackles are making.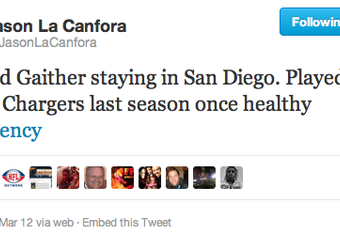 There is still a level of risk in signing Gaither long-term, and you may be hard-pressed to separate the talent levels of Gaither and McNeil given equal medical histories.
But after the Chargers deemed McNeil too much of an injury risk to pay him over $10 million next season, re-signing Gaither was a must-make move. We'll have a better picture of the grade on Gaither's signing once official contract numbers are released, but this looks like a good deal for everyone involved.
Grade: B+