NCAA Tournament 2012: Virginia Commonwealth Rams Scouting Report
March 14, 2012

Andy Lyons/Getty Images
The VCU Rams went on a magical run last year that displayed the full power of March Madness.
Now, the Rams are 28-6 entering the 2012 NCAA Tournament, but their scouting report shows some weaknesses that would lead one to believe they won't repeat last year's success.
VCU Rams Scouting Report
Strengths:
Great defense
Active hands
Good at shooting the three
Can play full-court man D
Good athletic ability
Win turnover battle
Drive-and-kick offense
Great hustle
VCU is doing one thing extremely well that they did last year, and that's play defense. Shaka Smart has been operating the "havoc" defense at a very high level right now. It's an athletic bunch that plays full-court man and has very active hands. They are going to disrupt ball handlers and not allow many open shots.
On offense, the Rams are still utilizing the drive-and-kick to great effectiveness. Despite what the numbers say—33.7 percent from the three—this team can stroke it and will hit open treys. VCU also takes care of the ball and will win the turnover battle almost every game.
The other thing you have to love about this team is that they are going to put up a fight in every game, no matter how much of an underdog they are. VCU showed it last year and is on a mission to try and do it again.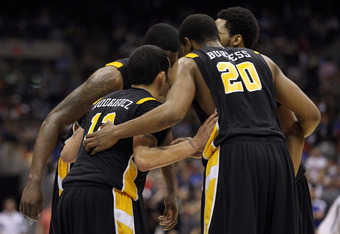 Ronald Martinez/Getty Images
Virginia Commonwealth has another solid team, but they have many more holes than they did last season.
Weaknesses:
Below average post size
Average length
Below average strength of schedule
Struggles rebounding
Foul trouble
Different group from last year
The main weakness for VCU is their size. They do have a seven-footer in D.J. Haley, but he barely plays over 15 minutes a game. They have struggled all year rebounding and it isn't something that's going to get any easier in the top half of the South Region that has Anthony Davis, Royce White, Andre Drummond, Garrett Stutz and Cody Zeller.
The Rams' length is also only average, however it hasn't been a huge weakness so far because they contest shots so well. Against a team like Kentucky with elite length though, it could become a problem.
It's not shocking that a team from the CAA has a below average strength of schedule. The Rams played only three NCAA Tournament teams, and while they did go 3-1, those wins were over Western Kentucky and South Florida, while the loss was against Alabama. This was something they overcome last year though, and the CAA is competitive enough at the top that it is a solid test to just get through that.
Everybody wants to pick VCU because of what they did last season. Folks, this isn't last season. The Rams lost four of their top five leading scorers from last year, including Jamie Skeen, who was their leading scorer and rebounder and Joey Rodriguez, the team's point guard and stat-sheet stuffer who averaged over five assists per game. They have had multiple players step up this year; Bradford Burgess, the lone returner of the top five leading scorers from last year, has played great. It's hard to believe a team with such an overhaul from last year's run is prepared to make another one.
Chances of Winning First Game: 20 Percent
With how much VCU has struggled rebounding this year, getting matched up against the Wichita State Shockers and Garrett Stutz certainly couldn't have been the matchup they hoped for.
Other than the rebounding, this game is going to come down to turnovers. The Shockers are highly efficient on the offensive end whereas the Rams are highly disruptive on defensive. Which strength will win it could be the determining factor to this game.
Wichita State has too much size and has just simply played better than VCU all year. It's hard to believe the Rams will even escape this game.
Chances of Reaching Final Four: 2 Percent
I'm going to put VCU right in line with Iowa State here because Shaka Smart has shown the ability to lead a less-talented team to the Final Four.
If the Rams do manage to make it past Stutz and the Shockers, they are then going to have to get by either Indiana or New Mexico State—two other teams with bigs that can rebound. And then in the Sweet 16, they more than likely would have to play Kentucky. It's a very dangerous road for VCU.
Chances of Winning It All: .1 Percent
What really are the odds of an 12-seed reaching the big game and then finding a way to pull off the victory? They have to be extremely low.
It's tough to complete dismiss VCU as I have seem to have done throughout most of this article, but they were just stuck in a bad region for their playing style. If they had even been in the bottom half of the South Region, I would've given the Rams a better chance to repeat what they did last season. The glass slipper just doesn't seem to fit this Cinderella anymore.