MLB Spring Training Schedule 2012: Rivalries We Can't Wait to See Unfold
March 14, 2012

J. Meric/Getty Images
Basketball is winding down, and Major League Baseball is winding up. We are at the dawn of a new season; in a month full of storylines about everything but baseball. The excitement of October is still far away, but the buzz of a fresh season is underway.
Rivalries have always held an intricate part in the buzz of a baseball season. The New York Yankees and Boston Red Sox may be the most prestigious rivalry in the sport, but other feisty engagements will occur throughout this year.
Fortunately for us, we will get to see a preview of many of these rivalries in the coming weeks during spring training. Here's a preview of the rivalries we can't wait to see unfold.
Buck Showalter vs. Bobby Valentine
These two former ESPN analysts are now managers for opposing clubs in the American League East. Showalter leads the upstart Baltimore Orioles and Valentine will look to right the ship in Boston.
What both of these managers lack is a reserved personality. Showalter ripped Theo Epstein in his first year as manager of the Orioles, something that wasn't taken nicely in the Red Sox clubhouse. 
Valentine is known to be outspoken, bashing the Yankees before he's even won a game as manager of the Red Sox. 
Both managers will have plenty to discuss this year, where they will play 18 times before it's all said and done. They'll meet up three more times in spring training before the regular season commences.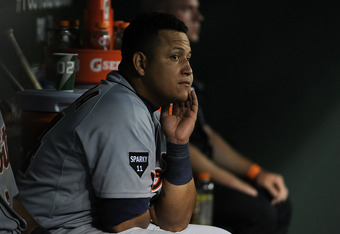 Harry How/Getty Images
Miguel Cabrera vs. Prince Fielder
You had better believe both of these guys will be battling it out as top dog in the Detroit Tigers clubhouse this year. It may not be a public rivalry, but they'll quietly be competing against each other throughout the year.
Both players have hit one home run this spring training, with Cabrera hitting a better average (.364 on 8-of-22 hitting) than Fielder (.211, 7-of-19).
Spring training won't tell the whole tale, though. When Detroit opens against Boston on Thursday, April 5, the real battle will begin. It will be exciting to watch both of these sluggers in 2012.
Ozzie Guillen vs. Everyone
Who won't be against the new Marlins skipper this year? 
He's already tussled with the aforementioned Bobby Valentine, and ejections in spring training don't happen too often. Guillen is a loose cannon and will bring, if nothing else, excitement to South Beach.
The Miami Marlins are looking for a spark, and it's safe to say Guillen will provide that. He speaks his mind with no regard for obscenities or the enemies he's making.
In the National League East, Miami will look to stay relevant with the Atlanta Braves and Philadelphia Phillies. Guillen and the Marlins will play these two powerhouses a combined 36 times in the course of six months, and chances are Guillen won't make any friends in that time.
March Madness takes on a new meaning as we look for these rivalries to heat up. Every team has a clean slate and will look to triumph over their rivals to gain an edge for the postseason.