March Madness 2012 Picks: Upsets You Can Take to the Bank
March 14, 2012
Eric Francis/Getty Images
With 2012 NCAA Tournament games officially underway, it's time for us to take a look at some of the best upset picks to consider when filling out your bracket.
While it's almost considered common knowledge these days to know about the vaunted 5-12 seed upsets, surprises can be found almost anywhere else in the tournament field as well.
After taking an initial look at the bracket, there were several games that shouted "upset" at me. Here are the four most likely second-round upset picks that could have you on the road to winning your office pool. 
12 Long Beach State over 5 New Mexico
The Long Beach State 49ers are one of the sexiest picks of this season's NCAA tournament. They come into the tournament after dominating the Big West Conference all season while playing an extremely tough non-conference slate.
Games against Pittsburgh, North Carolina, Louisville, San Diego State, Kansas, Xavier, and Kansas State have them ready to face the quality of competition that lurks in the field. It is also important to keep in mind that they beat the Panthers and the Musketeers. 
Point guard Casper Ware is a dynamo at 5'11". He averages 17.4 points and 3.3 assists per game, and is the catalyst for the 49ers' tournament hopes. They also have talented veterans in guard Larry Anderson and big man T.J. Robinson.
While New Mexico is also a very dangerous team, the Long Beach State 49ers have the offensive firepower to make a run at the Sweet 16.
14 Belmont over 3 Georgetown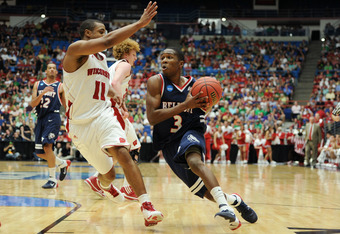 Harry How/Getty Images
The Georgetown Hoyas are a team that have hovered around the national top-25 rankings for a majority of the season. They have a very respectable record of 23-8 as well as a star in center Henry Sims, who fills the box score to the tune of 11.7 points, 6.2 rebounds and 3.5 assists.
However, Belmont is capable of matching Georgetown's personnel, as well as their tournament experience. The Bruins have been to the NCAA tournament in five of the past seven seasons, and they counter with a veteran squad.
The star of their team is Kerron Johnson. The 6'1" junior point guard averages 14.1 points, 5.2 assists and 3.1 rebounds. They also have outside snipers in Ian Clark and Drew Hanlen, as well as senior big men Scott Saunders and Mick Hedgepeth.
I know it's hard to pick a 14 seed over a 3 seed, but if there is ever a year to do it, it's this year.
11 North Carolina State over 6 San Diego State
The San Diego State Aztecs would have been a popular Sweet 16 pick this season, if they hadn't drawn the N.C. State Wolfpack.
The ACC school features one of the most underrated forwards in college basketball in sophomore C.J. Leslie. The 6'8" small forward averages 14.6 points and 7.5 points and is one of the most athletic players in the game.
They also have a future NBA point guard in Lorenzo Brown, who is a stat-stuffer. He averages 12.7 points, 6.4 assists and 4.3 rebounds per game. The 6'5" lead guard also possesses unique size at the position that San Diego State can't match.
While the Aztecs have star sophomore Jamaal Franklin, his scoring outbursts won't be enough to keep the Mountain West team in the tournament.
10 Xavier 7 Notre Dame 
The Musketeers will continue their roller coaster season when they upset the Notre Dame Fighting Irish in the second round of this season's tournament.
Xavier started the season 8-0 after their season-changing brawl in their game against crosstown rival Cincinnati. Since then, it seemed as though the wheels were falling off, and the Musketeers racked up questionable losses followed by surprising wins. 
They have the talent to win a few games in the tournament, with star point guard Tu Holloway leading the charge. They also have junior shooting guard Mark Lyons contributing 15.5 points per game, and Xavier has several athletic players who love to run.
This will create problems for Notre Dame, and they will fall prey to a Xavier team trying to salvage a once very promising season.