Are the 2012 New York Mets That Far from Being Competitive in a Tough NL East?
March 20, 2012

Sarah Glenn/Getty Images
The short answer: Yes.
The correct answer: How far is far?
It's going to be a tough six months for the impatient, win-now Mets fan. For the rational, long-term fan, 2012 will serve as painful prologue for the impending franchise resurrection.
Realistically, the Mets can become a threat in the NL East by 2014. Here's why.
The 2012 season is shaping up to be one of the worst in franchise history. Offensively, the Mets are without former shortstop Jose Reyes and his career average of 113 runs scored per season. No one else on the team scored more than 68 runs in 2011, and the man with 68—Angel Pagan—is now in San Francisco. His replacement, Andres Torres, scored 50 in 112 games last season.
Spending has stopped. The Mets opened 2011 with a payroll that topped $120 million. The 2012 Opening Day roster has not yet been determined, but it most assuredly will be under $100 million. The last time that happened was in 2004, when the Mets finished 71-91, fourth place in the division. 
Starting pitching. There is a dearth of quality big-league starters in the Mets' organization. Johan Santana is back, adding strength (hopefully) to the top of the Mets' rotation. After that, Mike Pelfrey, R.A. Dickey, Jon Niese and a fifth starter (Dillon Gee) will comprise the Mets' rotation. Those four combined for an ERA of 4.22, 123 strikeouts, 59 walks, a WHIP of 1.37 and 9.4 hits per nine innings last season.
Those composite numbers would have produced a starting pitcher with a WAR of 2.3, 34th in the NL, right between Pittsburgh's Charlie Morton and Cincinnati's Mike Leake.
The 2011 Mets surrendered 24 more runs than they scored. In 2012, they will be without their best offensive player. That's not an equation conducive to winning baseball at any level.
Now that you're sufficiently depressed, let's look at the other side of the coin. The side that's not quite as gross. Let's look ahead. As general manager Sandy Alderson and "The Dark Knight's" Harvey Dent have said: "The night is darkest just before the dawn."
Minor league pitching. Matt Harvey, Jeurys Familia, Zach Wheeler and Jenrry Mejia stand to be the future arms of the franchise. Mejia got a taste of the bigs in 2010 as a 20-year-old reliever. He posted pedestrian numbers but showed promise with sharp, late movement on his heavy fastball. Coming off elbow injury, the 22-year-old righty has plenty of time to get back into big-league shape.
Harvey was ranked as the No. 54 prospect in all of baseball by Baseball America prior to the 2012 season. Also 22 years old, Harvey finished 2011 in Double-A Binghamton, where he is expected to start this season. Between Single-A and Double-A last season, Harvey made 26 starts, posting an ERA of 3.36, striking out 156 batters and posting a K/9-per-inning average of 10.3.
Joining Harvey in Binghamton will be Familia, another 22-year-old prospect. Familia is entering his fifth professional season and is ranked 89th in MLB.com's Top 100 Prospects rankings. He has a career ERA of 3.37, with a WHIP of 1.28 and averages just shy of nine strikeouts per game.
The Mets' top prospect is Wheeler. Acquired in the 2011 deadline-deal that sent Carlos Beltran to San Francisco, Wheeler is ranked by Baseball America as the 35th-best prospect in the game. He won't turn 22 until May 30 and is already entering his third year of pro baseball. Of the four top pitching prospects, Wheeler is said to have the highest ceiling.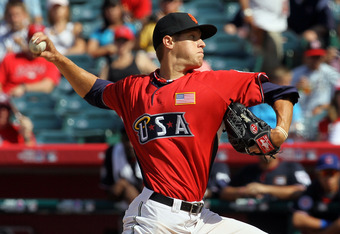 Stephen Dunn/Getty Images
In terms of offense, the Mets are developing a number of potential starting position players. Last year's top draft pick, Brandon Nimmo, fits the mold of a high OBP and quality bat in the outfield. Cesar Puello and Kirk Niuewnhuis could round out the Mets' outfield of the future. The possible future double-play combo of Wilmer Flores and Reese Havens also provides Mets fans with hope.
Taking all this into account, it appears that 2014 offers the earliest possible date for the Mets to compete in a talented NL East. The Phillies will remain strong as long as their rotation includes Roy Halladay, Cliff Lee and Cole Hamels. The Braves were a playoff team in 2011 until the last inning of the last game of the season. The Marlins are now dedicated to spending and boast some impressive offensive talent. Washington is in a similar position as the Mets, with prospects like Bryce Harper and Anthony Rendon waiting in the wings to join Stephen Strasburg and Ryan Zimmerman at the big-league level.
Do you want the good news or bad news first? Well, it doesn't really matter. The good news is also the bad news: 2012 is the bottom. The Mets stock will crash hard. Sounds dreary, I know, but the only way is up from here. Pain will eventually turn into pleasure.
Hopefully.