MLB Free Agents: Every Team's Potential Roster Cut That Would Surprise You
Hunter Martin/Getty Images

They say spring is a time of rebirth and renewal, in baseball and in life. But you know how these life-cycle metaphors work, where there is rebirth there is also death—lots and lots of death.
Percentage-wise, there are bound to be more dreams dashed than fulfilled this spring training, which, as always, will include the dashed dreams of some pretty prominent names.
Too young, too old, too...bad—whatever the reason for the cut, we know they are a-comin'.
So who might find their neck on ye olde chopping block?
Read on for answers, friend. Read on.
Begin Slideshow

»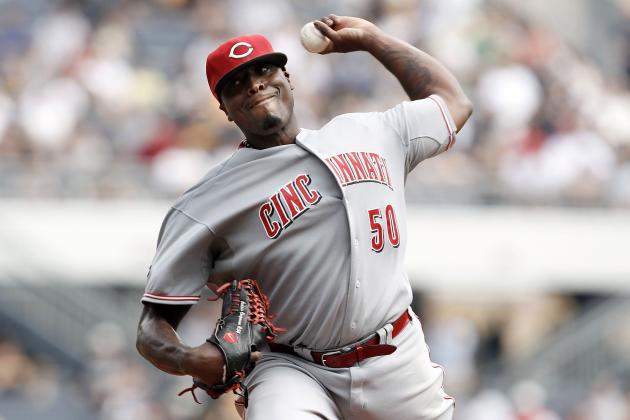 Jared Wickerham/Getty Images

Has the D-Train finally derailed?
Oh gosh, I can't believe I just said that. Ignore me.
Okay, now pay attention to me again.
This offseason, the Phillis signed Dontrelle Willis to a one-year, $850,000 contract in hopes of converting him to a left-handed bullpen specialist.
The maneuver made sense; Willis had proven unfit as a starter over the last five seasons, but, through his struggles, maintained solid numbers against lefties. Besides, he was only 30 years old. His stuff, his age, his peripherals—all of it profiled well for a solid second career out of the 'pen.
Well, you know what they say about the best-laid plans.
Willis allowed five runs in his first 1.2 innings of work and has missed the last week with arm soreness. The Phils want to carry him as their second lefty behind Antonio Bastardo, but Willis hasn't made it easy on them.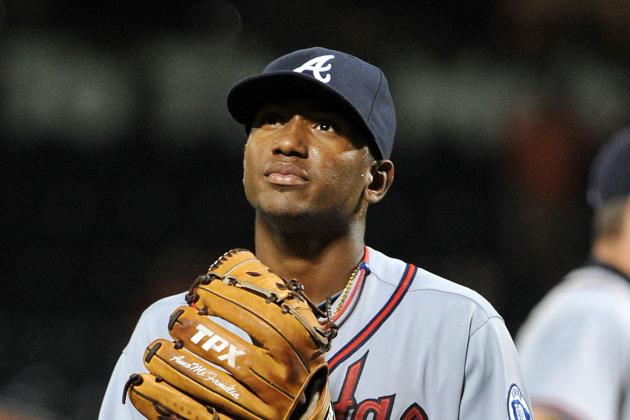 Christopher Pasatieri/Getty Images

The Atlanta Braves have more arms than a Hindu goddess, and at some point you knew one of their bright young pitchers would hit the "cut" list.
However, might they demote the brightest of them all?
Julio Teheran dominated AAA last year at the tender age of 20, in the process becoming baseball's consensus second-best pitching prospect behind Matt Moore. With Tim Hudson's balky back keeping him sidelined for the first month, Teheran was expected to earn a rotation spot.
Then Teheran allowed six home runs over two innings during his first spring outing, and just about every eyebrow in Atlanta went skyward. Could you blame it all on the windy conditions and early season rust, or was the kid showing his colors?
Teheran redeemed himself with a three-inning, one-run outing on March 9, and there's hope that he can make a strong push as the season nears.
Perhaps the best news for Teheran is that his chief competition, fellow top prospect Randall Delgado, has struggled just as mightily in the early going.
Because both have such bright futures, it is unlikely Atlanta would send either to the bullpen. That means the loser will end up on the farm.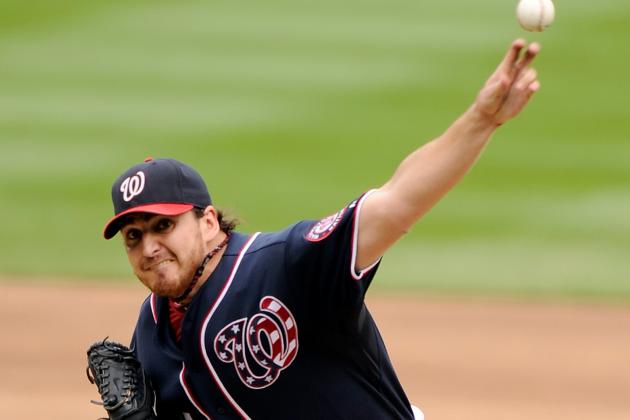 Greg Fiume/Getty Images

After Washington's offseason pitching splurge—which included a trade for Gio Gonzalez and deals for Edwin Jackson and Chien-Ming Wang—lefty John Lannan looks like spare parts.
The team's nominal ace and opening day starter two of the last three seasons, Lannan would need an injury to move into the top five. Even then, it's not clear he would best power southpaw Ross "T.J." Detwiler.
The Nationals options are as follows: trade Lannan, demote Lannan, move Lannan to the 'pen.
I haven't heard even a whisper about the latter option, so let's dismiss that out of hand.
The trade seems like a decent option, but Lannan's $5 million salary is a deterrent for some teams and the Nationals want to ensure they get a good return.
Besides, if they trade him they lose him as an insurance policy. A 27-year-old with 751 career innings and a 4.00 ERA is a mighty good insurance policy.
Which brings us to the possibility of a demotion, a scenario that carries sound logic. Lannan has an option remaining, and would give the Nats a nice safety net if the oft-injuried Wang goes down.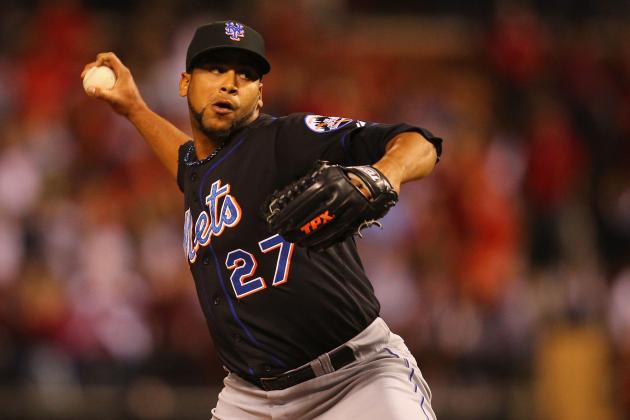 Dilip Vishwanat/Getty Images

The Mets don't have many big names; therefore, no big-name cuts to make.
So Pedro Beato will have to suffice.
The 25-year-old threw 67 innings out of the 'pen last year, but looks unlikely to break camp with the team this spring. The culprit is a combination of performance and injury, and perhaps the two are interrelated.
Beato left a spring appearance with shoulder soreness, and the Mets sent him in for an MRI.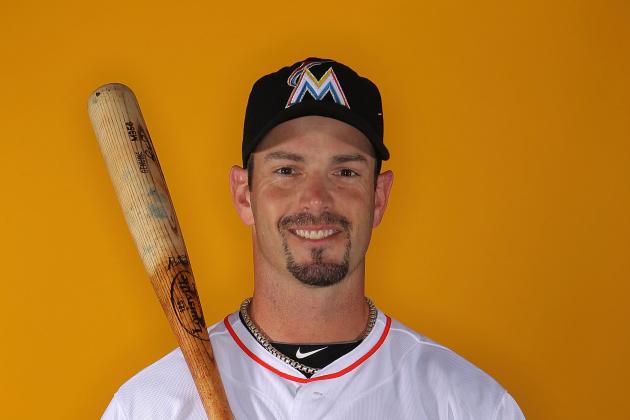 Marc Serota/Getty Images

Aaron Rowand knows new Marlins skipper Ozzie Guillen well from their time together in Chicago, but even an old chum might not be enough to extend Rowand's career.
The veteran is behind Bryan Peterson and Scott Cousins for the fourth and fifth outfield spots, and he hasn't helped his case by going one for his first 17.
At this point in his career, Rowand's only tangible value would be in his bat. If the lumber isn't there, he won't last into April.
Another name to watch: Chris Coghlan. The former Rookie of the Year continues to struggle just three years after his breakout campaign.
Rich Pilling/Getty Images

Conventional wisdom holds that the Milwaukee Brewers should carry two shortstops on their opening day roster, in which case Cesar Izturis would back-up starter Alex Gonzalez.
However, conventional wisdom is totally overrated. Didn't you watch Moneyball?
Izturis has struggled in the field and at the plate early in Cactus League play, begging the following question: Will Milwaukee really put this guy on the roster?
Probably. But they could save an extra spot for Travis Ishikawa, Taylor Green or Brooks Conrad if Izturis doesn't look up to the task.
Izturis' best weapon might be Gonzalez's age. Milwaukee won't want to enter the season without a natural replacement for its 35-year-old shortstop if it can be helped.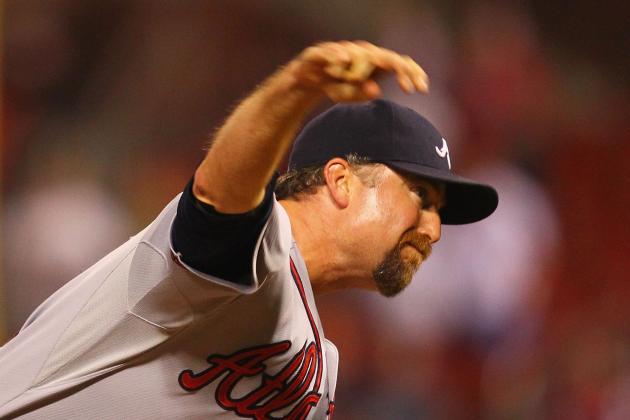 Dilip Vishwanat/Getty Images

Scott Linebrink was a hero in St. Louis before he ever threw a pitch in Cardinal red.
As a reliever for the Braves last year, Linebrink allowed the 13th-inning infield single to Hunter Pence that would seal Atlanta's collapse and springboard St. Louis to their World Series run.
Now he's in Cardinal camp on a minor league deal, hoping to thrill St. Louisans by some method other than schadenfreude.
And the early results are good. Linebrink, who posted a 3.64 ERA in 54.1 innings last year, hasn't allowed a run this spring.
Of course that guarantees nothing when you're 35 and not on the major league roster.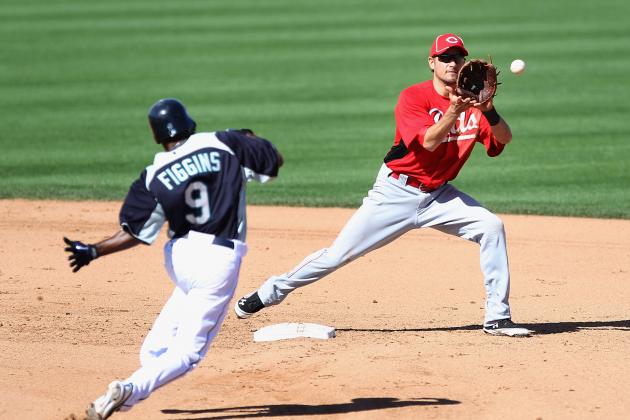 Christian Petersen/Getty Images

This time last year, the Reds entrusted Paul Janish with the starting shortstop job.
He didn't take the promotion well, hitting just .214 over a career-high 336 at-bats.
So the Reds moved on, slotting prospect Zach Cozart into the everyday lineup and pitting Janish against veteran utility man Wilson Valdez in a battle for backup duties.
Janish will have to prove he's better than his 3-for-17 start to spring training, or else his four-year run in Cincy will come to a swift end.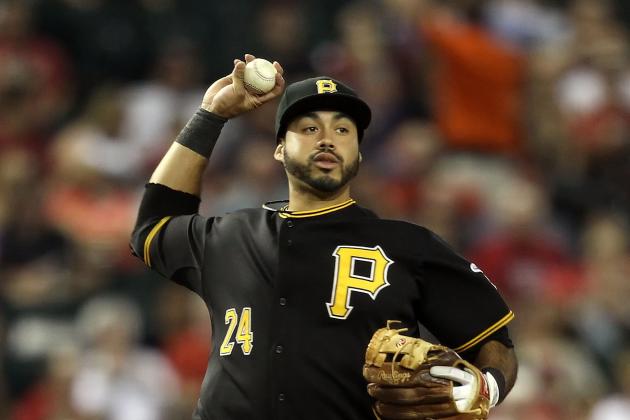 Christian Petersen/Getty Images

Once dubbed a can't-miss prospect and the future face of the franchise, Pedro Alvarez's long-term viability as a major league hitter has been a cause of growing concern within the Pirates organization.
His power remains without question, but his contact rates are so atrocious that he's a long shot to hit even .240.
After bringing in Casey McGahee from the Brewers this offseason, there is the distinct possibility that they start Alvarez in AAA and try to iron out the persistent kinks that seem to have capped his potential.
Or he could end up as the starter.
That spectrum of possibilities reflects Alvarez's potential, track record and the gulf between the two.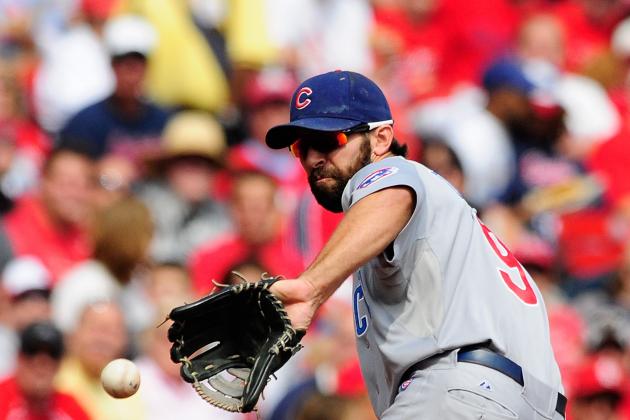 Jeff Curry/Getty Images

It's been a strange offseason for Blake DeWitt.
First, he agreed to an arbitration offer from the Cubs that would pay him $1.1 million for the 2012 season. Then the Cubs removed him from the 40-man roster in order to pick up fellow infielder Adrian Cardenas.
After some consternation, DeWitt accepted the assignment and now arrives in Cubs camp battling for the backup second base job.
At one time, the Dodgers were cautiously optimistic that their first-round pick from 2004 would develop into an everyday player. Now, at 26, DeWitt only hopes for a trip up north.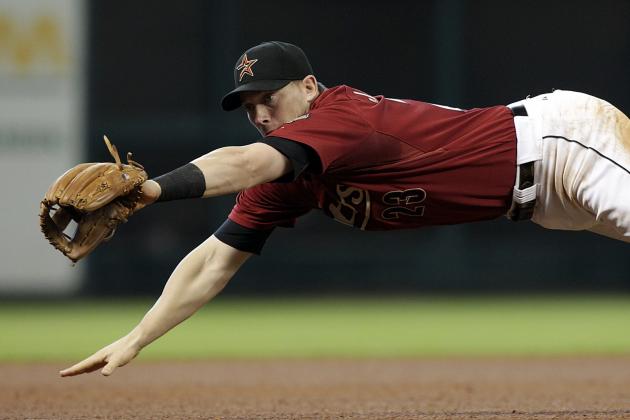 Bob Levey/Getty Images

Chris Johnson opened last year as Houston's everyday third baseman, but a disappointing campaign—even by Houston Astro standards—saw him slide to the bench and, eventually, AAA.
This year, he's up against a crowd at the hot corner that includes returning starter Jimmy Paredes, converted first baseman Brett Wallace and Matt Downs. Johnson is also trying his hand at first base in the hope that versatility may help his cause.
Johnson is 27—old by this franchise's standards—so he'll have to prove he can help this year in order to earn a roster spot.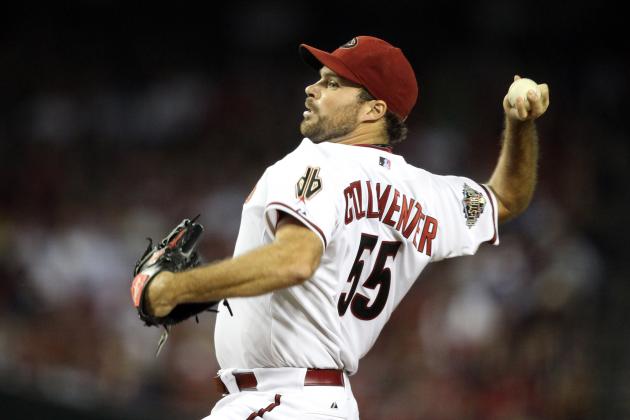 Christian Petersen/Getty Images

This has nothing to do with Josh Collmenter.
Okay, it has a little bit to do with Josh Collmenter since the guy might lose his job.
But really, this slide is about Trevor Bauer.
The third overall pick in the 2011 draft draws constant comparisons to Tim Lincecum for his funky delivery, offbeat training methods and dominant stuff. Early returns on the UCLA product have only emboldened those who would compare the two.
Bauer has been, as they say, dirty.
With just 25.2 minor league innings in his rear view, he will have to be near flawless to earn a spot in the April rotation. If he is, however, Josh Collmenter is the likely fall man.
Again, this has nothing to do with Collmenter.
The 26-year-old has exceeded expectations at every level, particularly last year when he finished fifth in Rookie of the Year voting and shut down Milwaukee's vaunted line-up in an NLDS elimination game.
This is about transcendent talent, and how long Arizona can bite their knuckles before letting that talent loose on the baseball world.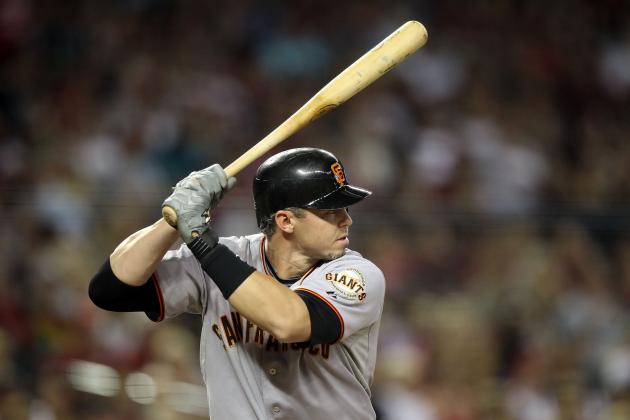 Christian Petersen/Getty Images

The San Francisco Giants have more riding on this question than just about any other team: Who's your back up catcher?
For the past three seasons, it's been Eli Whiteside, he of the career 67 OPS+. With Buster Posey on the mend and likely to see time at first base, can San Francisco stomach the prospect of Whiteside getting 175 ABs?
Enter Hector Sanchez, the switch-hitting 22-year-old turning heads in big league camp. Sanchez has just 153 at-bats above high A (excluding a brief MLB cameo last year), but he has far more offensive potential than the known-commodity Whiteside.
Even if he hits a modest .240 with 10 home runs, Sanchez gives you far more value than Whiteside. In that scenario, San Fran can afford to give a recovering Posey more rest in the season's dog day.
Measure that against the possibility that a backup gig stunts Sanchez's growth. Sanchez has everyday potential, Whiteside does not. Regular starts at AA would probably do Sanchez well.
It all makes for a fascinating subplot as the season winds toward April.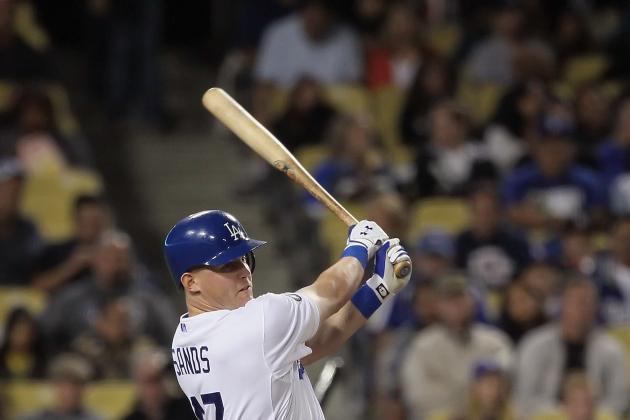 Jeff Gross/Getty Images

High hopes for outfield prospect Jerry Sands went unfulfilled in his 61-game MLB audition last year. Most discouraging was the .136 ISO from a player who hit a home run every 13.8 at-bats in the minor league.
The disappointment seems to have followed Sands into spring training this year, where his roster spot grows more and more tenuous with each oh-fer (he's two for 14 this spring).
His struggles have many suggesting that he'd be better served playing regularly in AAA than moonlighting, and scuffling, with the Dodgers.
Christian Petersen/Getty Images

A lot has to happen before the Rockies release Casey Blake, but the storm clouds are gathering.
It starts with Blake's health, a looming question ever since he missed most of last season with a pinched nerve in his neck. He says the neck stiffness that has caused him to miss a good chunk of spring training is unrelated, but that's a hard sell.
Then there's his play when he is on the field. An 0-for-9 start raises serious questions about his usefulness as an everyday player.
Complicating matters further is the stellar play of Brandon Wood, a one-time top-10 prospect who has opened eyes with re-tooled swing.
Whoever wins the job is merely keeping things warm for ace farmhand Nolan Arenado, so this is really a matter of what Colorado wants to do in the meantime.
Would they rather see what they have in a potential-laden Wood or watch Blake limp through his 14th big league season?
You can see my bias in the question, but the premise still stands. No one has called for Blake's head yet, but it's a situation to monitor as spring progresses.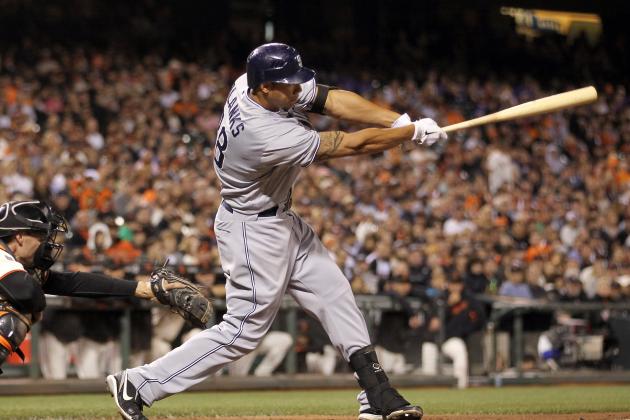 Ezra Shaw/Getty Images

Kyle Blanks is a big boy with a big problem.
In his three-year quest for regular playing time, the 6'6", 270 pound corner outfielder seems to have met a dead end. Free agent Carlos Quetin blocks him in left, Will Venable mans right and utility man Jesus Guzman mirrors all of his defensive capabilities as a bench player (and then some).
That leaves Blanks without an obvious claim to a roster spot, and perhaps on his way back to AAA. It's a shame given his minor league numbers and clear power potential, but there is no natural fit for him in San Diego.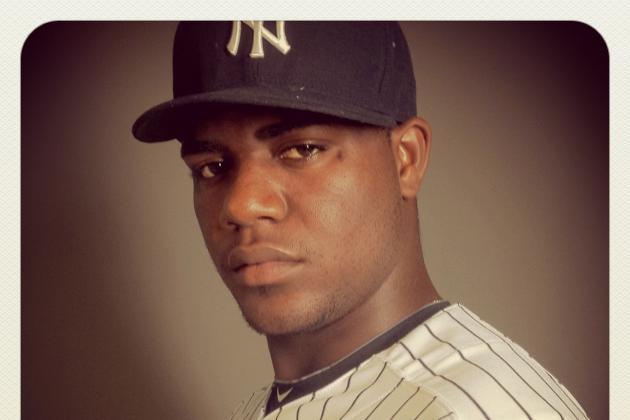 Nick Laham/Getty Images

This, of course, would be huge, but it isn't out of nowhere.
Michael Pineda was the crown jewel of New York's offseason, a 6'7" power arm coming off a promising rookie campaign. Initial projections slotted him as high as number two in the 2012 rotation.
When he arrived at camp overweight and missing a few ticks on his fastball it was cause for mild concern—which in New York terms means an absolute freakout.
PINEDA IS BROKEN!!!!
Once the panic set in, there were hints from the media and from within the organization that Pineda might start the year in Triple-A. My personal favorite was Jeff Sullivan's tongue-in-cheek conspiracy theory that the Bombers would demote him in order to gain an extra year of team control.
Pineda, for his part, seemed overwhelmed by the reaction, further reason to send his behind packing. We were spiraling, it seemed, toward a dramatic thumbs-up-thumbs-down conclusion.
Then Freddy Garcia hurt hisself and rendered everything moot.
If Garcia recovers, however, and Pineda continues to struggle, and the moon is in the seventh house...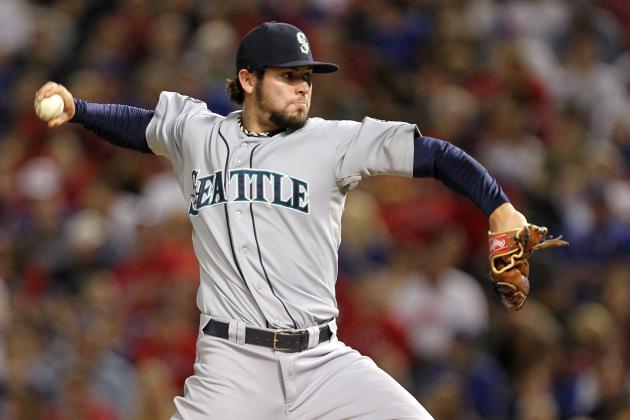 Ronald Martinez/Getty Images

The most intriguing storyline in Rays camp is the battle for the fifth rotation spot between Jeff Niemann and Wade Davis. But with the loser likely headed to the bullpen, a potential cut isn't in the cards.
Same goes for the shortstop showdown between Sean Rodriguez and Reid Brignac.
Which brings us all the way to the back of the 'pen, and promising righty Josh Lueke. The Rays landed Lueke in an offseason trade and he has the stuff to contribute right away.
As ESPNFlorida's Tommy Rancel writes, Lueke's problem is a low-base salary and minor league options that will incentivize the Rays keeping him in Triple-A.
In which case, Lueke wouldn't be the first talented Tampa hurler to run up against the Rays' frugal ways.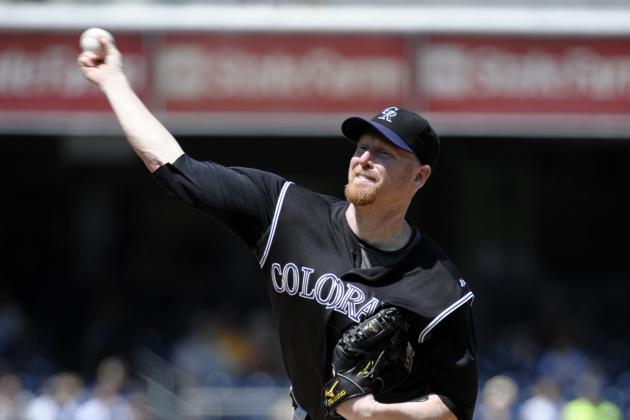 Denis Poroy/Getty Images

Some combination of trade and injury will eventually inject clarity into the Red Sox rotation quagmire.
For now we know that Boston has a slew of potential starters in camp, and only five them will see April. So while there will be many odd men out, one of the safer bets to break bread in Triple-A is long-time Rockies warhorse Aaron Cook.
Cook's recovery from lingering shoulder woes has been slow, and it doesn't look like he'll be able to prove enough this March to lock down a spot. If all goes well in Pawtuckett he could see action at Fenway later this year, but judgment will have to wait.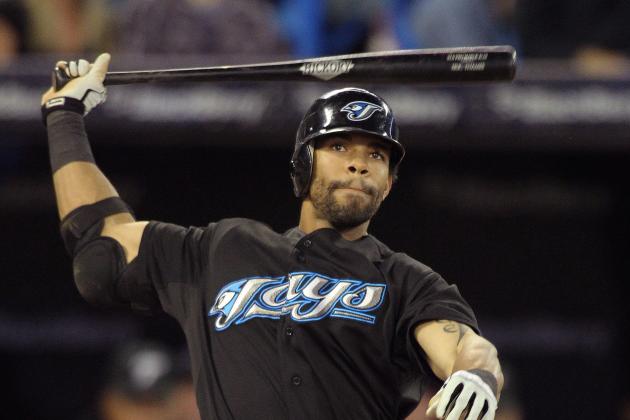 Claus Andersen/Getty Images

According to Richard Griffin of the Toronto Star, the Blue Jays left field battle is a winner-take-all affair.
The combatants are Travis Snider and Eric Thames, the former a first-round pick looking for a long-awaited breakthrough and the latter a stealth product that showed big pop in a big-league audition last year.
The loser, Griffin says, will head to Triple-A for regular at-bats. The winner will play every day, unencumbered.
So far—Snider, with a team-leading three home runs—has the edge. But Thames isn't far behind, and much can change in the month's back half.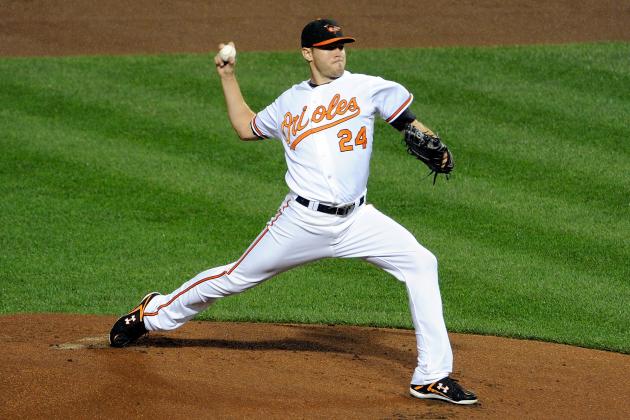 Greg Fiume/Getty Images

It's as if Chris Tillman is playing a game—how fast can a right-handed power arm with all the measurables fall out of favor with the club that drafted him?*
Apparently, pretty dang fast.
Despite being given every chance to seize a rotation spot, Tillman hasn't looked comfortable in any of his three big-league seasons. Now he's a long-shot to make the senior club, stranded behind fellow prospects (Zach Britton) and hired hands (Tsuyoshi Wada).
It's crazy to think that the pitching-poor O's don't have room for a 23-year-old that can throw 95, but that's just how discouraging Tillman's performances have been. Even his most recent outing—a three-inning, no-run relief appearance against the Red Sox—doesn't look like it'll be enough to save him.
*Reader Robby R correctly notes that the Orioles did not draft Tillman. Baltimore received him from Seattle in the Erik Bedard trade.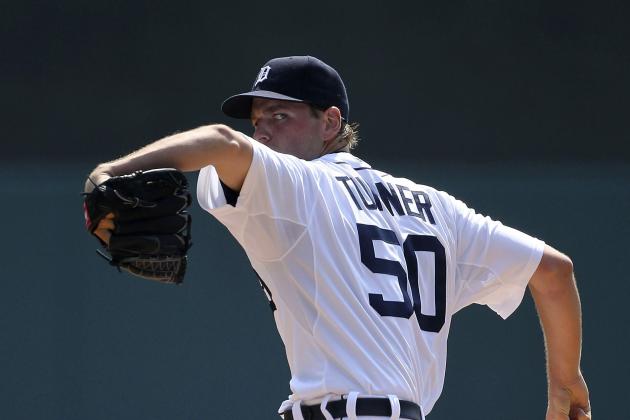 Leon Halip/Getty Images

I would imagine most Tigers fans are pulling for top prospect Jacob Turner this spring in his quest for the fifth rotation spot.
A solid innings-eater is nice, but a 20-year-old wunderkind like Turner fires up the imagination. What fan wouldn't want ace potential at the back of the rotation?
But for now it looks like the fans, the Tigers and Turner will have to wait.
Turner looked out of sorts early in camp and—surprise, surprise—the root cause appears to be injury. Diagnosed as shoulder tendinitis, Turner will miss the next week and resume pitching only if the Tigers feel he is totally pain free.
The lost time, no doubt, puts his roster push on the thinnest of thin ice.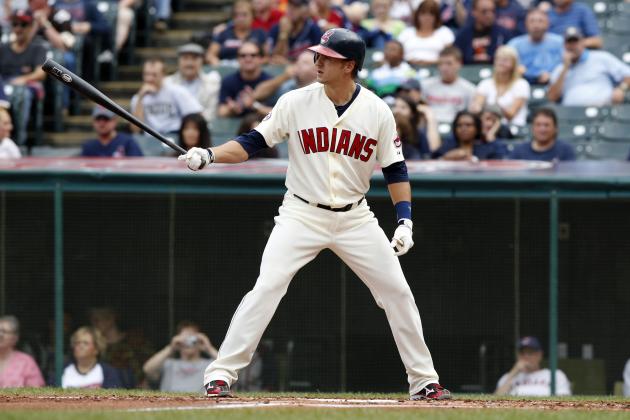 David Maxwell/Getty Images

The Cleveland Indians want Lonnie Chisenhall to win the starting third base job.
He's the guy with the upside, the guy who can lift them past expectations and into a division race with the Tigers. If your looking for growth from a team that went 80-82 last year, you'll find it in a guy like Chisenhall.
That doesn't mean he will win the starting job, though, and as of today he has an identical batting average and two fewer extra base hits than his chief competitor, Jack Hannahan.
If Chisenhall prevails, Hannahan goes to the bench.
If Hannahan prevails, Chisenhall goes to Triple-A. The Tribe won't let him atrophy on the bench with so much potential still untapped.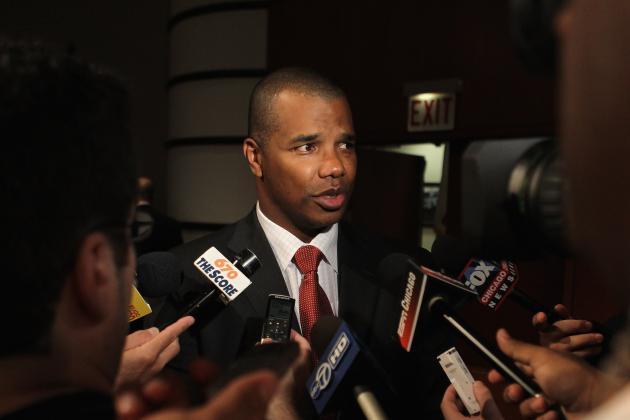 Jonathan Daniel/Getty Images

It's hard to find a potential White Sox roster cut worth mentioning.
All the most prominent disappointments from a year ago—Adam Dunn, Alex Rios and Jake Peavy—have too much money on their contracts to make demotion worthwhile.
Besides, who would replace them? In addition to having one of baseball's worst 25-man rosters, the White Sox have the game's most fallow farm system—and that isn't just me talking, the experts will tell you the same.
For the most part, the Pale Hose will have to go north with what they had last year. That means a chance at redemption for Dunn, Rios, Gordon Beckham, Brent Morel and the like.
In other words, it's gonna be a long summer on the South Side.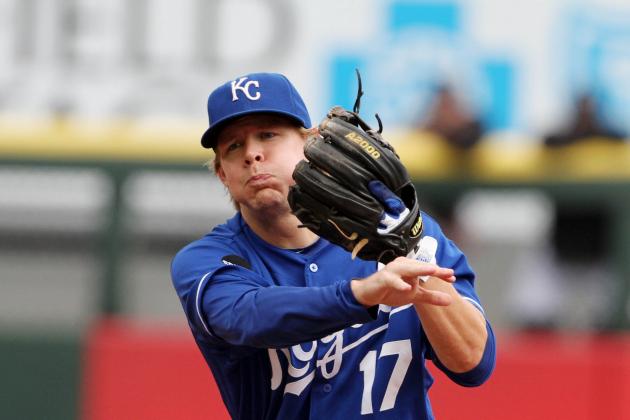 Tasos Katopodis/Getty Images

Middle infield prospect Johnny Giavotella and the well-traveled Chris Getz are locked in an good ol' fashioned position battle.
The winner gets a locker stall, the loser heads to Triple-A Omaha.
Giavotella came into camp as the favorite and has acquitted himself well so far, notching seven hits in his first 23 at bats. With time and potential on his side, Giavotella will be tough to topple.
Getz's best shot is to prove himself in the field, where he is regarded as the better defender. If that discrepancy doesn't reveal itself in abundance, Getz's chances are slim.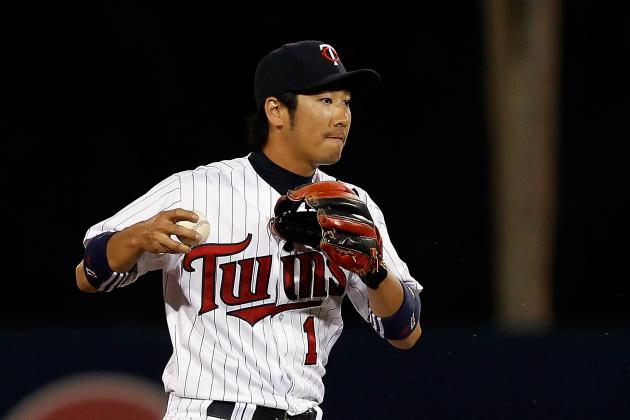 J. Meric/Getty Images

Add Tsuyoshi Nishioka's name to the list of Japanese imports that couldn't hack it stateside.
Even with two years and $6.25 million remaining on a deal he signed last winter, Nishioka's play has folks questioning whether the Twins can even afford to keep him as backup.
Remember, this is a team that lost 99 games last year. The competition isn't fierce and the stakes aren't all that high.
But that's how bad Nishioka has been, and a recent injury to his pinkie only further muddies matters. It's unclear how a demotion to the minor leagues will help him given his age and how bad he's been over his first 240 MLB plate appearances.
Then again, he can't hurt the team from Triple-A.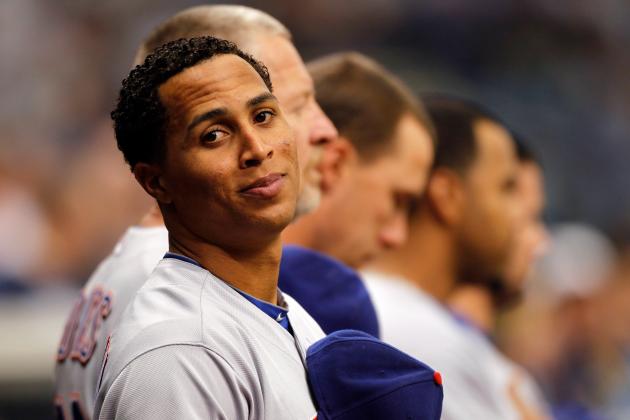 Mike Ehrmann/Getty Images

This won't come as a shock to Rangers fans, but some surely hoped Cuban defector Leonys Martin would get a shot to win the centerfield job.
It looks like that's a non-starter with manager Ron Washington, who says he prefers the guys he had last year.
That is both a reflection of Washington's loyalist tendencies and Martin's inexperience. The speedster might get more leash on developing team, but the fully grown Rangers don't have time for youthful indiscretions.
Now he is still an option 1-A if injury strikes, but until then he'll have to make due at Triple-A.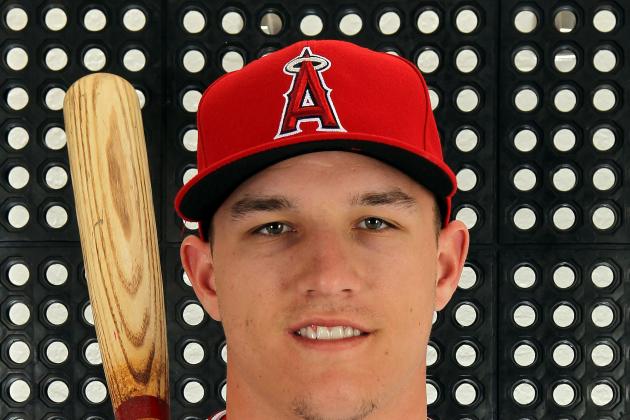 Jamie Squire/Getty Images

Mike Trout's charmed career hit its first bump last year when he struggled in limited major league at bats.
Since then, it's been surprisingly rough sledding. He struggled in the prestigious Arizona Fall League and missed the first half of spring training with a mystery illness.
Now on the verge of his Cactus League debut, one wonders if he'll get the at-bats he needs to force L.A.'s hand. The Angels are set to contend and they might well feel more comfortable with Torii Hunter, Vernon Wells and Peter Bourjos manning in the outfield.
If that's the case, Trout will start the year on the farm. There's no sense in letting Trout collect dust when game action can elevate his long-term prospects.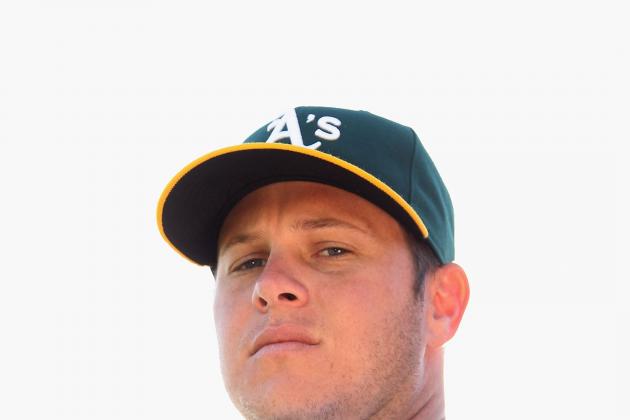 Christian Petersen/Getty Images

None of the cuts should surprise on a team so young, but A's fans probably expected more from Brad Peacock.
The former Nats farmhand has better stuff than fellow import Tom Milone, but his spring has been a disaster. He's allowed five earned runs and seven hits through his first 4.2 innings and can see a rotation spot slipping away with each setback.
The good news is that with such much youth around him, Peacock has a longer leash than most rookies in his positions. The bad news is that he hasn't done much with that leash yet.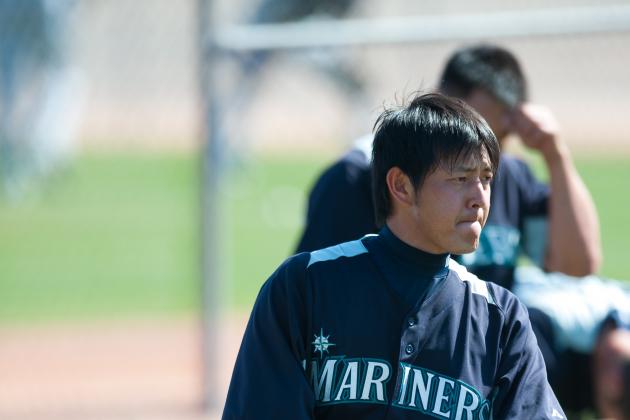 Rob Tringali/Getty Images

Until Seattle's holy trinity of pitching prospects—Taijuan Walker, Danny Hultzen and James Paxton—force promotion, the competition for rotation spots should be fierce, and the door ever revolving.
Potential starters Hector Noesi, Blake Beavan, Charlie Furbush and nonroster invitee Kevin Millwood have all made strong cases for the third through fifth slots. The only outlier is Hisashi Iwakuma, the former Japanese All-Star signed this winter to ostensibly replace Michael Pineda.
He hasn't looked the part so far, struggling through his debut and catching a few breaks en route to a somewhat improved second outing. Iwakuma's contract has just $1.5 million guaranteed, so it would be no great hardship to start him in Triple-A.
That isn't the preferred option—especially with Seattle starting the year in Tokyo—but may be the Mariners' only recourse if Iwakuma can't make a quick adjustment to MLB bats.