NCAA Tournament 2012 Bracket: Powerhouse Matchups You Must See
March 14, 2012

Streeter Lecka/Getty Images
This is what all college fans have been waiting for; the start of March Madness. 
The brackets are set and teams are ready to kick off one of the most exciting tournaments in sports. The thing that makes this tournament stand out is the amount of great matchups featured. 
This year's brackets have made powerhouse matchups possible in each of the four regions. Let's take a look at the best potential matchup in each region. 
Baylor vs. Duke (Sweet Sixteen, South Region)
These two rosters are chock-full of talented players who have been on display throughout the entire season. 
Duke is looking to rebound from a loss in the ACC tournament and get back to the National Championship for the second time in three years. 
Baylor will be looking to take the next step and get themselves in the conversation of one of the elite teams in Division I. 
Missouri vs. Michigan State (Elite Eight, West Region)
Missouri has had a breakout season under new coach Frank Haith, and find themselves on a collision course with Michigan State in the Elite Eight. 
Michigan State rebounded nicely from a rough start to the season, earning a No. 1 seed under coach Tom Izzo.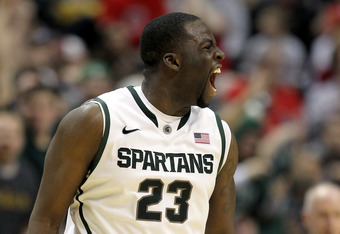 Andy Lyons/Getty Images
While the Spartans may look to be the favorite based on reputation, Missouri has built a program that can compete with the top teams for not just this season, but years to come. 
Ohio State vs. Syracuse (Elite Eight, East Region)
With the recent news that Fab Melo with not play in the NCAA tournament, Syracuse suffered a big blow to their National Championship hopes. 
Ohio State would be looking to capitalize on that in the Elite Eight when the two could potentially face each other in a monster showdown. 
Both rosters are among the most talented in the country, setting the stage for a nail-biting thriller. 
Michigan vs. North Carolina (Sweet Sixteen, Midwest Region)
Sticking with the trend of talented rosters, North Carolina features a well-rounded, talented roster that can do some serious damage in the tournament. 
Michigan is no slouch either. Tim Hardaway Jr. and Trey Burke lead the Wolverines into the tournament playing solid basketball and they have the potential to make some noise. 
Harrison Barnes and North Carolina will have all they can handle in this matchup as Michigan has a stout defensive and timely scoring.