NIT 2012 Bracket: Dark-Horse Teams to Win It All
March 14, 2012

Kevin C. Cox/Getty Images
The 2012 NIT Tournament field contains several dark horse teams that are capable of bringing home the title at the mecca of basketball, Madison Square Garden.
While teams like Seton Hall, Washington, Tennessee and Arizona are all teams that have the firepower to dominate their way through the bracket, there are also several teams lurking in the shadows, ready to take the top seeded teams by storm.
Here are four teams that are capable of winning the 2012 National Invitational Tournament Championship game.
Miami Hurricanes (19-12 , 9-7)
The Hurricanes come into the tournament as a second seed, and a very good second seed at that. In the regular season, they defeated both Duke and Florida State, and they most certainly have the offensive firepower to rip off five straight wins on their way to a championship.
The main reason that this team isn't being talked about right now is because the Hurricanes aren't sure if star guard Durand Scott will be able to play in the tournament. He was declared ineligible last week by the University for accepting impermissible travel benefits. He leads the team in scoring at 12.9 points per game while also contributing 5.4 rebounds and 3.1 assists. 
Even without him, Miami has a powerful lineup starting with Reggie Johnson. The 6'10", 284-pound junior center is an anchor in the middle. He only averages 10.2 points and 7.2 rebounds, but leaves his mark on the game by bullying smaller defenders in the paint.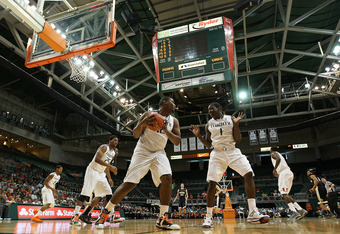 Mike Ehrmann/Getty Images
Senior shooting guard Malcolm Grant is also a valuable asset to his team. He is a strong penetrating guard at 6'1". On the season, he is averaging 11.3 points per game and is capable of getting hot quickly from the outside.
Drexel Dragons (27-6, 16-2)
The Drexel Dragons were one of the most highly contested teams left out of the field of 68. Bruiser Flint's team had won 25 of their last 27 games before falling to Virginia Commonwealth in the Colonial Athletic Conference Championship game by a score of 59-56.
While their lack of quality wins outside of their conference ultimately led to them being left out of the NCAA field, nobody should take this team lightly.
They are an extremely balanced team. They have four players who average at least 10 points per game, and a seven-man rotation of players who log at least 20 minutes of action each night. 
If they can get by Central Florida in their first tournament game, they could be on a collision course to meet Seton Hall in the quarterfinals.
Middle Tennessee State (26-6, 14-2)
The team that was "supposed" to win the Sun Belt Conference and potentially make some noise in the 2012 NCAA Tournament was the Middle Tennessee State Blue Raiders. However, that dream came to an end in the conference semi-finals when they were upset 64-61 by the Arkansas State Red Wolves.
Chris Chambers/Getty Images
The Blue Raiders have already flexed their muscles in the NIT field, beating the Marshall Thundering Herd last night by a score of 86-78. Middle Tennessee State star LaRon Dendy continues to have a standout senior season after posting 18 points and 13 rebounds for his squad in that game.
This is a very balanced, veteran team that is highly capable of winning the title. They also boast wins over power conference schools such as the UCLA Bruins and the 'Ole Miss Rebels.
Saint Joseph's Hawks (20-13, 9-7)
The Atlantic 10 school comes into the tournament as a very quiet number two seed. However, by the looks of their resume, they should be considered one of the better teams in the entire NIT tournament bracket.
They boast wins over the Temple Owls, Creighton Blue Jays and the Villanova Wildcats. They have a dynamite scorer in junior point guard Carl Jones, who averages 16.8 points per game. However, two of their underclassmen are absolute stars.
Sophomore Langston Galloway is a 6'2" scorer who contributes to the box score in a variety of ways for the Hawks. He averages 15.8 points, 4.6 rebounds and 2.3 assists.
Their focal point on the inside is 6'9" sophomore power forward C.J. Aiken. He averages 10.8 points and 5.1 rebounds to go along with his eye-popping 3.6 blocks per game. He is without a doubt one of the best shot-blockers in America, and will be a force to be reckoned with in this tournament.