NFL Free-Agent Rumors: Suitable Landing Spots for Santana Moss If Released
March 14, 2012

Patrick McDermott/Getty Images
It was inevitable that Santana Moss, the Washington Redskins' leading receiver from last season  would eventually be mentioned amongst those possibly exiting the nation's capital with all these new receivers the Redskins have signed.
The Redskins signed in Pierre Garcon and Josh Morgan, bringing their number of receivers under contract to 10. Eddie Royal is still being mentioned as a target for Mike Shanahan's side, which only further pushes Moss out the door.
Despite the fact that Moss is the team's best receiver, he is 33 years of age and is a similar receiver to those who have been signed. Although he was more like Garcon when he was a youngster—electrifying speed but inconsistent hands—he is a lot like Morgan and Royal these days, as he plays the role of possession receiver in Washington.
Moss is a capable No. 1 receiver and would be a better-than-average second choice. There should be a number of suitors seeking his signature if he is released from the Redskins. Here are a few who would be good fits for him.
Rob Carr/Getty Images
Last season, the Texans survived without Andre Johnson making plays outside the numbers for the most part. However, that was more down to the play of their tight ends and running backs than Kevin Walter.
It may be unfair to judge Walter based on last season because of the team's quarterback situation, but Walter has never been a great second option in Houston. He would be an excellent third receiver on the depth chart, however.
Signing Santana Moss would give Matt Schaub one of the better all-around receiving teams in the NFL. Moss would be a good complement to Johnson, while also allowing Walter to move down the depth chart.
The Texans are a team in need of an upgrade at receiver and Moss shouldn't be out of their price range because of his age.
Santana Moss is not going to cost much money no matter where he signs. Considering the Saints lost Robert Meachem to the San Diego Chargers already, the Saints will be looking for some wide receiver depth. Moss is arguably a better player than Meachem, although not the perfect fit in the Saints offense.
Needless to say, I believe Sean Payton and Drew Brees would find a way to get the most out of his talent.
Moss would be accepting a lesser role with a better team for two reasons: He would able to take make use of major matchup advantages against lesser cornerbacks, while also giving himself a chance at being part of a championship team one last time.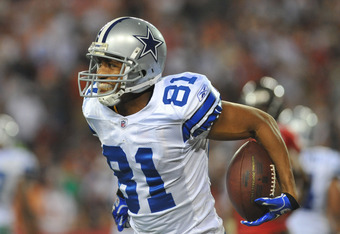 Al Messerschmidt/Getty Images
Laurent Robinson will likely get better offers elsewhere to potentially be a starting receiver, which leaves an opening on the Cowboys' depth chart. As the third receiver behind Miles Austin and Dez Bryant, Moss would be a very reliable outlet for Tony Romo.
Bringing more veteran presence to that offense also helps with a lot of young pieces in place.
Peyton's new place
Wherever Peyton Manning lands, that franchise will need to run an offense that gets the best out of his strengths. There is no doubt that Manning could run any NFL offense—well maybe not the Broncos' option attack—but to actually see his true value, you essentially have to hand him the offense.
At this point in his career, Santana Moss plays a similar role to what Reggie Wayne plays for the Colts. Now that Wayne has re-signed with the Colts, Manning will likely be on the lookout for a replacement receiver who fits his style. Moss can definitely be that guy.
St. Louis Rams
The Rams could use a veteran presence at receiver if Brandon Lloyd leaves in free agency. Moss may not be the explosive piece the team is looking for to stretch the field, but Sam Bradford will be desperate to add another reliable pair of hands to his offense.