NIT 2012: Analyzing the Most Puzzling Results from Day 1
March 14, 2012

Kevin C. Cox/Getty Images
While much of the nation's basketball focus is centered on the NCAA Tournament starting later this week, the National Invitational Tournament features several very talented teams that didn't make the cut for the big dance.
On Tuesday night, the NIT tipped off with nine games taking place across the country, with several teams playing with a chip on their shoulder after feeling snubbed by the NCAA selection committee. 
However, not all teams that were snubbed for the 2012 NCAA Tournament played like tournament caliber teams in their opening round NIT games. Here's a look at the most puzzling results from the tournament so far.

Final - 2OT
5 Massachusetts 101 
4 Mississippi State 96
The Mississippi State Bulldogs were one of the most talked about teams in the country before the season started, and the same can be said when they were left out of the NCAA Tournament field. 
The 2012 season can now be considered a disappointment for head coach Rick Stansbury's club. They end the year with a 21-12 mark, which is extremely poor considering their personnel. When your roster has four NBA-level athletes and you can't even win a first round NIT game, there is definitely something wrong.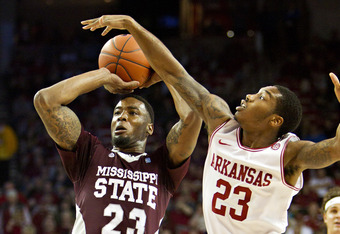 Wesley Hitt/Getty Images
That something seems to be an internal problem between teammates. Former high school star Renardo Sidney has been a problem since he landed at MSU, and hasn't lived up to his enormous talents. While center Arnett Moultrie had a breakout season in Starkville, he ultimately couldn't carry the load by himself. 
Considering that point guard Dee Bost and freshman small forward Rodney Hood are also professional caliber players for Mississippi State, you can't help but wonder what went wrong this season for the Bulldogs.

Final
8 Stony Brook 61
1 Seton Hall 63
The Seton Hall Pirates' early season success was supposed to end in a joyous celebration when the NCAA Tournament brackets were released. After a late season collapse because of many puzzling losses, they found themselves in familiar territory in the NIT.
While they were able to win their first round game against Stony Brook, only winning by two points shows that this team has little to no interest in continuing its season after dealing with the heartbreak of an NCAA snub.
While the Pirates should at least make a championship game run in the tournament, it's hard to tell if they will after their narrow first round escape.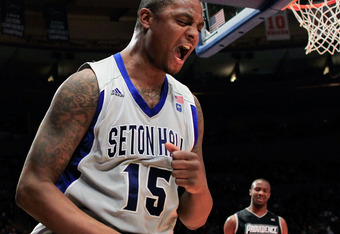 Chris Trotman/Getty Images
2012 All-Big East Third Team forward Herb Pope carried the load for Seton Hall, registering 20 points and nine rebounds, while 2012 All-Big East Second Team point guard Jordan Theodore racked up 21 points and six assists.

Final
8 Savannah State 51
1 Tennessee 65
One of the most intriguing bubble teams this season was the Tennessee Volunteers. While they were 10-6 in Southeastern Conference Play, their overall record was only 18-14, making them a very hard team to gauge.
Wins over Vanderbilt, Connecticut and Florida (twice) gave them several quality wins on the season, but their inconsistency showed with losses to Austin Peay, Georgia and College of Charleston, which ultimately made it hard to include the Volunteers in the NCAA bracket.
Now they seem to be playing like they should have been. Their 14 point opening round win over Savannah State included a big performance from power forward Jarnell Stokes, who had 13 points and five rebounds.
The case of Stokes was also an interesting topic for the selection committee to consider for Tennessee. He enrolled mid-season after graduating high school early and the blue chip prospect has definitely made the Volunteers a much better team.