Fantasy Baseball 2012: Prospects Flying Under the Radar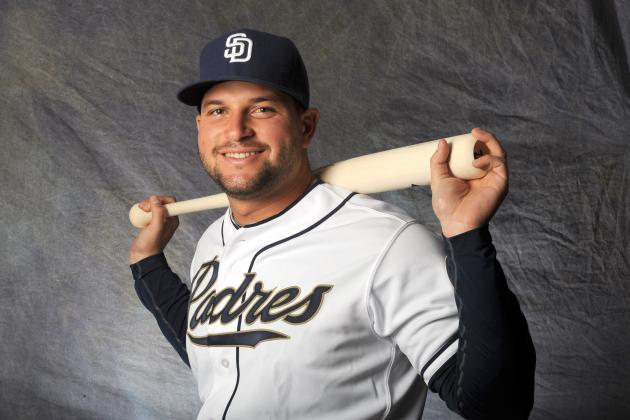 Rich Pilling/Getty Images

Before every fantasy baseball season, there are four or so young players with less than a year of big league experience that the fantasy community just can't stop talking about. This season, I would say the big names are Matt Moore, Bryce Harper, Mike Trout, and Jesus Montero.
It's important to remember that these guys are hyped for a reason, but if you're just not willing to invest a high enough pick in landing a Matt Moore or Bryce Harper and still want to take a chance on a player with big upside, fear not.
You still have options out there.
Here are five guys who just may slip under the radar and pay huge dividends for you at the end of the draft.
Begin Slideshow

»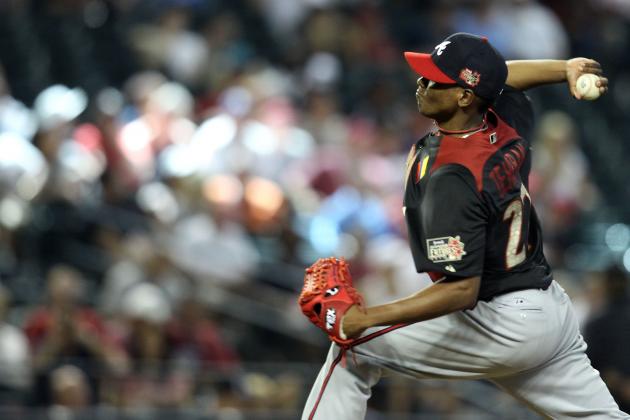 Christian Petersen/Getty Images

Braves pitching prospect Julio Teheran projects to be added to an already stacked Brave's rotation in the near future. In his 19 inning cup of coffee last season with the big club, Teheran was hit or miss in terms of results but showed the skill set that makes him an intriguing player to watch.
Teheran's fastball sits comfortably in the mid 90's with excellent movement and he also features a plus array of breaking pitches.
The results shown in his brief stint in the majors can be easily explained. First and foremost the command that made Julio so effective in the minors was missing as he walked almost four batters per nine innings and gave up almost two HR per nine, another sign that a pitcher is struggling to locate.
In addition, Teheran pitched to contact far more often than he did in the minors. While a regressive is in order once a pitcher begins facing big league talent, cutting their K/9 rate in half is hardly ordinary.
I see Teheran improving these statistics considerably this season and while he isn't ready to head a major league rotation yet, he does have the ability to win 10-12 games on a good team while producing serviceable ratios.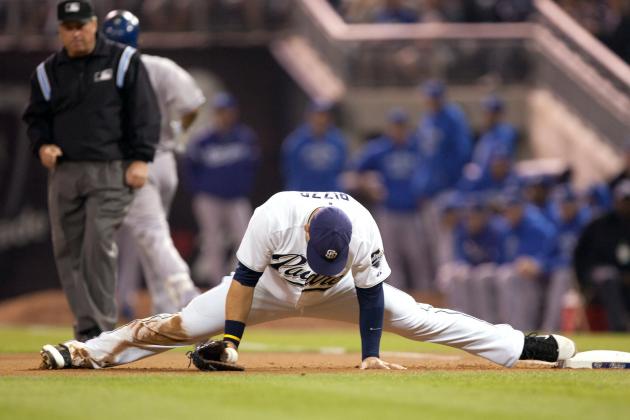 Kent Horner/Getty Images

Theo Epstein wants Anthony Rizzo to be the Cub's everyday first baseman, this much is clear. Whether Rizzo is ready for this challenge is still up for debate.
The most likely scenario has the team starting the year with Brian LaHair at first base. Based on LaHair's production, we may or may not see much of Rizzo this season. However, working in Rizzo's favor is that fact that LaHair is approaching 29 years of age and in two stints in the big leagues has struck out 58 times in 219 at bats while only connecting for 5 career homers.
Based on LaHair's age, the Cub's rebuilding plan, and Rizzo's big upside I wouldn't expect having to endure more than a month of LaHair before Rizzo gets his shot.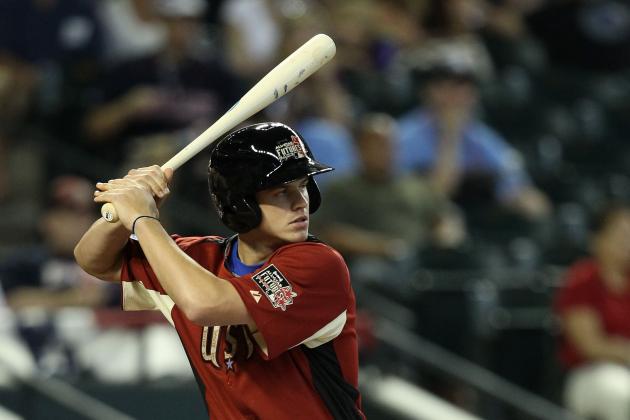 Christian Petersen/Getty Images

Wil Myers is the first of a couple of Kansas City Royals on this list. The first thing to understand is that Myers is still very young at 21 this season, meaning that there is a chance that we won't see him at all this season. However, if you are in the right kind of keeper league, picking him up can pay big dividends down the road.
Myers projects to be a Billy Butler/Mike Sweeney type player with plus plate discipline and above average but not great power. Naturally a catcher, the Royals are exploring ways to fast track this talent to the big league level at another position as they feel his bat is big league ready now.
Like many players his age, Myers' best shot this season will be as a midseason call up, especially if the Royals fall out of contention in the AL Central.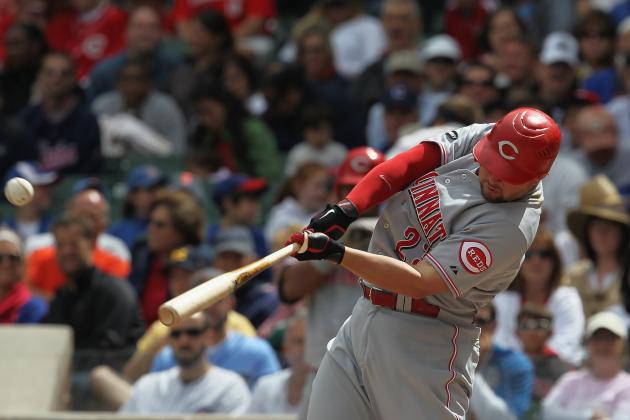 Jonathan Daniel/Getty Images

A hitting machine in the mold of a taller Pablo Sandoval, Yonder Alonso has every opportunity to breakout in a big way this season.
Long the victim of a major roadblock in Cincinnati named Joey Votto, Alonso excelled when given an opportunity to get at bats at the big league level last season, hitting .330 with 5 home runs in only 98 at bats.
Petco park's big dimensions and ocean climate will limit Alonso's HR production this season, but there is absolutely nothing stopping him from posting a Sandoval type first season in the majors.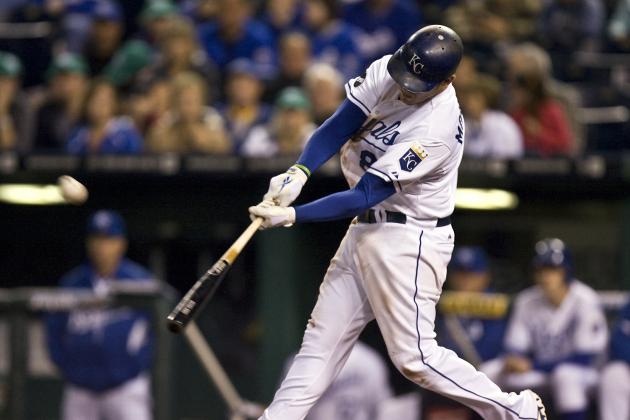 Ed Zurga/Getty Images

Moustakas and Eric Hosmer came through the Royals organization as prospects 1A and 1B and Kansas City has long been envisioning them as cornerstones to their Rays type youth movement.
Of course Hosmer came through in a big way last season, posting numbers equaling the hype. Because of this Moustakas has in some ways become the forgotten man, which is good for you because it may be his turn for a breakout season.
The first thing that jumps out of last year's stat line is that Moustakas has above average plate discipline for a young power hitter, only striking out 51 times in 365 at bats and never having struck out 100 times in a minor league season.
This is important in fantasy terms because it means he projects to hit for a relatively high average and is less likely to go through as many prolonged slumps, common problems for young power hitters.
Secondly, he has historically shown consistent power for his age. Remember that many Major league power hitters do not develop that power until they are a year or two into their big league stints. Young power hitters are more easily evaluated based on doubles. Once the players get stronger around 25-26 years of age, those doubles start going over the wall.
Moustakas had 36 home runs in only 118 games as a 21 year old. The power could be scary good, again without the Brandon Wood-type red flags for contact.
Couple this with the likelihood of a lot of playing time in 2012 and you have the possibility of getting Ryan Zimmerman type production near the end of your draft.
That's a chance worth taking.