Grading the Milwaukee Bucks-Golden State Warriors Trade
March 14, 2012

Ezra Shaw/Getty Images
The trade:
Warriors get: Stephen Jackson and Andrew Bogut
Bucks get: Monta Ellis, Ekpe Udoh and Kwame Brown
Warriors Analysis:
It was beginning to become evident that the Warriors would never become an elite basketball team with two extremely similar players in Monta Ellis and Stephen Curry on the roster (both score-first guards who play very little defense).
The Warriors have been hovering about three or four spots out of the playoff picture in the Western Conference with those two in the backcourt all season long (currently 18-21).
Moving either Ellis or Curry had to become a priority for this team moving forward. Neither Curry nor Ellis can be passed off as a point guard; both are much more effective playing off the ball or creating their own shots instead of setting the ball up for teammates.
I think that a move had to be made.
Trading Ellis, Ekpe Udoh and Kwame Brown for Stephen Jackson and Andrew Bogut, however, doesn't appear to be the right move for Mark Jackson's club.
Stephen Jackson will return to his old stomping grounds with the Warriors, where he was a major component of the No. 8 seed playoff team that shocked the basketball community by ousting the No. 1 seed Dallas Mavericks in 2007.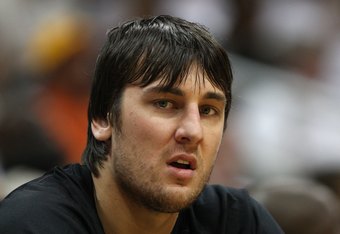 Mike Zarrilli/Getty Images
At the time, Jackson was an elite scorer and leader for a gritty Warriors team. But Jackson is 33 now, certainly past his prime, only averaging 10.5 points, three assists and 3.2 rebounds per game this season.
With that said, he is a veteran player who could mentor the young players on the current Warriors roster (Curry, Klay Thompson, etc.)
Andrew Bogut (the former No. 1 overall pick of the Bucks in 2005) has never been the same following a gruesome elbow injury (note that the link is not for the squeamish) that occurred against the Phoenix Suns during the 2010 season.
Unfortunately for Bogut, the freak accident elbow injury has not been the only occurrence keeping him off the court. He only played in all 82 regular season games during his rookie year, and has only notched over 70 games once since then (in the '07-'08 season).
In 12 games this season and 65 a season ago, Bogut has shot 44.9 percent and 49.5 percent from the field (lackluster numbers for a seven-foot center).
Bogut is also a career 57.4 percent free-throw shooter. He now joins Andris Biedrins on the Warriors making arguably the worst free-throw shooting center tandem ever assembled.
Biedrins is a career 50.7 percent shooter from the charity stripe (including a mind-boggling 14.3 percent this season…14.3 percent!). Statistically speaking if Biedrins were to shoot 100 free throws, he'd only make 14 of them…it might be time for these two to start shooting granny-style.
Bogut may also miss the remainder of the season as a result of the broken ankle he suffered earlier this year. If the Warriors' idea with the trade is to tank the season for a good draft pick, I think they've succeeded.
Closing Thoughts:
Overall I think the Warriors had to move either Ellis or Curry, thus allowing one of the two the freedom to take the reins.
However, I think the Warriors settled by giving up Ellis for an aging Jackson and an injured Bogut…not to mention the fact that they threw in Ekpe Udoh, a young power forward who (though disappointing) still has potential...get ready for the draft lottery, Warriors fans!
Warriors grade: C-
Bucks Analysis:
The Milwaukee Bucks added an elite scorer in Ellis, a young power forward in Udoh and a famous draft bust (but a big body) in Kwame Brown.
Considering the Bucks only had to give up a banged-up Jackson (hamstring) and an even more banged-up Bogut (ankle), I'd say this was a successful trade for Milwaukee.
Chances are good that Bogut may not even see the court again this season, nursing a broken ankle, and Jackson has been a shell of his old self now at 33 years old. Milwaukee (18-24) currently clings to the eighth seed in the Eastern Conference just above the New York Knicks.
In order to make a viable playoff push, the Bucks had to make a move to add more firepower—and they certainly did that by adding Ellis (21.9 points per game).
The emergence of 6'10" power forward Ersan Ilyasova, who was recently named the Eastern Conference player of the week (ironically enough Ellis was the Western Conference player of the week), made moving Bogut an easier pill to swallow.
Udoh, who was drafted sixth overall by the Warriors in 2010, has shown flashes of being a solid NBA player (he posted a line of 19 points, eight rebounds and two blocks against the Los Angeles Clippers earlier this season). Despite a few anomalies, Udoh has been consistently mediocre and still needs to improve his game.
The Bucks will likely have to play a lot of small ball as they make their playoff run, but with Ilyasova, Ellis and Brandon Jennings they undoubtedly have a potent enough offense to do so. It will be interesting to see if Jennings and Ellis can coexist on the court together.
A backcourt of Jennings and Ellis seems as if they could create the same dynamic that occurred between Ellis and Curry in Golden State. The trade may be a signal for Jennings that he does not have to score as much as he used to, and he can embrace his point guard role by setting up Ellis.
Closing Thoughts:
I think this is a great trade for the Bucks, who are looking to make a playoff push. Giving up two players struggling through injury for a bonafide scorer in Ellis, as well as a young power forward with potential in Udoh…I honestly don't see much of a downside.
Bucks grade: A-