Josiah Turner: Will the Arizona Point Guard Ever Return From Suspension?
March 16, 2012

Patrick McDermott/Getty Images
The night after Arizona Wildcats coach Sean Miller announced that freshman starting point guard Josiah Turner's indefinite suspension would continue through the end of the season, Miller's former PG was playing in the 2012 NCAA Tournament.
MoMo Jones, the starter for Arizona's run to the Elite Eight in 2011, was awful for Iona in a play-in game loss to BYU, going 3 of 14 from the floor as the Gaels blew a 15-point halftime lead and were ousted from March Madness.
Jones was also 0-of-6 from three-point range, but at least the junior, who transferred out of Tucson last spring, was in the field of 68.
That's a far healthier situation than Turner's, whose absence was a crucial factor in Arizona missing the NCAA Tournament. He was still not back in action during Arizona's brief NIT showing, which ended Wednesday against Bucknell in Tucson.
Said Miller about the Turner situation, via TucsonCitizen.com: 
I'm not telling any player on our team that he doesn't have the option to come back, but it's more about the path Josiah wants to go from this point forward that will determine whether he's at Arizona or whether he would choose to have a new beginning.
Perhaps the only positive revelation from the NIT blowout was Turner's presence, albeit in street clothes, on the Arizona bench.
Before that, the feeling from Arizona Daily Star columnist Greg Hansen was that Turner was likely gone forever.
Now things appear slightly more undecided.
Turner, a Sacramento, Calif. product who reportedly transferred high schools at least four times in four years, was suspended yet again by Miller just before the start of the Pac-12 Tournament, the second time this season Turner's missed games due to an undisclosed violation of team rules (he also missed a key non-conference road game at Florida, which Arizona lost in OT).
One of the Wildcats' best penetrators, the lack of his presence was noticeable in the Pac-12 tourney title-game loss to Colorado, when Arizona struggled finding points near the basket.
That was really this team's only chance of making the tourney, due to a weak RPI and a devastating late-season loss to ASU.
And without its highly-recruited floor leader, the Arizona rotation was shredded to seven, Turner's replacement, an ineffective Jordin Mayes, still nursing an injured foot.
Turner was expected to step into the Wildcats lineup and claim his slot in the school's lineage of pro-bound point guards.
Instead, he struggled with discipline and at times seemed out of sync with his teammates.
The 19-year-old owns a unique skill set: an outstanding ball-handler with a thick frame, long arms and NBA-level quickness.
But he was a headache for at least one coach in high school, and his reputation in his early college days remains unchanged. Turner also posted underwhelming numbers for a starting PG, averaging just 6.8 points and 2.4 assists.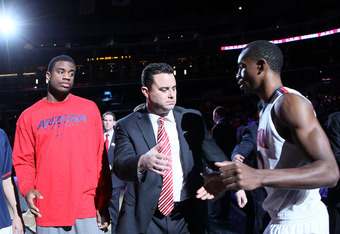 Stephen Dunn/Getty Images
It's frustrating to not have access to the details of the situation regarding Turner's suspension, to make a judgement one way or the other. But that's not going to happen, leaving it up to the fans to believe in Miller's discretion.
In three years, Miller's seen three of his players leave: Daniel Bejarano (Colorado State), Jones (Iona) and Sidiki Johnson (Providence).
Johnson was expected to contribute down low for Arizona this season, the team's main area of weakness. Instead, he was suspended very early in the season.
Unlike Turner, however, Johnson never returned to the Arizona bench during the period when his departure was uncertain. And he was soon gone for good.
Transfers are a way of life for major college hoops programs. Top-rated recruits struggle when not given immediate playing time and without the lack of freedom regarding things like shot totals or practice time.
Bejarano, Jones and Johnson were all almost immediately replaceable.
The main issue with this specific situation is that Arizona will be without a true point guard next year if Turner leaves. Nick Johnson, Mayes and the incoming Gabe York are all combo-guards, far more equipped to score than distribute.
Turner is still a member of the program at the moment.
It's up to him to fulfill whatever Miller's obligations include and then attempt to fulfill his massive potential.