Toronto Maple Leafs: Epic Collapse in Playoff Run Good for Hockey
March 14, 2012

Joel Auerbach/Getty Images
The Toronto Maple Leafs are in a free fall.
The Leafs are 1-8-1 in their last 10 games and, as of last night, are so far out of the final playoff spot that there is little or no chance of them making it back to a postseason position.
And let's face it, watching them self-destruct during the final push to the playoffs has been a delight to most hockey fans.
Up here in Canada, there are two kinds of NHL fans: those who love and adore the Toronto Maple Leafs and those who don't.
Generally speaking, the Leafs fans are either people who currently live in and around Toronto or people who used to live there. These people love the fact that the early game on Saturday's Hockey Night In Canada broadcast is the exclusive domain of the Leafs.
The rest of us would actually like to see one of the other three Eastern Conference teams play once in a while, but instead we get to have the blue and white forced on us week after week.
This might not be such a big deal if the Leafs had won anything in the last 45 years. But they haven't. This team has been a perennial loser since their last Stanley Cup win in 1967, bolstered only by their constant presence in the media.
How bad has this streak been? Since Toronto last won the Cup, a total of 16 teams have taken home the big prize. The Montreal Canadiens, who—even in the midst of their worst season in franchise history—now have a shot at overtaking the Leafs, have won 10 Stanley Cups in that period. Every other Original Six team has won the Cup at least once.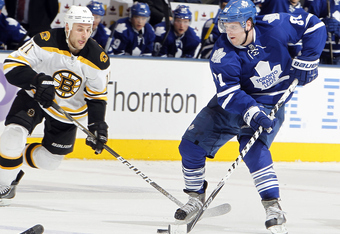 Abelimages/Getty Images
Unremarkable expansion franchises like the Carolina Hurricanes and Anaheim Ducks have managed to win the Cup.
But Toronto continues to fail.
So it was with enormous pride and much ado that Leafs fans made it known at the start of this season that this was the year things were going to change. This was the year the talent on the team would finally carry them to the promised land.
All the artificial hype that surrounds the team season after dismal season would finally be justified.
With stars like Phil Kessel and Joffrey Lupul leading the charge and big Dion Phaneuf returning to his All-Star form, this team was going all the way.
Except now that it counts, they're going nowhere fast.
Kessel is still producing, although the torrid start he had to the season (18 points in his first 10 games) is not there anymore. His eight points in the last 10 games are good, but hardly great. His minus-7 rating during that time is even worse.
Lupul hasn't played since March 6, although he was still producing a point per game up until the injury.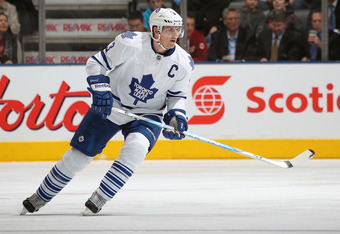 Claus Andersen/Getty Images
But since the Leafs offense depended on big things from both Kessel and Lupul, losing one of them has practically shut the team's scoring down. Last night, the Florida Panthers, with the fourth-worst offense in the NHL, thoroughly dominated the Leafs in a convincing 5-2 victory.
And then there's Dion Phaneuf. All the talent in the world and no idea what to do with it. Like Kessel, he also got off to a solid start, picking up 11 points in the first 10 games to go with some excellent defensive play and a plus-7 rating. Since then, he has added only 20 more points in 60 games and his plus-minus has dropped to a weak minus-6.
The Germans have a word, schadenfreude, which means pleasure derived from someone else's misfortune. Hockey fans around the NHL are feeling this big-time right now, as they watch the much-ballyhooed "Maple Laffs" collapse under the pressure of having to perform when it matters.
Bottom line is that this means hockey is as it should be, with disappointed Toronto fans crying in their beer and everyone else pointing and laughing.
And it sure does feel good.
Follow me on Twitter @calgaryjimbo