2012 NFL Free Agents: G Carl Nicks to Visit Tampa Bay Buccaneers
March 14, 2012

Rick Stewart/Getty Images
Just hours after the Tampa Bay Buccaneers put the pen to paper on a deal for free-agent receiver Vincent Jackson, another big name was on his way to the state of Florida for a visit that may put the Buccaneers in the driver's seat for his services.
Free-agent guard Carl Nicks, who felt spurned by the New Orleans Saints in contract talks and reached free agency without a new deal, was in Tampa Bay Tuesday night to visit with the Bucs exclusively. According to Rick Stroud of the Tampa Bay Times, the Buccaneers will attempt to get Nicks to sign before he leaves the Tampa Bay region.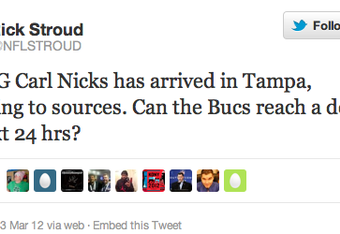 Getting the first crack at signing Nicks is a huge advantage. First visits are historically the most important in landing a big-name free agent, so it may be safe to say the Buccaneers are the clear front-runners to land Nicks at this point in free agency.
Jason La Canfora of the NFL Network agreed, as he tweeted later Tuesday that Nicks is "looking increasingly likely to go to TB [Tampa Bay]."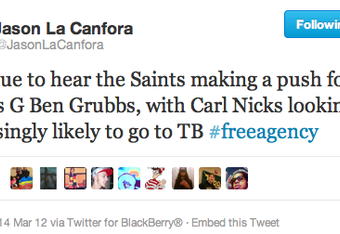 It's far from a done deal, however, and the Saints, Philadelphia Eagles and Dallas Cowboys are still teams that may make a push to sign Nicks. 
If the Buccaneers can get Nicks to sign on the dotted line, they would be getting one of the NFL's best guards.
Pro Football Focus, which grades every player on every play, rated Nicks as the No. 2 overall guard in 2011, No. 1 in 2010 and No. 4 in 2009. No other guard in the NFL can claim three straight seasons of grading out in the top five at PFF as Nicks has over that time span. 
Nicks has also been a Pro Bowler and All-Pro selection in each of the last two seasons.
Money shouldn't be an issue for Tampa Bay but could be a huge selling point for Nicks. 
Buccaneers GM Mark Dominik still has plenty of cap space to work with even after inking Jackson to a five-year deal earlier Tuesday, and it's more than possible Dominik is preparing to make Nicks the NFL's highest paid guard. Nicks has said all along that getting paid top money was high on his priority list.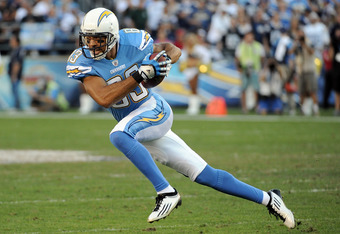 Harry How/Getty Images
If a deal is agreed upon between the two sides, Tampa Bay could then plug Nicks in at right guard—a position he's dominated at—and immediately upgrade its offensive line to among the best in football.
Plus, a combination of Jackson, Nicks and the No. 5 overall pick—which could be Alabama running back Trent Richardson—would revolutionize an offense that sputtered far too often in 2011. The Bucs could quickly become a top offense if quarterback Josh Freeman bounces back with a better supporting cast.
While there's risk in signing Nicks to a historic deal positionally speaking, he's good enough to for the Bucs to pull the trigger without hesitation.
NFL free agency is littered with past examples of teams signing big-name free agents and floundering the next season. However, it's hard to imagine the Buccaneers not improving significantly on their four wins from a year ago if Nicks is added alongside Jackson and a smart pick at No. 5 overall in April.