Baylor is a step closer to that new stadium they've been dreaming of, thanks to a record-breaking gift from the McLane family, former owners of the Houston Astros from 1992 to 2011.
In a release on the Baylor Bears official website via David Ubben of ESPN.com, Baylor acknowledges a large gift in an unspecified amount was given by the McLane's to the university. This is a major step in getting a new on-campus facility built by the 2014 season.
"The vision shown by both the McLane family and our University leadership will ensure continued success for our football program," said head coach Art Briles.
The McLane family was just as excited to share the news with Baylor fans.
"We are fortunate to be a family that includes a number of proud Baylor University alumni," said Drayton McLane Jr., a 1958 Baylor graduate.
"We believe strongly in the University's distinct and important role as a Christian institution dedicated to academic excellence at the highest level.
The immediate plan is to have the capacity at 45,000, with a progressive 55,000-seat plan in "the future."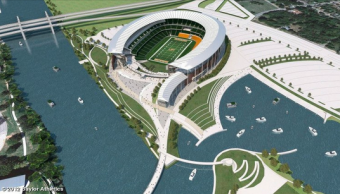 "Throughout our 167-year history, at what we now recognize as signature moments, visionary leaders have stepped out boldly to help propel Baylor and advance important University objectives," said Baylor President Ken Starr.
"We recognize that we are living in a remarkable time in the history of Baylor athletics, and we are blessed to have loyal, courageous and generous friends in Elizabeth and Drayton McLane, and their family, who have stepped forward to encourage all of us to take hold of a rare opportunity for our football program."
The Baylor Bears, with their recent success and tremendous support, may be taking it to a new level of athletic greatness, which will have the students and alumni alike very excited for an on-campus facility just off Interstate-35.