March Madness 2012 Bracket: South Regional Guarantees to Take to the Bank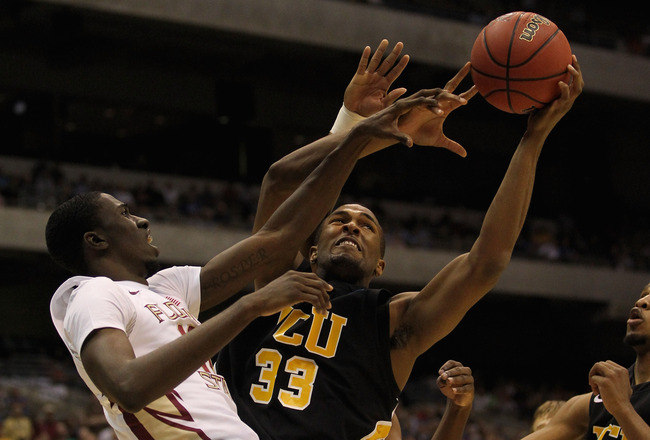 Ronald Martinez/Getty Images
The South Regional in this year's NCAA tournament has a distinctly retro feel to it—specifically, the early-'90s variety. The bracket has the potential to create rematches of some legendary games from two decades ago, with resurgent UNLV (seeded sixth) joining perennial powers Kentucky and Duke (the top two seeds).
Of course, the historical powerhouses aren't the only teams to keep an eye on in this section of the bracket. The South has two of the most dangerous potential bracket-busters in the field of 68 with 12th-seeded VCU and 14th-seeded South Dakota State, and it's a sure bet that at least one of those two underdogs will find its way into the Sweet 16 by the end of Saturday's action.
Herein, a closer look at the prospects for the Cinderellas and more certainties to be found in the 2012 South Regional.
8. It Doesn't Matter That Western Kentucky Upset Mississippi Valley State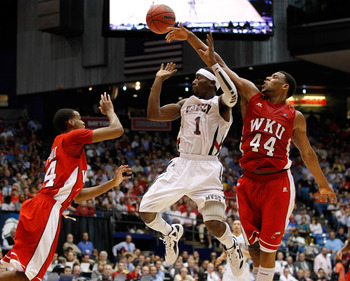 Gregory Shamus/Getty Images
Credit where credit is due: the 15-18 Hilltoppers played brilliantly over the last five minutes of their First Four game, erasing a 16-point deficit to advance to the Round of 64.
Of course, the fact that it took a miracle comeback to beat a fellow 16th seed doesn't exactly bode well for WKU's chances against the rest of the tournament field.
Top-seeded Kentucky won't be fazed by Western's furious pressure, having handled a similar attacking style twice against conference rival Tennessee.
The Wildcats, who shoot .723 from the free-throw line as a team, also aren't going to hand the (prohibitive) underdogs a win by missing 12 of 22 from the stripe as Mississippi Valley State did.
7. UConn Will Not Repeat as Champions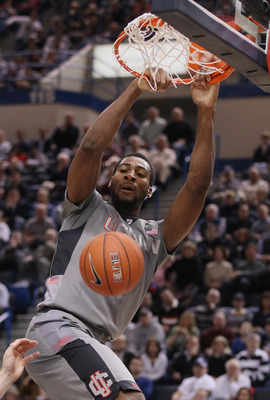 Elsa/Getty Images
After starting the season at No. 4 in the national rankings, UConn collapsed so badly that it was lucky to earn the ninth seed in the South Regional.
The Huskies are loaded with talent, including a potential future No. 1 pick in Andre Drummond, but have rarely put it all together.
UConn's second-round meeting with No. 8 seed Iowa State should be the most competitive of the No. 8-vs.-9 games, as do-it-all Cyclone star Royce White has a very real chance to knock off the defending champs in their tourney opener.
Even in the best case, though, the Huskies will only make it to the Round of 32 before getting pounded into submission by a Kentucky team that not only has even more talent than they do, but also has shown that it can execute with infinitely more consistency.
6. Wichita State Was Too Good for Its Own Good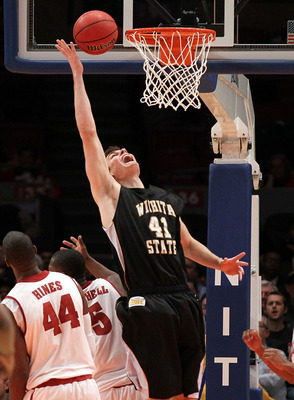 Jim McIsaac/Getty Images
Had Wichita State been seeded just one spot lower, its balanced offense and impressive experience—most of the players in Gregg Marshall's rotation are filling the same roles they had on last year's NIT champs—would make it a virtual lock for the Sweet 16.
From a No. 6 seed, the Shockers would've routed Andre Roberson's one-man Colorado team and had a great chance to take down either inconsistent Baylor or one-dimensional South Dakota State in the Round of 32.
Instead, the Missouri Valley's regular-season champs face the toughest No. 12 seed in the country, returning Final Four squad VCU.
Even if they survive the Rams' back-breaking press, the Shockers will be worn down far enough that the fourth-seeded Indiana Hoosiers (whose inexperience should make them an easy mark for a veteran opponent like Wichita State) will be a serious threat.
5. The Baylor Bears Will Leave as Upset Victims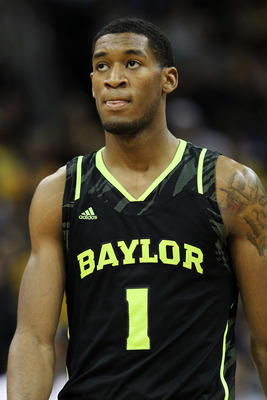 Jamie Squire/Getty Images
The aura of invincibility that Baylor built up during a 17-0 start has been thoroughly torn down over the course of Big 12 play.
Despite a solid showing in the conference tournament, the underachieving Bears have a good chance to fall to the first team that gives them a serious challenge in the Big Dance.
That moment could come as early as Baylor's opening game, as South Dakota State (which will have the best guard on the floor in Nate Wolters) is a very dangerous No. 14 seed.
Even if Baylor gets past the Jackrabbits, it's likely to face a UNLV squad that won't be intimidated by the Bears' size or seed (having beaten bigger, higher-ranked North Carolina earlier this year).
4. Indiana Won't Make It out of the Opening Weekend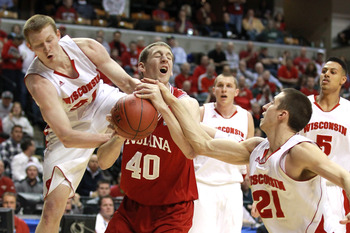 Andy Lyons/Getty Images
Three of the nation's four No. 4 seeds hail from the Big Ten, and all look like safe bets to advance to the Round of 32. No matter which school Indiana faces at that point, though, the Hoosiers will be well behind the eight-ball where a Sweet 16 berth is concerned.
The best-case scenario for Indiana is a deep, experienced Wichita State team that can counter Hoosier star Cody Zeller with seven-footer Garrett Stutz.
The likelier possibility, though, is that IU will have to contend with Virginia Commonwealth, facing the most dangerous full-court press in college hoops while its own backcourt is left short-handed by Verdell Jones III's knee injury.
3. Duke Will Make the Elite Eight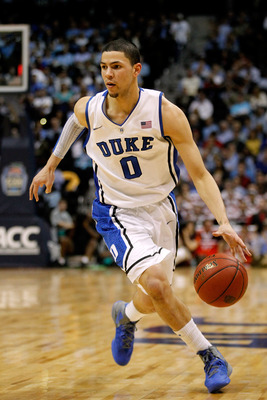 Streeter Lecka/Getty Images
Even with Ryan Kelly recovering from a foot injury, a soft draw should make second-seeded Duke a shoo-in for the South Regional final.
After the Blue Devils, the next two seeds in their half of the bracket are Baylor—whose daunting frontcourt has struggled against other teams with size—and UNLV—which lacks the perimeter defenders to withstand Duke's three-point barrage.
There's a case to be made that the biggest threat Duke might face is 14th-seeded South Dakota State, which would bring momentum and confidence into a potential Sweet 16 matchup.
Unlike the Jackrabbits' other potential opponents, though, Duke has an answer for Nate Wolters in the form of another superlative 6'4" guard, freshman sensation Austin Rivers.
2. A Double-Digit Seed Will Make the Sweet 16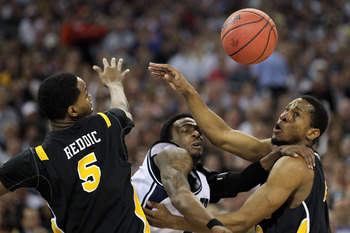 Ronald Martinez/Getty Images
There isn't a regional in this year's bracket with more early-round upset potential than the South.
The best 12th seed in the tournament (defending Final Four squad VCU) and a terrific 14th seed (South Dakota State) will combine for some classic underdog moments this weekend.
Of the two, Virginia Commonwealth has the better shot to advance, thanks to the devastating pressure defense that made the Rams so dangerous a year ago (not to mention a likely meeting with Indiana's thin backcourt in the third round).
The Jackrabbits, though, have a bona fide star in Nate Wolters (a 6'4" guard who's averaging 21.3 points, 5.2 boards and six assists a night) and a favorable opening matchup against guard-poor Baylor, so don't count them out either.
1. Nobody Will Keep Kentucky out of the Final Four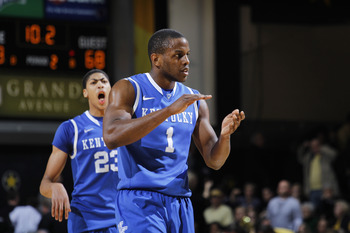 Joe Robbins/Getty Images
For all the upsets worth expecting in the South Regional, don't look for Kentucky among the victims. The nation's No. 1 overall seed is too deep, too skilled and too athletic to fall to an inferior opponent.
Even No. 2 seed Duke, a lock to face UK in the Elite Eight, isn't playing at a high enough level to stop the Wildcats (regardless of Ryan Kelly's health).
The Blue Devils' three-point shooters will keep the game competitive, but Duke's defense is so far below Kentucky's level that Anthony Davis and company will eventually pull away.
On the 20-year anniversary of Christian Laettner's shot in another Elite Eight contest, don't expect any similar heroics (or even a similarly wild finish) to save Duke here.
For your printable bracket for the 2012 NCAA tournament, click here.
Keep Reading