2013 NFL Mock Draft: An Extremely Early Look at Next Year's Top Picks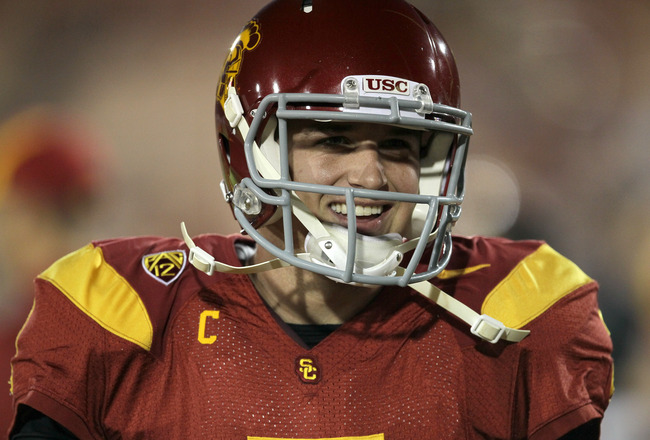 Stephen Dunn/Getty Images
The 2012 NFL draft hasn't even taken place yet, and we're already looking at 2013.
It is never too early.
No, we have little idea what a team needs and what the draft order will look like in a year, but it's interesting to take an early look at player values and possible team fits.
There's a saying that next year's draft work starts as soon as the previous one is over.
Here, it starts earlier.
*For Simplicity's sake, the draft order is identical to 2012's
1. Indianapolis Colts: Barkevious Mingo, OLB, LSU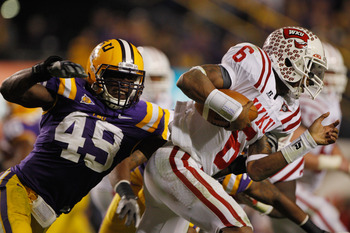 Chris Graythen/Getty Images
Even after re-signing Robert Mathis, the Colts are going to need help in the front seven.
Dwight Freeney appears to be on the way out, and Indianapolis is transitioning to a 3-4 defense, in which Barkevious Mingo can dominate.
2. St. Louis Rams: Robert Woods, WR, USC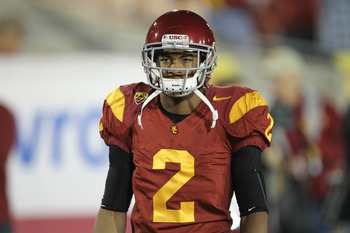 Stephen Dunn/Getty Images
The Rams have two early picks here, so they go with the best player available, who happens to fit a huge need.
Robert Woods is an excellent wide receiver prospect with outstanding potential.
3. Minnesota Vikings: Keenan Allen, WR, California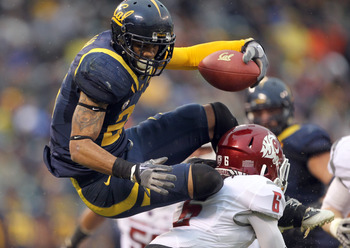 Ezra Shaw/Getty Images
Percy Harvin is a solid player, but he's somewhat unreliable, and the Vikings need someone to play opposite him.
Keenan Allen is probably a reach here, but there are no other great options for Minnesota.
4. Cleveland Browns: Tyler Bray, QB, Tennessee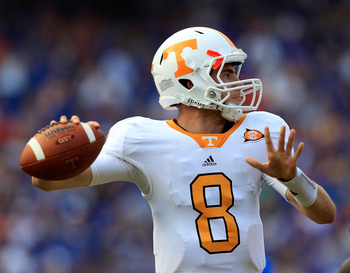 Sam Greenwood/Getty Images
After missing out on Robert Griffin in 2012, the Browns still need a quarterback, and Tyler Bray has No. 1 overall potential.
The Tennessee star possesses a rocket arm and all the talent to excel in the NFL.
5. Tampa Bay Buccaneers: David Amerson, CB, North Carolina State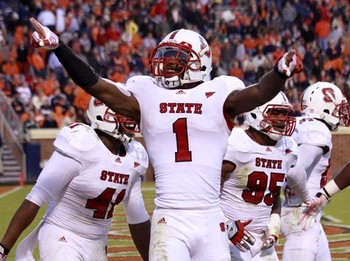 Tampa Bay's secondary is one of the NFL's worst, and David Amerson is an interception machine.
The NC State star isn't a finished product yet, but his early body of work is impressive.
6. St. Louis Rams (from Washington): D.J. Fluker, OT, Alabama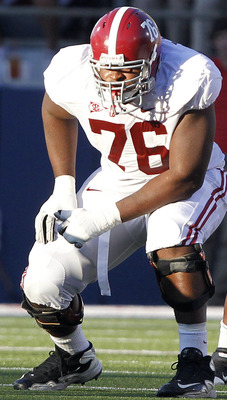 Butch Dill/Getty Images
For the moment, Rodger Saffold is St. Louis' starting left tackle, something that probably won't be the case for too much longer.
D.J. Fluker is bigger than most left tackles, but he is quick enough to play on the blind side.
7. Jacksonville Jaguars: Matt Barkley, QB, USC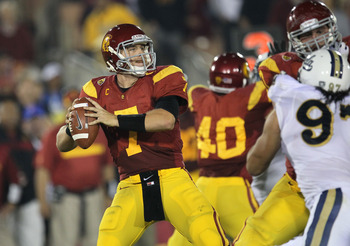 Stephen Dunn/Getty Images
By this point, the Jaguars will have probably realized how awful Blaine Gabbert is. Matt Barkley could easily be gone by now, seeing as it is tougher to find a safer quarterback prospect than the USC star.
8. Miami Dolphins: Tyler Wilson, QB, Arkansas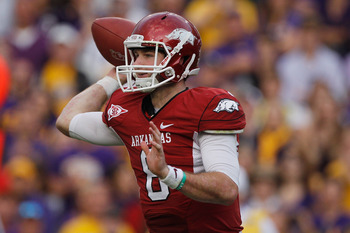 Chris Graythen/Getty Images
Miami is a talented team held back only by its lack of a quarterback.
Tyler Wilson is an impressive athlete with excellent arm strength, and he could have been a first-round pick in 2012, had he entered the draft.
9. Carolina Panthers: Kawann Short, DT, Purdue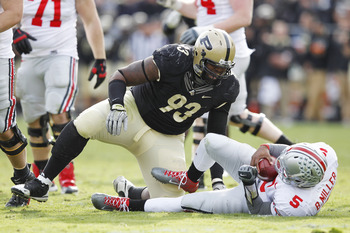 Joe Robbins/Getty Images
Carolina's defensive ends are solid, but the team's interior line is simply atrocious.
At 6'3", 310 pounds, Kawann Short is versatile with the ability to make an immediate impact.
10. Buffalo Bills: Jarvis Jones, OLB, Georgia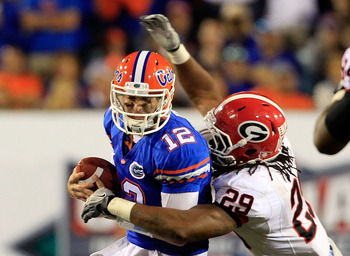 Sam Greenwood/Getty Images
Buffalo's defense is one of the NFL's worst, and it needs upgrading at almost every position.
Jarvis Jones is a potential star rushing the passer, and he can play in either a 4-3 or 3-4 defense at outside linebacker.
11. Kansas City Chiefs: Landry Jones, QB, Oklahoma
Ronald Martinez/Getty Images
Landry Jones had a rough 2011 season, but he still has some insane potential.
If Matt Cassel doesn't improve in 2012, the Chiefs will likely look to move on, and Jones can certainly be the next guy in Kansas City.
12. Seattle Seahawks: Jelani Jenkins, OLB, Florida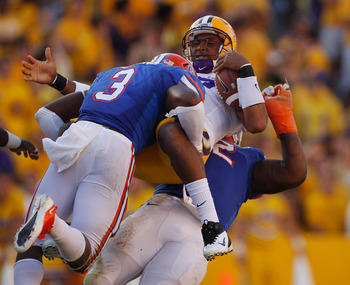 Chris Graythen/Getty Images
Seattle is looking to add playmakers on defense, and Jelani Jenkins is exactly that.
The Florida linebacker isn't especially big, but he makes a huge impact on the game and is a legitimate pick here.
13. Arizona Cardinals: Sam Montgomery, OLB, LSU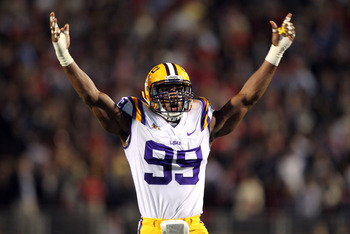 Joe Murphy/Getty Images
The Cardinals' pass rush is virtually non-existent, and they need to add someone at outside linebacker.
Sam Montgomery isn't quite as dominant as his teammate, Barkevious Mingo, is, but he is an excellent prospect nonetheless.
14. Dallas Cowboys: T.J. McDonald, S, USC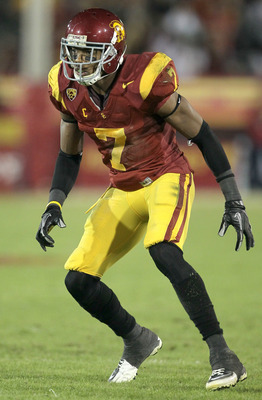 Stephen Dunn/Getty Images
Dallas has an aging, not-so-great secondary, and the unit could use an infusion of talent.
T.J. McDonald is inconsistent, but he is a terrific athlete with elite potential at either safety position.
15. Philadelphia Eagles: Manti Te'o, LB, Notre Dame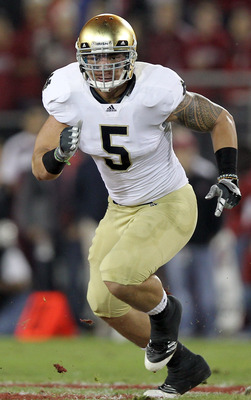 Ezra Shaw/Getty Images
Philadelphia's defense let down the team's still-impressive offense in 2011, and the team's linebackers were just dreadful.
Manti Te'o is a big, physical presence who can rush the passer, stop the run or defend the pass.
There's nothing not to like.
16. New York Jets: William Gholston, OLB, Michigan State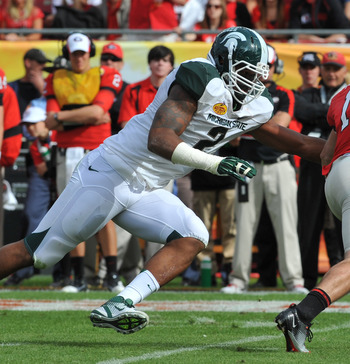 Al Messerschmidt/Getty Images
The Jets' pass rush is the only thing holding back the team's defense.
William Gholston isn't a perfect fit in a 3-4, but he can lose weight and play outside linebacker, though he won't be great in coverage.
Vernon's cousin is simply too freakish to pass on here.
17. Oakland Raiders: Marcus Lattimore, RB, South Carolina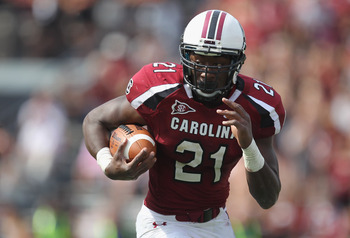 Streeter Lecka/Getty Images
The Raiders are losing Michael Bush, and Darren McFadden is injured too often to be relied on.
Marcus Lattimore is a dominant running back, though his wear and tear is somewhat concerning. A torn ACL doesn't help matters, either.
18. San Diego Chargers: Barrett Jones, C, Alabama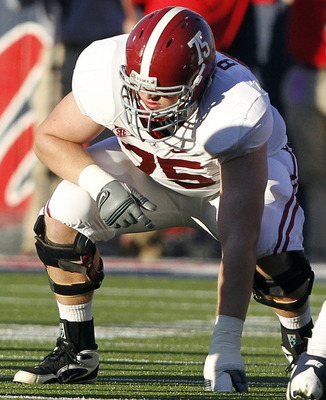 Butch Dill/Getty Images
San Diego lost Kris Dielman to retirement, and the team's offensive line is in shambles.
Barrett Jones can play any position along the line, but he will probably end up at center, where he has the ability to become an elite player.
19. Chicago Bears: Xavier Rhodes, CB, Florida State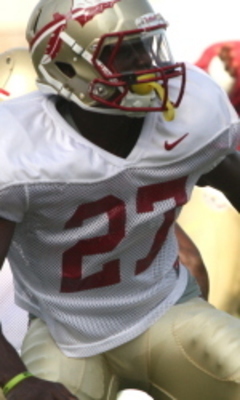 Chicago doesn't really have any good defensive backs, and this will be an issue moving forward.
Xavier Rhodes was raw as a sophomore, but he is a terrific athlete, and he should continue to improve, possibly developing into a top-10 pick.
20. Tennessee Titans: DeMarcus Milliner, CB, Alabama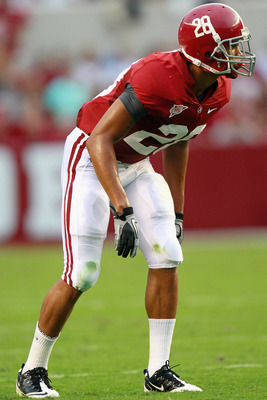 Kevin C. Cox/Getty Images
The Titans lost Cortland Finnegan in free agency, and they don't have any studs in line to replace him.
DeMarcus Milliner is another great athlete following in Dre Kirkpatrick's footsteps with super upside.
21. Cincinnati Bengals: Justin Hunter, WR, Tennessee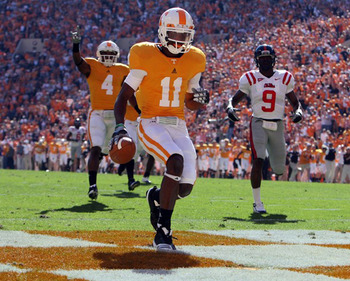 Though he hasn't done much yet, Justin Hunter is primed to break out.
The Bengals want another stud opposite A.J. Green, and the 6'4", 200-pound Hunter could be just that guy. He certainly has the physical ability.
22. Atlanta Falcons: Devin Taylor, DE, South Carolina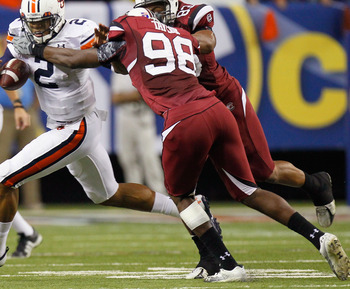 Kevin C. Cox/Getty Images
John Abraham is gone, and the Falcons are left with average-at-best pass rushers.
At 6'7", 260 pounds, Devin Taylor is an unbelievable athlete with top-five potential. If he shows much improvement in 2012, Taylor will be long gone by this point.
23. Detroit Lions: Tyrann Mathieu, CB, LSU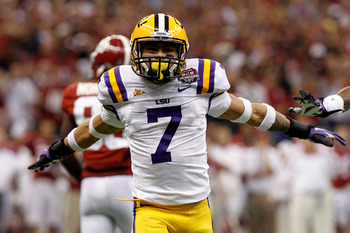 Chris Graythen/Getty Images
The Lions' secondary held back the team's impressive defensive line, and the team is looking to upgrade. Tyrann Mathieu is an excellent college player, but his size seriously hinders him, and he isn't a great NFL draft prospect.
24. Pittsburgh Steelers: Jonathan Hankins, DT, Ohio State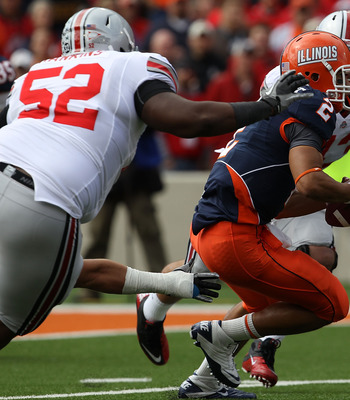 Jonathan Daniel/Getty Images
Longtime Steeler Casey Hampton is now gone, and Pittsburgh will continue to add youth along the defensive line.
The Steelers love Ohio State defenders, and Jonathan Hankins is a prototype nose tackle with his huge size and overpowering strength.
25. Denver Broncos: Tyler Eifert, TE, Notre Dame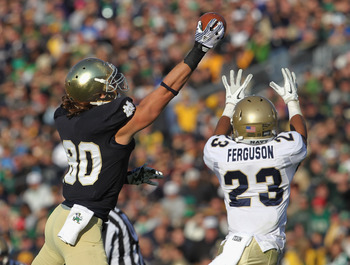 Jonathan Daniel/Getty Images
Denver needs to continue adding offensive weapons, and though Tyler Eifert isn't an elite prospect, he is solid.
Eifert is a good athlete with excellent receiving ability, but he is somewhat one-dimensional.
26. Houston Texans: Eric Reid, S, LSU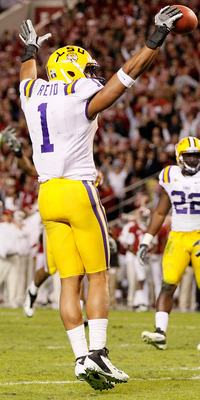 Kevin C. Cox/Getty Images
Houston's secondary remains one of the team's biggest weaknesses, and the Texans could definitely afford to add a safety.
At 6'2", 208 pounds, Eric Reid possesses terrific size, and he can play the run or drop back deep against the pass.
27. New Orleans Saints: Marquess Wilson, WR, Washington State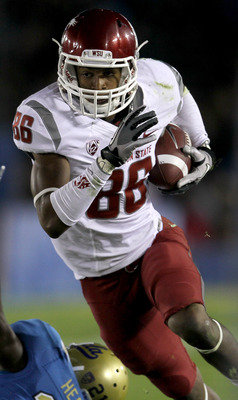 Stephen Dunn/Getty Images
After losing Robert Meachem, the Saints don't have as dominant of skill players as they are used to.
Marquess Wilson has great size at 6'4", and his production has been extremely impressive.
28. Green Bay Packers: Tony Jefferson, S, Oklahoma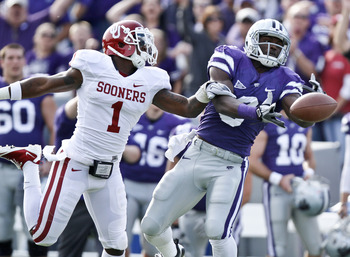 Ed Zurga/Getty Images
Nick Collins may never make a full recovery from his neck injury, and Green Bay must upgrade its pass defense.
Tony Jefferson is a small but rangy safety with the ability to ballhawk back deep or play in man coverage.
29. Baltimore Ravens: Chance Warmack, OG, Alabama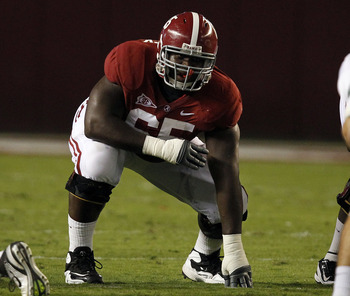 Butch Dill/Getty Images
The Ravens typically have a great offensive line, but the loss of Ben Grubbs will be painful.
Chance Warmack is a big guard at 6'3", 320 pounds, but he's an above-average athlete with the ability to play in space, as well as at the point of attack.
30. San Francisco 49ers: Jonathan Banks, CB, Mississippi State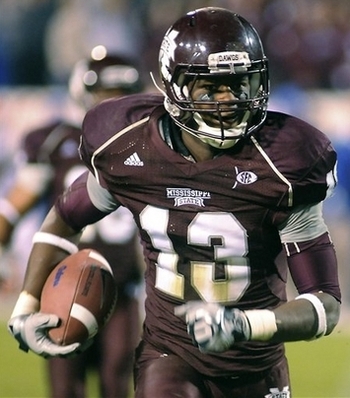 The 49ers' defense is almost perfect, save its somewhat-shaky secondary.
Jonathan Banks possesses outstanding size, and his athleticism could make him a first-round draft pick in 2013.
31. New England Patriots: Khaled Holmes, C, USC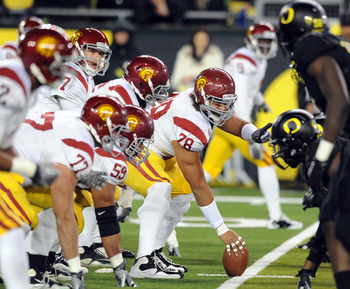 Steve Dykes/Getty Images
Dan Koppen is leaving in free agency, and New England typically drafts its starting offensive linemen early.
Khaled Holmes is a big center with the intelligence and athleticism to succeed in the Patriots offense.
32. New York Giants: Shayne Skov, LB, Stanford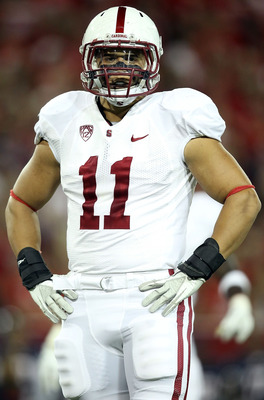 Christian Petersen/Getty Images
New York's pass rush is outstanding, but its run defense struggled in 2011. Shayne Skov is a mean, athletic linebacker who can do just about everything on the field at a high level.
Keep Reading