As far as the Golden State Warriors go, I consider myself logical optimist. I was at the game on Saturday against the Dallas Mavericks, and I knew that it was probably the last time Steph Curry and Monta Ellis would play together at Oracle. But this isn't exactly what I had in mind.
Still, I can see the Warriors improving in the long run because of this trade.
In the trade, SG Monta Ellis, PF Ekpe Udoh and the expiring contract of injured C Kwame Brown were sent to Milwaukee for the return of SG/SF Stephen Jackson and C Andrew Bogut.
Monta Ellis and Ekpe Udoh are healthy. Monta Ellis, making $11 million a year through 2013-2014, is now arguably the best player on the Milwaukee Bucks. He'll start immediately. Ekpe Udoh, making about $4 million a year through 2014-2015, will quickly become a member of the rotation, and he may even start soon.
Kwame Brown is out for the rest of the year, but his $7 million contract is expiring after this season.
Stephen Jackson, making $10 million through next year, is simply playing terribly, and has been all year. He has some work to do before he earns much time at all, and he probably knows it.
Andrew Bogut, making $14 million per year through 2014, is an All-Star quality center who perfectly fits the Warriors, except he's injured for the rest of the year, and he's been injured frequently for a long time. He'll start at center next year.
It is obvious that as far as this year goes, the Bucks get the better deal. But will they even get better? That's not what this article is about, but Monta Ellis is basically just a right-handed version of Brandon Jennings: An undersized guard who can score and pass with great prolificness but little efficiency.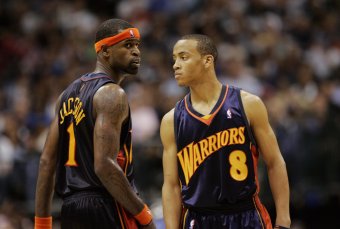 Brian Bahr/Getty Images
Personally, seeing as how he couldn't work with Stephen Curry, how is he ever going to be able to work with Brandon Jennings?
While Ekpe Udoh will be a nice addition for them, I don't see the Bucks making the Playoffs this year, and I think in the future, they'll be very similar to the pre-Bogut Warriors. That's assuming Jennings isn't traded, although he has been listed as available.
I just wanted to get that out of the way.
Now, I would like to say this: This year's Warriors team, based on the information we have now, is screwed. They are basically David Lee and whoever feels like showing up.
Bogut is out for the year, and we can't assume that Stephen Jackson is going to help them at all. It has been suggested by doctors that Steph Curry should sit the rest of the year out, and considering how the Warriors can no longer make the Playoffs anyway, I offer you this: Sit him.
Curry is turning into an injury case of a bust. It's always one ankle or the other. So sit him. This season is a lost cause, and no good can come from playing him. Time is the first step to saving his ankles.
On the other hand, the less he plays, the more the team will suck. And if the Warriors suck just bad enough, they can definitely slip into the worst seven teams. If they do that, their draft pick does not go to Utah.
I'm going to go best-case scenario here, because that's what this article is about, with the exception of winning the lottery. That would be best case scenario. Anyway, a top-seven pick in one of the best draft classes in the history of the league? I'm down.
Nick Laham/Getty Images
Here is my current projected 2012-2013 roster.
PG: Stephen Curry
SG: Klay Thompson, Stephen Jackson
SF: Dorell Wright, Brandon Rush
PF: David Lee
C: Andrew Bogut, Andris Biedrins
Let's just say that team stays more or less healthy (I know it's not probable, but just look at the Los Angeles Lakers).
Assume that Stephen Curry continues to develop into a borderline All-Star point guard, and that Klay Thompson continues to grow into a Ray Allen-type scorer, while learning some defense on the way (an actual training camp might help). And assume Dorell Wright looks more like the 2011 Dorell Wright, the one who led the NBA in three pointers made.
The Warriors would have the best shooting backcourt in the NBA, hands down.
Also, I think Lee and Bogut would be absolutely formidable. Both are excellent rebounders. David Lee is rather weak on defense, but Bogut is excellent, a force. David Lee has carried the team from the high post at times this year, even though he's always been guarded by the defense's best post defender. Bogut, on the other hand, is a proven low post scorer.
Andris Biedrins would provide great center depth, and they'd be set on the wings. All they'd have to do is sign some more players.
People think the Warriors are horrible on defense. This is no longer true, generally. The Warriors have the 14th best defensive field goal percentage in the NBA. That's in the better half of teams!
Where they lose is on the boards, where they have been the worst in the NBA all year. But with Bogut, both of those categories drastically improve.
If this team somehow stays healthy, they are a Playoff lock, and I'd be happy to argue any doubters on that. While they would struggle to get to the rim, and other players than the traded Monta Ellis would have to step up in the clutch, they would improve in just about all other categories.
Now, remember that possible top-seven lottery pick I talked about? In this year's draft, anybody in the top seven could definitely be an NBA All-Star at some point.
Say the Warriors drafted a Jared Sullinger, Perry Jones, Michael Kidd-Gilchrist, Jeremy Lamb... Unless anything changes, they could have a chance at almost everybody in the entire draft, besides maybe Anthony Davis and Andre Drummond.
The point is, imagine throwing a future star into the mix. Then they would have a plethora of options.
What I'm trying to say is that the trade that just happened gives the Warriors less guarantee than they had before. As much as I've loved rooting for Monta Ellis for the two years I've watched basketball, and even though I believe in Udoh as much as anybody, the Warriors now have the potential to reach heights they've never reached before.