NCAA Bracket 2012 First Round: BYU Comes Back from 25 Down to Defeat Iona 78-72
March 14, 2012

Ethan Miller/Getty Images
BYU outscores Iona 38-17 in the second half to win 78-72 after Iona led by 25 points in the first half.   The Cougars advance in the NCAA West Regional to play Marquette from the Big East on Thursday in Louisville. 
BYU slowed the game down in the second half and forced Iona to deal with their zone defense. Noah Hartsock ended the game with 23 points and five rebounds.  Brandon Davies had 18 points and 15 rebounds as the Cougars won the rebounding battle 39-32.
For Iona, Scott Machado played well in his last game as Gael with 15 points, and ten assists.  Jermel Jenkins who really did not play that much in his senior season had 13 points and four assists.   Mike Glover in his last game for Iona had 12 points and nine rebounds, a collision near the end of the first half  may have limited his mobility in the second half.
BYU showed patience and resiliency waiting for Iona to slow down the fast pace the Gaels maintained through the first half racing to a 49-24 lead. BYU closed out the first half with a 16-6 run.
The Iona Gaels ran BYU all over the University of Dayton court in the first half of the their NCAA "First Four" game on Tuesday night, shooting 58 percent from the field en route to a 55-40 lead at the break.
Iona leaped out to a 22-10 lead in this game on hot shooting from forward Randy Dezouvre. Sophomore forward Sean Armand lit up the Dayton Arena with two three-point shots to help the Gaels extend the lead to 26-10.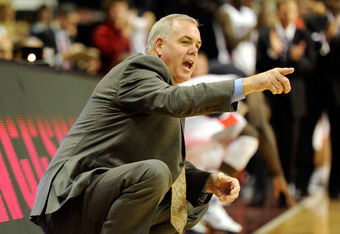 Ethan Miller/Getty Images
After a defensive play, Lamont "Momo" Jones held the Iona name on his jersey for the crowd to see as he dribbled the ball—before drilling a jumper to advance Iona's lead to 28-10, capping a 15-0 run. 
Machado, the nation's leader in assists per game (9.9), dished nine assists in the first frame, often battling through a smaller BYU lineup. At one point the Gaels' lead swelled to 53-29, but the Cougars ended the half on an 11-2 run to draw within 15 points.
Glover and Armand both posted 10 points for the Gales in the half, with Dezouvre adding nine and Jermel Jenkins eight. Brandon Davies led BYU with 12 points and five rebounds. Anson Windsor and Damarcus Harrison notched eight apiece.
In the second half, the Gaels opened well, Scott Machado led Mike Glover on a two on one down the lane for two to take a 62-46 lead.  Then Glover picked up his third foul and looked slowed by the shot he took on his knee in the first half.
BYU noticeably slowed the tempo, and the Gaels let up on their full court pressure.  Brandon Davies makes a short jumper to bring BYU back with in ten at 62-52.  Glover is double teamed and Jenkins allows a steal by BYU. 
Noah Hartsock hits three straight jumpers to make it a one point game.  BYU has gone on a 17 point run, shutting the Gaels down for nine minutes till Jermel Jenkins hits a three with 7:60 left. With Glover double teamed, BYU steals the ball from Jenkins. Damarcus Harrison hits a three for BYU, then trail by one 65-64.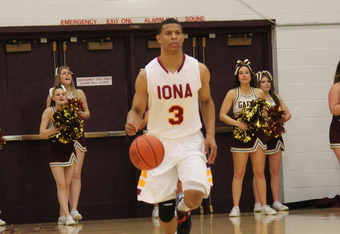 Jermel Jenkins hits a short jumper but on the Gaels next possession Machado is called out of bounds on the sideline which the replay showed was incorrect.  Jenkins and Harrison exchange misses with 5:30 left.
Machado hits a short jumper, is fouled and coverts the three point play, Iona leads 70-64. 
Noah Hartsock hits a jumpers over Randy Dezouvre, then hits from the foul line, and BYU trails by one.  Dezouvre picks up his fifth foul. 
This half Iona is just not making shots, Mike Glover misses connecting on an pass to the basket. BYU comes back and Hartsock makes a three to give BYU a 71-70 lead with 2:11 left.  Iona is being outscored in the half 31-15.
The Gaels try to mount a comeback but Glover picks up his fourth and fifth fouls.  Davies makes two three throws for a three point lead.  Brock Zylstra ices the game with a three point play to make it 76-70 with 23 seconds left.  The final was 78-72 BYU.
A memorable win for BYU, a devastating loss for Iona.  Nothing hurts more than a game lost when you had a big lead.
The end of an era for the Gaels, Iona fans will remember the excitement of the two years Mike Glover and Scott Machado played together.  Then this year with addition of Momo Jones making the NCAA tournament with a strong cast.    
Credit also senior Jermel Jenkins who sacrificed playing time when Jones joined the team but played well in his only NCAA game.  Randy Dezouvre made many contributions to the team in his two years with his sure handed play and clutch shooting.  Credit also senior Trinity Fields who played more in his first two years than the last two but was a spiritual leader of the team, one of those players who comes back as a coach someday.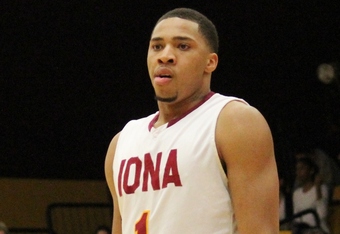 Next year will be the year that Momo Jones and Sean Armand will have the opportunity to demonstrate leadership and hopefully have another shot in the NCAAs. 
Would not be surprised if we see Scott Machado and Mike Glover continuing to play professionally.  That will be fun to see.
Ken Kraetzer covers Iona Basketball for WVOX 1460 AM in New Rochelle, NY and Sons of the American Legion Radio.