NCAA Tournament 2012: March Madness Viewing Guide
March 14, 2012

Jonathan Ferrey/Getty Images
Sports fans sometimes throw out the idea that the day after the Super Bowl should be considered a national holiday for men. I believe it should be the first Friday of the tournament. It's always around St Patrick's Day. It probably wouldn't harm male office productivity that much. It would increase bandwidth for those few who worked the holiday.
Most people will not watch every game during the four days, either because of work or television setup or a social life. Those men with spouses or relationships have little ability to explain why they are spending 12 hours a day rooting for St. Louis and Wichita State.
(No honey, St. Louis is not the Rams and I know Wichita is not a state. What is St Louis? The Billikens. I have no clue what a Billiken is. It looks like a Dr. Seuss character.)
Laugh now and cry when the girlfriend wins your bracket challenge before the Final Four.
I am here to provide a guide of what you might see, what you will see and what you should avoid if you can.
1. The games for the second year in a row are on TBS, TNT, TruTV and CBS. This is important to know since for most people they need at least 24 hours to discover where TruTV is on their cable or satellite system.
2. Gus Johnson now works for Fox. He will not be broadcasting the tournament this year. I can hear men crying just reading that. No more Rise and Fires, pures and insane freakouts where he tops out the sound to where the mic cuts out like it did in the Kansas State-Xavier game two years ago.
3. Verne Lundquist and Bill Raftery start in Louisville. The over/under on onions is four, bowling for dollars references are over/under 0.5, and the classic Bill Raftery call "the deep penetration and the spurt" will hopefully not be used to describe a Ram or a Cougar.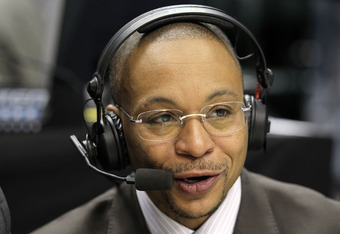 Andy Lyons/Getty Images
4. Charles Barkley is sure to point out how turrible the Big East is performing at least twice during the opening weekend.
5. Cardiology. I don't have a heart. Pulmonary doctor, no cigar. During the last few years, the Napa commercial has become the national anthem of the tournament, last year with scrolling lyrics. Will we see our favorite auto parts dealer again this year?
6. The afternoon sessions are a lot better for hanging out at home and watching. Night sessions are the best to go out to a sports bar to watch. A mostly empty sports bar is barely fun while looking for someone to high five because Davidson won, and being left with a lonely hand.
7. After the first day of the First Four, any lead is apparently not safe. I'm sure this will be built up on Thursday and Friday as you wonder why you just sat through the entirety of a 22-point blowout by Missouri. Whatever you do, keep your eye on the top left hand corner, and only then switch to another game if it's moving away from 22 quickly.
8. Jeremy Lin went to Harvard. This might be mentioned a few times Thursday afternoon, as the cameras try to avoid the mostly empty arena. Yeah, flights from Montana, Boston, Madison and Nashville are cheap and easy to Albuquerque on three days notice.
9. Are you aware that Duke and Kentucky played each other in a regional 20 years ago? We couldn't make it through the first game of the First Four without three highlights from that game. Sean Woods can't like tournament years that end in two.
10. Duh Duh Duh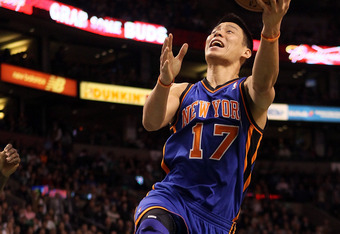 Elsa/Getty Images
11. The new format started last year where games on the weekend start at noon ET, and the last game starts at 9:30 p.m. ET. On St. Patrick's Day, that will be awesome and only enhance the evening of fun. On Sunday night, it will be like a massive turkey coma just hit, as many men tap out and long for anything else.
12. Brian Anderson will announce weekend games for the first time this year. He did a very good job on the MLB playoffs last year. It's tough to tell whether he will have an upset effect or a level of excitement people like. Will he steal the Spero Dedes factor? He is in Portland with No. 12 and No. 13 seeds.
13. With the format change last year, the staggered starts mean action throughout most of the day from 12 p.m. to midnight. No random West Coast game from before. Great for viewers, not so great for fans. Those fans going to both sessions have to leave the building in Portland, and have about half an hour to kill before the evening session. Hurry up with the Burgerville order.
14. Tim Brando and/or Jim Nantz will do a solid job announcing the game for 39 minutes, and if the game is close, will throw out a cringe-worthy pun near the end of the game. Vegas won't even take odds on that.
15. Just sit right back and grab tails of some tasty shrimp. Sensations now at Applebees are really worth the trip.
(Okay, you won't see that commercial during this year's tournament, but for anyone who watched the 2006 tournament, the Gilligan's Island parody was drilled into your head deeper than the Napa song. I think they showed the commercial 100 times before the end of the Boston College-Pacific game, which was Thursday afternoon.)
16. Kevin Harlan has a very powerful emphatic voice, but even I imagine he can't put 100 percent of effort promoting Bait Car and the Wiener's Circle.
(I'm not making the second one up. It's promoted as the wildest wiener stand this side of the Mississippi. I didn't know there were a lot of crazy wacky wild hot dog carts in Sacramento and Denver that the Wiener's Circle stand in Chicago can only dream of its zaniness.)
17. By the end of the weekend, you will be well aware that Men At Work is coming to TBS. It's a "brazen new original comedy about four hip, young professionals set to take on New York and live like "Full Steam" ahead just like the magazine they work for." The over/under on media consultants who created the pitch/tagline above is over/under 30.
No comedy should have a guy called "The Funny One." Is one a Shakespearean actor, one a forensics expert and one a TBS media consultant?
18. If you are trying to optimize your HDTV for sports, make sure you do it on Thursday. On Friday, you might be trying to change the setting and have the TV cry as Craig Sager's jacket makes your Sony turn off permanently.
19. The evening sessions have games starting a lot closer to each other, so there will be times where games will either not be started or in the first half. These are the times when you can be human and interact with your loved ones, or drive to the store for more Coke Zero, which sounds like a fantastic idea for some reason.
20. With Western Kentucky winning on Tuesday, the Big Red practically sealed a One Shining Moment appearance by perhaps the coolest mascot in the tournament. The lamest mascot is Willie the Wildcat, who although the head is a lot of fun, looks like he lost the rest of his costume at the airport and the team let him borrow a jersey.
21. No matter what happens throughout, the NCAA Tournament usually has the best ending in One Shining Moment. Sometimes the CBS people get a bit too artistic (I don't think it was Jennifer Hudson's fault), but most years it brings a perfect close to such a fun time of the year.