Seattle Mariners Release 5 Fresh Team Commercials for 2012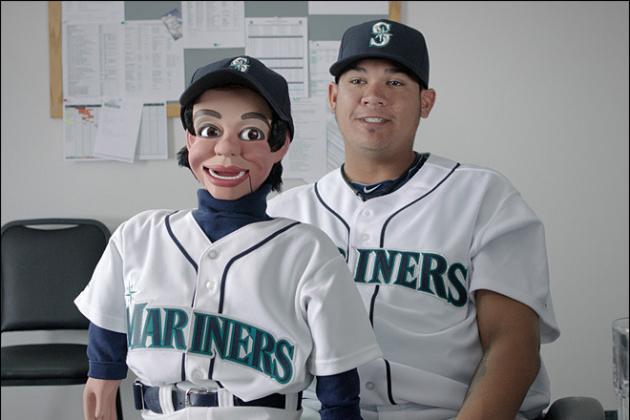 Photo courtesy of komonews.com
The Mariners rolled out five new team commercials Tuesday morning to the pleasure of thousands of eager baseball fans in Seattle.
The five TV spots that the team releases yearly during spring training have become an expected and appreciated treat.
The ads typically feature the premier players on the team, both top performers and hyped prospects, doing ridiculous, usually baseball-related activities.
Ichiro wins the award for most appearances all time, but Felix Hernandez (or Larry Bernandez) is making a run at the title.
For a look back through some of the best commercials the team has produced, check out this slideshow.
And for a look at this year's commercials, read on.
Begin Slideshow

»
Here, Brendan Ryan is unsuccessfully impersonating Robert De Niro to teammates Chone Figgins, George Sherrill, Mike Carp and Kyle Seager (correct me if I'm wrong, but I'm pretty sure it's Seager to Ryan's left).
After several attempts from Ryan, Ichiro butts in with his best Sean Connery impression: "We named the dog Indiana" from "Indiana Jones and the Last Crusade." Obviously, the clubhouse crew immediately recognizes the impression.
I like this one for its variety of players and because Ichiro's in it...
Sorry about the problems with watching the videos right on Bleacher Report. They are still easily accessed on YouTube—I couldn't find any other links.
Ichiro—or at least his bat—made it into this one too. But the attention soon shifted to first baseman Justin Smoak.
For those of us who were worried that Smoak might leave Seattle to pursue a career in Hollywood, we can rest assured: "It kind of shows you that you don't want to be an actor or actress."
Hopefully, the power Smoak demonstrates in this clip will be reflected on the diamond.
After all the excitement over Larry Bernandez from last year's commercials, the marketing department knew they had to bring him back.
Props to them for making that return into a ventriloquist act with the charismatic King Felix.
Worth noting: the team's catchphrase for this year will apparently be "Get after it!" In the past, we've had "My, oh my," "Viva la Mojo" and "Believe big."
I'm glad they got Jesus Montero into one of these; it's a good way to welcome him into the Mariners and Seattle community, though hopefully he'll stick to catching pitches and not salmon.
The good news is, when asked about catching the fish, Montero replied, "caught it every time," during shooting. Hopefully that bodes well for his future position with the team.
Combining a Rocky allusion with Dustin Ackley's surprisingly good acting talents made for a great commercial, and my personal favorite.
The blooper reel offers a cool look into the players' personalities that fans don't normally get to see.
This year's spots may not have been the best we've ever seen out the M's, but they are serving their purpose in firing fans up for the quickly-approaching season and keeping the spring training atmosphere loose and fun.
Leave a comment below if you had a favorite ad or player performance, or for anything else Mariners-related. Just 14 more days until their first game! I'll be running a live blog before, during and after the game, so log on for real-time analysis and reaction.