Toronto Maple Leafs a Look at the Past: 10 Hits to Remember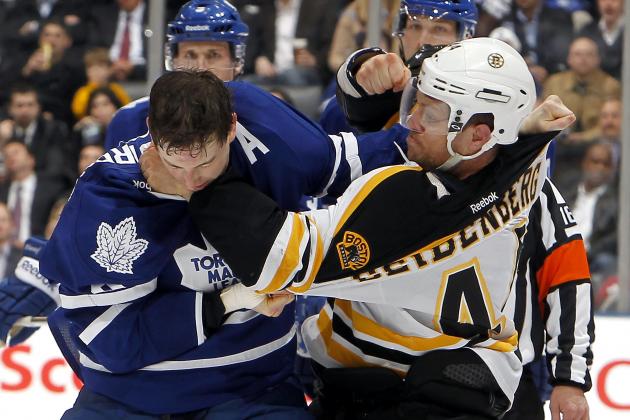 Abelimages/Getty Images

The Toronto Maple Leafs are possibly the softest team in the NHL. They are easily pushed off the puck, they get pushed around during scrums, and when they do fight, they get beaten up. They are not fun to watch.
When the team was bad during the 80's, Leaf fans still had Wendel Clark (who you will see plenty of) and something to cheer about. In the mid 90's to early 2000's, Tie Domi was arguably the club's most popular player.
The moral of the story: Fans love tough players.
GM Brian Burke promised "pugnacity, testosterone, truculence, and belligerence".
Where is it?
Since there hasn't been much to cheer for quite some time, I thought it would be fun to take a look at some big hits from the team's past.
Enjoy!
Begin Slideshow

»
Wendel Clark catches Chris Chelios admiring a pass and makes him pay.
This one still brings a smile to my face.
Tough guy Brad May finds himself in the wrong place at the wrong time.
How great was the Battle of Ontario?
Todd Gill was tough. Just ask Jarome Iginla.
Talk about a bone crunching hit.
Was Wayne Gretzky ever hit that clean again?
Tony Granato was never the same after this.
Unfortunately for Leaf fans, Jeremy Roenick's goal moments later would eliminate Toronto from the playoffs.
How awesome was Mark Hebscher with the highlights?
"Oh my God" is right. What a hit!