Chicago Cubs Roster Battles: Most Intriguing Spring Position Battles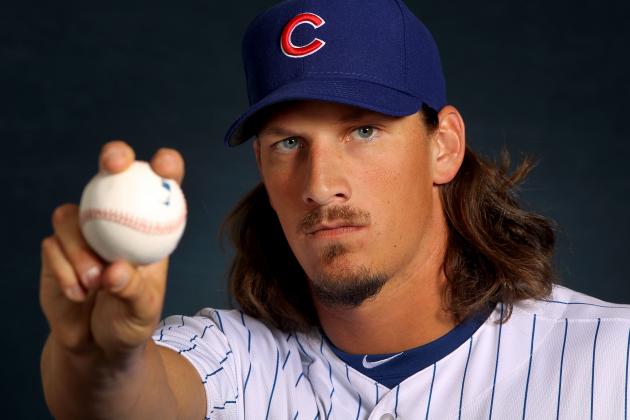 Jamie Squire/Getty Images

The Cubs came into spring training with a mindset of playing the long game.
The new Cubs brass gave votes of confidence to players who would have been in question by fans and the media otherwise, as well as assured young players that there hard work is not going overlooked.
That being said, the team is looking to compete in 2012 and are capable of doing so in the NL Central. The Cubs certainly face an uphill battle, but the group have been given a clean slate and certainly have something to prove after a disappointing 2011.
That being said, let's explore the biggest position battles for the Cubs this spring.
Begin Slideshow

»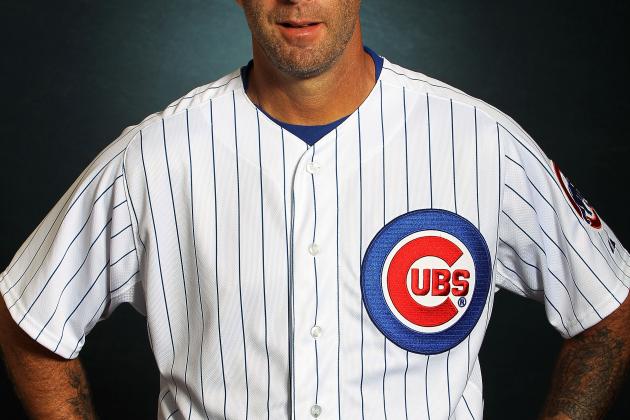 Jamie Squire/Getty Images

Starting Rotation
Matt Garza (LOCK)
Ryan Dempster (LOCK)
(in no particular order)
Randy Wells
Jeff Samardzija
Paul Maholm
Chris Volstad
Travis Wood
Rodrigo Lopez (aka Dark Horse)
I think the early favorites for the No. 3 and No. 4 spots are Paul Maholm and Chris Volstad, but that could change quickly.
Volstad has thrown six scoreless innings this spring, striking out four and walking none.
That means the fifth spot comes down to Wells, Samardzija, and Wood. Here's what their stat lines look like, respectively:
0.00 ERA, 2.2 IP, 1 K (only pitched once so far)
1-0 W-L, 3.00 ERA, 6-0 K-BB, 6 IP
1-0 W-L, 3.86 ERA, 1-2 K-BB, 2.1 IP (also only pitched in one game)
It will be interesting to see how things play out for these three throughout the rest of spring, along with spots filling up in the bullpen.
If no one can support Kerry Wood in setting up for Marmol, and Wood or Wells appear capable of holding down the spot, then it would make sense if Samardzija lands in the pen.
However, I don't see that happening.
T. Wood has one more option, meaning he can be sent to the minors one more time before having to clear waivers. It worked well for Samardzija, as he was out of options coming into 2011, and the same effect could be felt at the end of 2012 or for 2013.
I view Randy Wells the same way I view Glendon Rusch from 2004-2005.
Rusch was a great spot starter, practically splitting his time between starts and relief appearances in those two seasons.
Wells is durable and could easily be a spot starter or an innings eater if one of the back end pitchers struggles. This will allow him to focus more on keeping the ball down, and situational pitching.
I'm pulling for Samardzija in this one. He is fierce and wants to prove everyone wrong.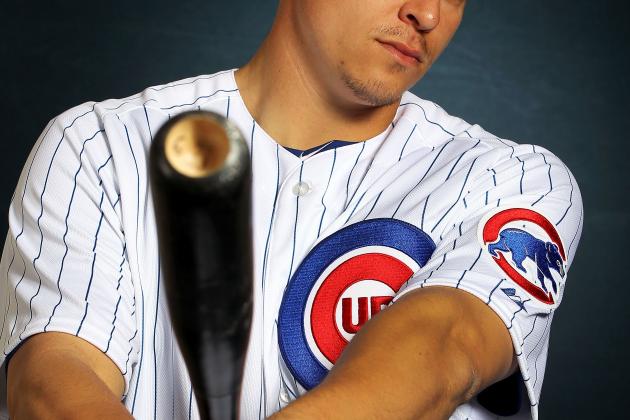 Jamie Squire/Getty Images

Bryan LaHair is struggling out of the gate, but spring training is a small, relatively skewed sample size.
He is the Cubs first baseman coming into Opening Day, with Anthony Rizzo going to Iowa until he proves himself.
I doubt the Cubs would give into pressure from the fans or media to give Rizzo a shot, but if LaHair struggles and the Cubs are fading, Rizzo could be the spark the Cubs need.
Assuming all goes well in Triple-A.
Rizzo continues to rip the ball this spring and has given fans every reason to be excited, but he still is, at the very least, months away.
Call me crazy, but I took LaHair late in my fantasy draft earlier this week.
It was in the later rounds, 23 or 24, but something inside me thinks he could be a Nelson Cruz circa 2009 when he hit 33 home runs and hit .260. The year before, in Triple-A, he hit .341 with 37 home runs and a .430 OBP.
What did LaHair do last year?
.331 with 38 home runs and a .405 OBP in 129 games at Triple-A, with an additional 15 home runs in Winter League.
No one is expecting LaHair to repeat his Triple-A numbers from last year.
However, if he could hit 25+ home runs and hold a decent average, LaHair could give the Cubs enough time and room to let things play out with Rizzo.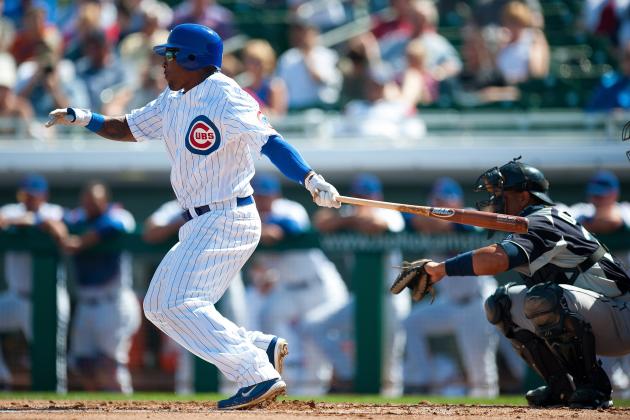 Rob Tringali/Getty Images

Incumbent Marlon Byrd is hitting a solid .333 in 21 at-bats this spring, but there is a hot young prospect right on his toes.
Brett Jackson is hitting .353 in 16 at-bats with one home run and three walks.
Jackson will most definitely start in the minors, but if he continues to play well in Triple-A, the Cubs could look to trade Byrd to free up some payroll and usher in the future.
Byrd is safe for the foreseeable future.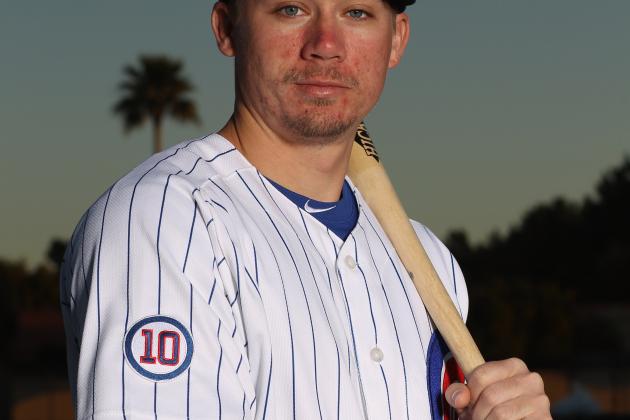 Ezra Shaw/Getty Images

Geovany Soto is the Opening Day catcher for the Cubs but his body is fragile as he is already dealing with a groin injury this spring.
The Cubs are going to need versatility on the bench and Clevenger has overwhelmingly played better this spring, and is a lefty which should come in handy. Clevenger is hitting .385 with a home run in 13 at-bats.
Castillo is also playing well, hitting .316 with one home runs in 19 at-bats. Castillo, who turn 25 in April, will likely return to Triple-A to see more constant action.
Very few think Clevenger will overtake Soto as the Cubs starting catcher.
But, Soto will need days off from time to time and Clevenger could certainly bring value in that regard.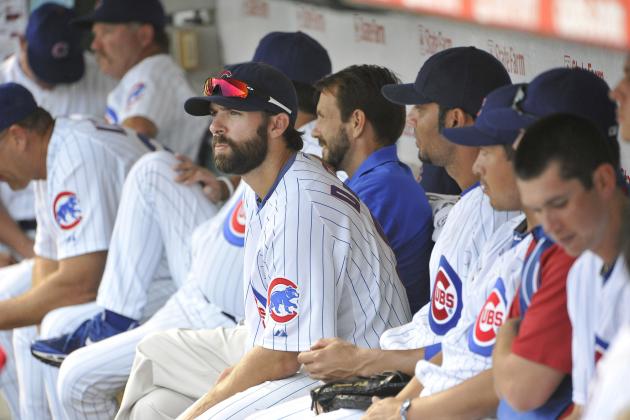 Brian Kersey/Getty Images

The infield will definitely need some relief as all four infielders will need their rest.
That leaves Jeff Baker, one of the best Cubs utility men in recent years, and either DeWitt or Cardenas.
Cubs fans were initially excited about Cardenas, as he was an Epstein/Hoyer acquisition.
Cardenas hit .314 in 127 games with five home runs and 32 extra-base hits. He replaced Blake DeWitt on the roster and has remained with the Cubs and is a non-roster invitee.
What if I told you DeWitt is hitting .462 in 13 at-bats this spring, and can play second base, third base, shortstop, and the outfield?
Should it be enough to win a spot on the team?
Cardenas is struggling this spring hitting .176 in 17 at-bats, but he is certainly getting a look.
The final decision will likely rest with Sveum.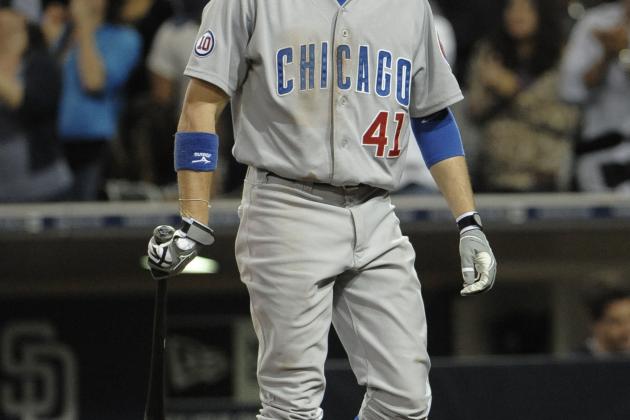 Denis Poroy/Getty Images

Reed Johnson and Tony Campana could each make a good case for the fourth outfielder spot.
Campana is easily one of the top five fastest guys in the league. He can get to just about every ball and is not afraid to sacrifice his body.
The same can be said for Johnson, who has experience in all three roster spots and is above average defensively. He hit .309 last year with five home runs and brings a veteran presence to the clubhouse.
If Campana wants to spend more time in Chicago, he will need to learn to get on base more.
That will come when Campana slaps the ball around the field more consistently and builds up his plate presence. Drawing more walks and stealing bases will be his ticket to the show.
Campana's role is still being defined.
Odds are Johnson will secure the spot with Campana seeing more time at Triple-A.