Brian Hoyer Will Test Free Agent Waters: What It Means for New England Patriots
March 13, 2012

Jim McIsaac/Getty Images
When the New England Patriots put a second-round tender on quarterback Brian Hoyer as a restricted free agent, the belief was that most teams would balk at the idea of giving up a second-round pick for him.
That won't stop Hoyer from checking anyway, according to Jeff Howe of NESN.com, whose source says that Hoyer is expected to explore opportunities as a starter.
What It Means
Hoyer has proven himself to be a viable back-up, stepping in on rare occasions during the regular season in between dazzling performances in the preseason.
However, if the Patriots were to land a second-round pick for Hoyer, that would have to be considered a coup. The Patriots gave up nothing for the Michigan State product back in 2009, when the team signed him as an undrafted free agent. They have developed him behind Tom Brady, and now stand to gain a big-time return on investment with Hoyer.
Read and React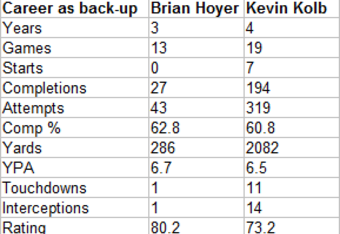 There's a lot to be said for a quarterback sitting behind and learning from Brady, while receiving the great coaching that comes with being in New England from Bill Belichick. Teams might be intrigued by what they've seen from Hoyer, and may like that there's real NFL game tape on him (even if not much) as opposed to potential prospects in the draft, who remain a projection at the next level.
Still, it's hard to say with any degree of certainty that you know what you're getting in Hoyer more than you'd know what you're getting in any prospect coming out of college.
That being said, it would surprise me if Hoyer found a home. The Kansas City Chiefs were able to land Matt Cassel and linebacker Mike Vrabel for a second-round pick back in 2009. That was a trade, but the principle of value is the same. Cassel started 16 games and had at least shown something on a stage that mattered.
Hoyer's regular season contributions? He's thrown for 27-of-43 passing, 286 yards, a touchdown and an interception while playing in a combined 13 games without a start in three seasons. The Cardinals gave up a second-round pick and Dominique Rodgers-Cromartie for Kevin Kolb last year, and although he hadn't proven much more than Hoyer has, at least there was a big enough body of work for the Cardinals to pull the trigger.
And even still, look where it got them: Right in the hunt for another quarterback the very next year.
Your Take
Should a team be willing to part ways with a second round pick for Hoyer? Vote in the poll and leave your comments below.