10 Footballers Who Could Rival Messi and Ronaldo for Ballon D'Or Next Year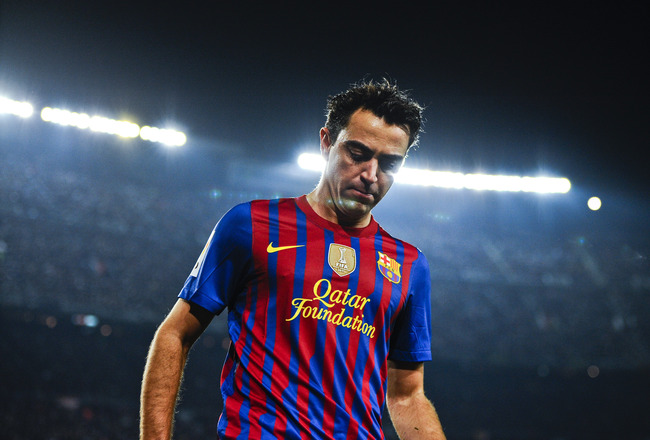 David Ramos/Getty Images
There is currently discussion floating around that Lionel Messi is the greatest footballer to ever live.
While that might not be true just yet, Messi is an incredible talent whose three consecutive Ballon d'Or awards are matched only by Michel Platini. The little Argentine is dominating the world stage, and few can come close to matching his ability or consistency.
However, there are many unbelievably talented footballers out there, and the game cannot be dominated by one player forever. Or at least we would like to think so.
Several players are having outstanding seasons and will have a very good shot to challenge Messi for the sport's most prestigious individual prize should they continue their performance and become finalists.
Here are 10 of the world's best players who can challenge Messi and perennial runner-up Cristiano Ronaldo for the Ballon d'Or.
David Silva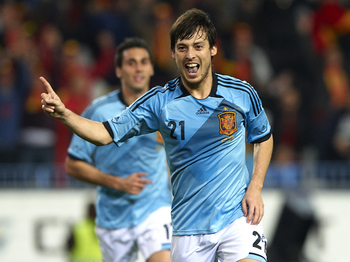 Manuel Queimadelos Alonso/Getty Images
David Silva has been nothing short of sublime this season, his second with Manchester City.
At the beginning of the season, City was playing some of the most beautiful, entertaining, swashbuckling football in the world, and the little Spaniard was the heartbeat of the attack.
Though the Sky Blues' attacking pace has waned slightly in recent games, Silva's role has taken on greater importance. The unbelievable vision and passing range that he provides are what keeps the goals flowing for the potential Premier League champions.
He leads the League in assists with 12, and has even pushed for a place in the midfield of a Spain team that contains the likes of Xavi, Andres Iniesta, Cesc Fabregas and Xabi Alonso.
Mario Gomez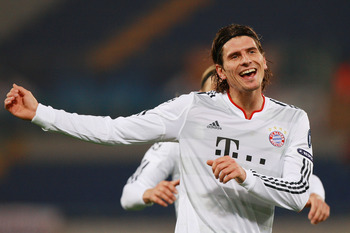 Paolo Bruno/Getty Images
Bayern Munich striker Mario Gomez is one of the players most often overlooked in the discussion about who is the best pure striker in the world.
The three words one could use to describe the German are: goals, goals, goals. And Gomez's goal-scoring record is, quite simply, insane.
After netting 28 Bundesliga goals last season, Gomez has scored 21 in 24 games this campaign, and has added six from as many matches in the Champions League.
Both Lionel Messi and Cristiano Ronaldo are often lauded for their ability to bang in goals at an almost superhuman pace, and Mario Gomez, who plays in a much more balanced league, should be mentioned in that same stratum.
Zlatan Ibrahimovic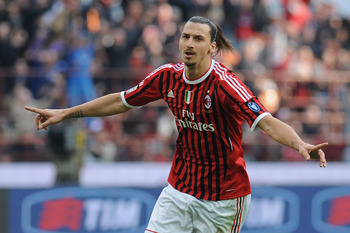 Valerio Pennicino/Getty Images
Speaking of strikers who can't stop banging in goals, Zlatan Ibrahimovic has been having a stellar season at AC Milan, where he is pushing to win his ninth consecutive title.
Ibrahimovic has contributed 19 goals and five assists in just 21 Serie A games, and, though he can sometimes be temperamental, he is an essential cog in the Rossoneri attack.
The Swede is no less influential in the Champions League, where his five goals in six games is quite an impressive record. His first touch almost never lets him down, and his finishing ability is almost lethal.
One can make a compelling argument that Ibra is the best player on his team, if not Serie A as a whole.
Wayne Rooney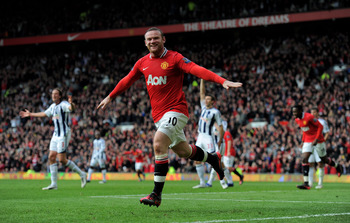 Michael Regan/Getty Images
After overcoming a hiccup last season, Wayne Rooney has reclaimed his status as Manchester United's talisman and one of the best players in the world.
Rooney's form has been absolutely sublime this season, and Wazza's 20 goals in 25 games are enormous reasons why United are currently atop the Barclays Premier League.
When the English bulldog is not finishing with style, he is working hard to win the ball back, tracking back in defence, and linking up with his teammates to dictate possession.
Rooney is simply the greatest English player alive today, and the completeness of his game is simply astounding. He would be a worthy winner of the Ballon d'Or and a genuine challenger to Messi and Ronaldo.
Sergio Aguero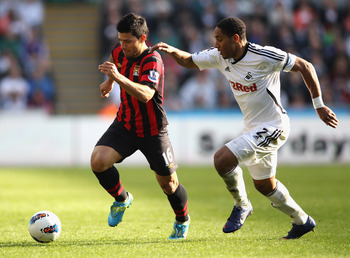 Scott Heavey/Getty Images
Another prolific striker who has a shot to unseat and vault Messi or Ronaldo is Manchester City striker Sergio Aguero.
While his strike rate has declined somewhat since the beginning of the season, Aguero remains an extremely dangerous player that Roberto Mancini has not been able to keep out of games, even with City's glut of strikers.
"Kun" is an extremely dynamic player who can blow past players with pace, beat them one-on-one with skill and trickery, and finish with power or finesse from almost anywhere in the opponent's third.
Benefiting greatly from the service of the aforementioned David Silva, Aguero has been one of the most dangerous players in the Premier League.
Eden Hazard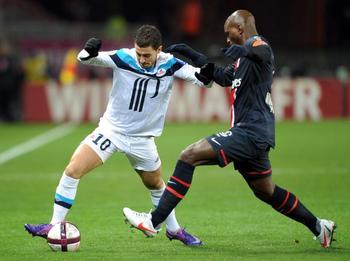 If you are looking for a player to unseat Lionel Messi and Cristiano Ronaldo as the two best in the world, who better to pick than a combination of the two?
Lille winger Eden Hazard operates in the same role as Ronaldo, as the Belgian wunderkind loves to outpace opponents or use trickery to get past them on the wing.
And, at 5'7" Hazard has the stature of Messi, using a low center of gravity to bounce off challenges and dribble past opponents like few others in world football can.
Especially if Hazard gets a move to a bigger club, as rumored, he will have an excellent chance of fulfilling his enormous potential and becoming the best player in the world. He definitely has the ability to do so.
Mesut Ozil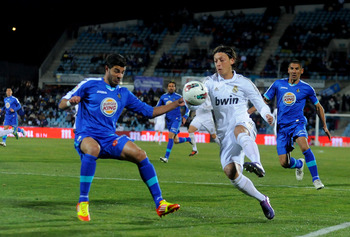 Denis Doyle/Getty Images
Mesut Ozil has come alive this season for Real Madrid, acting as the attacking linchpin and providing a crucial creative spark from midfield.
His 13 assists lead La Liga with Angel di Maria, and Ozil's performances have been so strong that they have kept €65 million man Kaka out of the starting lineup, and have even generated rumors of a transfer for the Brazilian.
When Madrid need that moment of inspiration to win a hard-fought match, it is often the immensely talented German who provides the skill.
A fixture in the starting XI for both club and country, one could make a compelling argument that Ozil is the best purely attacking midfielder in the world.
Neymar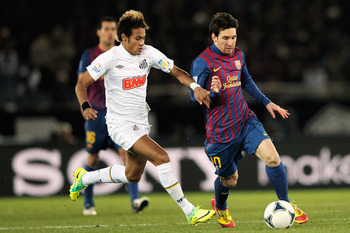 Lintao Zhang/Getty Images
Neymar has all the talent to rival Messi for the Ballon d'Or and unseat the Argentine from his perch as the world's greatest footballer. The question is whether he will be able to do so as early as next season.
To win the award, Neymar will likely have to transfer to Europe. Although Santos do not absolutely have to sell and have expressed resistance to doing so in the past, few believe a move to Europe is anything but inevitable.
If the 20-year-old Brazilian international completes the most likely transfer to Real Madrid, he will be in a perfect position to showcase his amazing talents on one of the biggest stages that the world has to offer.
What better way is there to announce to the world that you are better than Lionel Messi by besting him head-to-head, which Neymar will be able to do at least twice per year playing for Madrid.
Robin van Persie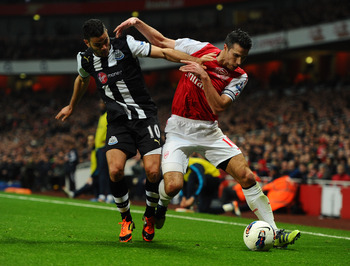 Mike Hewitt/Getty Images
With the outstanding run of form that Arsenal captain Robin van Persie is currently on, one could certainly make the case that the Dutchman is the best striker in the world at the moment.
Simply put, RVP cannot stop scoring for Arsenal, and his 26 Premier League goals lead the league by a wide margin. At every opportunity, he makes the outstanding appear ordinary, and seems to carry Arsenal on his back at times.
If he can remain healthy and continue to dominate England (or wherever he ends up playing next season), it will be very hard to prevent Van Persie from becoming at least a finalist for the Ballon d'Or.
He can score at a comparable rate to Messi and Ronaldo with all the class and even more deep-lying ability.
Xavi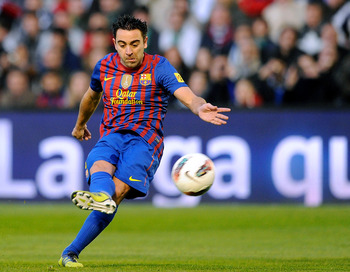 Denis Doyle/Getty Images
If there is one man most likely to unseat Messi, the greatest forward in the world, from his perch atop the football world, it is his teammate Xavi, the best midfielder in the world.
The Spaniard is at least the best of his generation in midfield, and perhaps the best ever. He is the metronome behind the greatest passing side ever assembled. He is the deep-lying playmaker who keeps the team ticking with his unparalleled vision and close-control.
The amount of passes that the diminutive Spaniard completes in a match is unreal. Take the 2011 Champions League final as an example: of the 150 passes Xavi attempted (more than any other player by a distance), he completed an astounding 142.
A finalist for the past two seasons, his game has not diminished one bit with age, and the Ballon d'Or would be a fitting reward for the pivotal role in which Xavi shines for two of the best club and national team sides of all time.
Keep Reading

Arsenal: Like this team?