NFL Draft: 4 Potential Draft-Day Trades the San Francisco 49ers Should Consider
March 13, 2012

Donald Miralle/Getty Images
Now that the San Francisco 49ers have signed wide receiver Randy Moss, the team's biggest need in the NFL draft is for a first-rate offensive lineman. To get one of the two prize picks—David DeCastro of Stanford or Matt Kalil of USC—the Niners will probably have to trade up to the first eight selections or so.
There are no worries about the first two slots, and probably no opportunity with the third. The Indianapolis Colts and Washington Redskins will, in all likelihood, take Stanford's Andrew Luck and Baylor's Robert Griffin III.
The Minnesota Vikings, holders of the third pick, are said to have their eyes on Kalil, although a report by Len Pasquarelli of The Sports Xchange/CBSSports.com earlier today suggested the Vikes hadn't fully made up their minds.
It's doubtful the Niners have much in the way of trade bait to tempt the Vikings, since Minnesota wants what San Francisco wants. That leaves the Cleveland Browns, Tampa Bay Buccaneers, St. Louis Rams, Jacksonville Jaguars and Miami Dolphins—holders of picks four through eight.
Of those, the 49ers can probably scratch the Dolphins, who are primarily seeking a quarterback. According to Dave Hyde of the South Florida Sun-Sentinel, the Dolphins hope to snag Peyton Manning (doesn't half the league?), with free agent Matt Flynn as a backup choice.
With the Niners apparently planning to re-sign Alex Smith, that would leave Colin Kaepernick as a potential trade offering. It's unlikely the Dolphins or anyone else would be interested in starting Kaepernick, who is talented but untested. Moreover, Kaepernick is too valuable for the 49ers to consider giving up.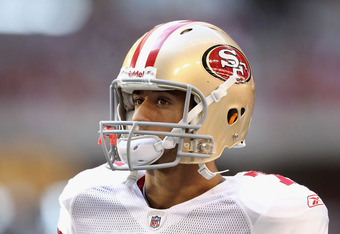 Christian Petersen/Getty Images
So is much of the team, for that matter. The Niners have relatively few players who might be trade candidates. Moreover, 19 members of the team are free agents, further limiting the names the Niners can dangle before potential trade partners.
Looking over the roster, I count only six remaining players who might be considered expendable—backup offensive tackle Alex Boone, cornerbacks Tarell Brown and Shawntae Spencer, wide receivers Michael Crabtree and Kyle Williams and running back Anthony Dixon.
In an earlier column, I suggested offensive guard Mike Iupati and safety Donte Whitner, but my readers sent me to the 49er re-education gulag, and I'm not going back there.
So let's take these six and see which of the high-pick teams might be interested. It will no doubt take more than one player to wrest free a top-seven draft pick, so anything the 49ers offer will need to be a package deal.
Start with the Browns, who hold the fourth pick. Much as I would hate to make anyone relocate from San Francisco to Cleveland, this one has possibilities.
Terry Pluto of the Cleveland Plain Dealer writes that the Browns need help at running back, wide receiver, offensive tackle and defensive back, among other positions. If the Browns don't address the running back issue by drafting, say, Trent Richardson of Alabama, they might be tempted to trade their pick for some combination of Boone, Spencer, Brown, Crabtree or Williams.
Move on to Tampa Bay, holder of the fifth overall pick. According to Roy Cummings of the Tampa Tribune, the Bucs need a cornerback, a wide receiver, a linebacker, a running back and a tight end. They may also need a couple of popcorn vendors. Here again, minus the vendors, the Niners may have something to offer.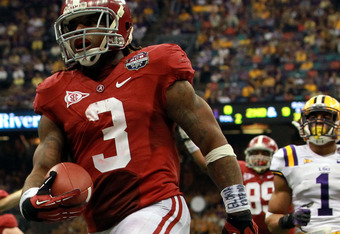 Ronald Martinez/Getty Images
An intriguing possibility might be to give up tight end Delanie Walker, with Stanford's Coby Fleener possibly within reach of the 49ers' regular first-round pick (No. 30). Personally, I wouldn't do it. Walker is a talented player and a proven entity who has the misfortune of playing behind perhaps the game's best in Vernon Davis.
On to the Rams, who traded their No. 2 pick to the Redskins for Washington's No. 6. My colleague Tyler Emken of Bleacher Report writes that the Rams are in search of wide receivers and defensive backs. Bleacher Report's David Levin writes that the same is true for the Jaguars, who hold selection No. 7.
At wide receiver, Crabtree is solid although not spectacular, and Williams is a promising prospect (forget his errors in the NFC Championship game). Again, cornerbacks Brown and Spencer could be attractive.
In the end, it comes to this: Can the 49ers do a top-tier trade without offering at least one player with top-tier talent? Keep in mind that the draft is just one route to building the team. Free agency started today, and other trades are also possible.
Having missed the Super Bowl by just a hair, the last thing the 49ers should do is break up a strong first string in search of one rookie, no matter how promising. That said, there are a few teams out there who have the draft pick that the 49ers might want, and the Niners could perhaps fill their needs, as well.
Time to play "Let's Make a Deal"?