NCAA Bracket 2012: 5 Worst Trap Games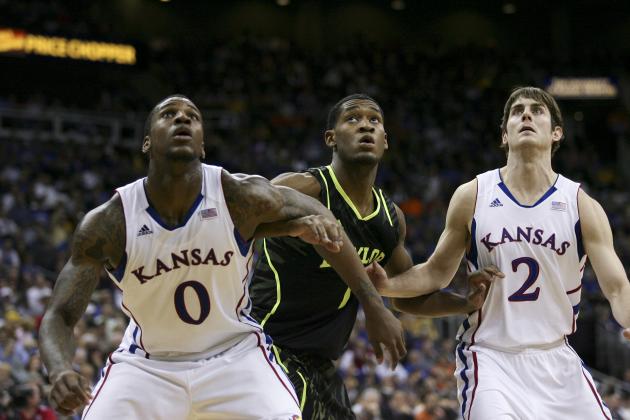 Ed Zurga/Getty Images

In the NCAA tournament, where one loss ends a team's season and national title hopes, it's hard to characterize any game as a "trap game."
That being said, there are situations where a team faces the prospect of a daunting matchup one or two rounds away, and may not devote quite enough attention to the initial matchup as needed.
It also could include situations where a team is coming off a really big win, or a few big wins, and enters the tournament on a major high because of its recent success.
There are a few good recent examples of teams going down earlier than anyone expected. One would be Louisville a year ago, where after making a run to the Big East Championship game, went down in its first game (second round, technically) to the No. 13 seed Morehead State.
Another example, also from the Big East, would be Georgetown in 2010. The Hoyas entered as a No. 3 seed, and came out completely flat against an energetic and frenetic Ohio team. The Bobcats, the No. 14 seed, got to a quick lead and never looked back, sending Georgetown to a rather humbling and somewhat embarrassing defeat in the first round.
So, which teams could fall into the same kind of trap as Louisville and Georgetown did the past two years? Here's a look at five possible cases.
For your printable bracket for the 2012 NCAA tournament, click here
Begin Slideshow

»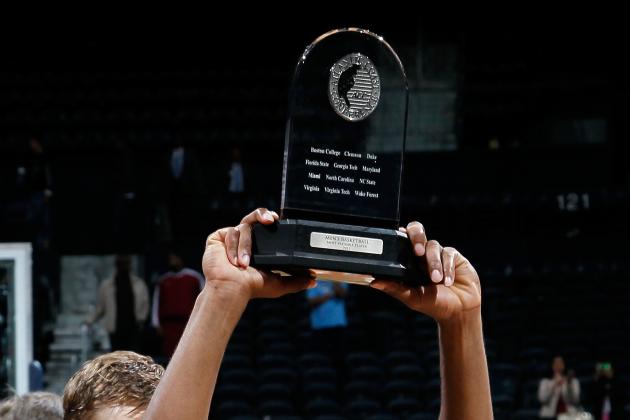 Kevin C. Cox/Getty Images

Florida State enters the tournament on about as much of a high note as anyone in the country. The Seminoles rolled through the ACC Tournament, beating both Duke and North Carolina, to win its first-ever conference championship.
As a result of their success in Atlanta, FSU earned a No. 3 seed in the NCAA tournament, and the respect of many experts who now have pegged it as a not-so-surprising Final Four team.
Despite the really good seed it earned, FSU has to go up against another team coming in having won its conference tournament, in a quality league.
St. Bonaventure won the Atlantic 10 Tournament to earn a spot in the Field of 68. The Bonnies had a good season prior to its success in Atlantic City, finishing 10-6 and tied with Xavier (which earned an at-large bid) for third place in the conference.
The Bonnies have the conference POY in forward Andrew Nicholson. The 6'9" forward was phenomenal over the weekend, averaging 23 points, 10 rebounds and five blocks over the three games. Nicholson was particularly outstanding in the final against Xavier, with 26, 14 and eight to secure the Bonnies' spot in the tournament.
Nicholson will be quite a force against Florida State, and could very well push the 'Noles into a full 40-minute fight on Friday in Nashville.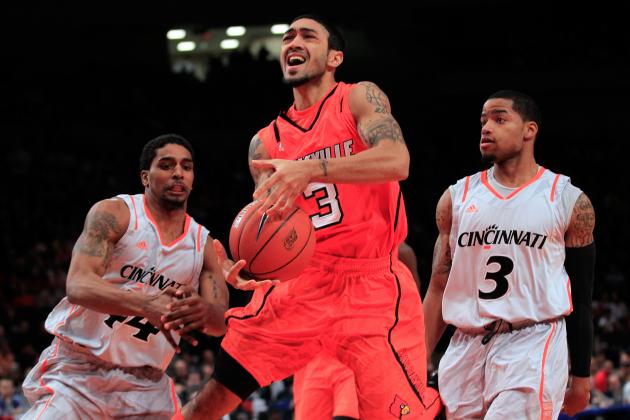 Chris Trotman/Getty Images

Speaking of Louisville, this year's team would be wise to avoid the same pitfall it experienced a year ago.
Louisville earned a No. 4 seed for a second straight year after beating Cincinnati to win the Big East Tournament. As a result, the Cardinals head into the tourney as one of the hottest teams in the country, with their eye on taking down the Michigan State, the West's top seed in the Sweet 16.
Before that happens, Louisville better make sure they take care of a very dangerous Davidson team.
Davidson isn't just a good enough team for us to think it can beat a really good team, it has already proven it can. The Wildcats beat Kansas, in Kansas City, back in December. That should be enough convincing the Cardinals would need to realize this is a matchup that can not be overlooked.
What makes Davidson so dangerous is the fact that all five of their starters can knock down threes. Even Jake Cohen, the Wildcats' 6'10" center, made 30-of-81 (37 percent) of his threes this season. This will present numerous defensive issues for Louisville if Davidson is able to handle the Cardinals' pressure defense.
With Davidson looming, a repeat of last year's 13-4 upset over Louisville is a very real possibility.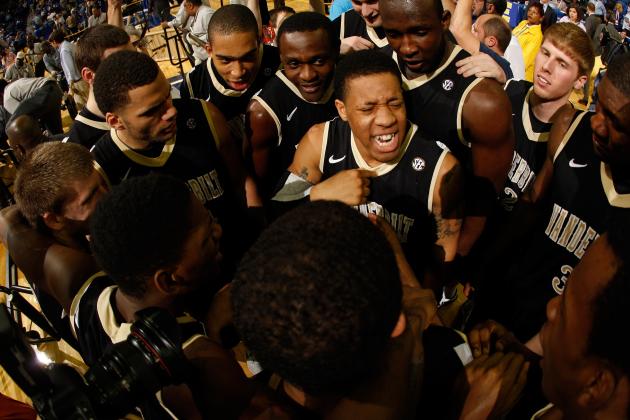 Chris Graythen/Getty Images

Sticking with the theme of conference tournament champions having tricky first-round matchups, I present Exhibit C: Vanderbilt.
Vanderbilt has been showered with repeated praise, well-deserved to be sure, after beating No. 1 Kentucky in the SEC Tournament final. In its three matchups with the Wildcats, Vanderbilt has proven it can play with the nation's best team, and therefore, that it can potentially beat anyone in the field.
That praise and expectation, however, won't help Vanderbilt in its quest to meet the now-lofty expectations.
Before it can worry about a possible Sweet 16 matchup with Syracuse, Vandy has to get by its first-round opponent, Harvard. Winners of the Ivy League, the Crimson have also proven it can beat a top-four-seed team this season. Back in November, it knocked off Florida State in the Battle 4 Atlantis in the Bahamas. That win gave Tommy Amaker's team the confidence it needs to pull off a win in the NCAA tournament.
In addition, Vanderbilt is battling its own demons resulting from recent failures in the tournament. The Commodores have lost three straight times in the Big Dance as either a No. 4 or 5 seed. In 2008, they lost to No. 13 seed Siena. In 2010 they lost again as a No. 4 seed, to Murray State in the first round. Last year, they fell victim yet again, to the No. 12 seed Richmond.
Is Vanderbilt truly good enough to overcome recent history? It better not assume so, or it will be yet another brief and disappointing trip to the tourney.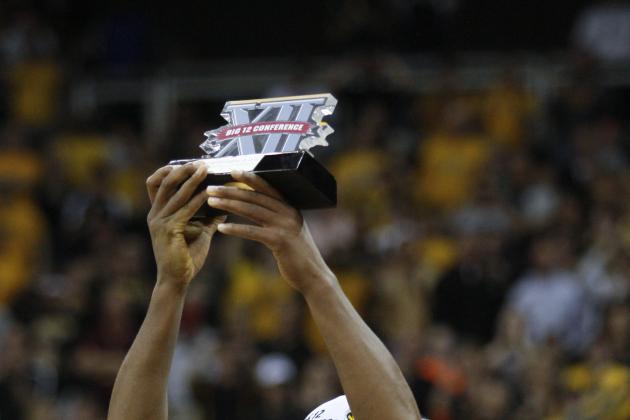 Ed Zurga/Getty Images

This is the last conference tournament champion featured, I promise.
Missouri, winners of the Big 12 Tournament, earned a No. 2 seed in the West region. If other seeds hold serve through the first two rounds, the Tigers are looking at a very intriguing matchup with No. 3 Marquette. If they play up to their potential there, a possible Elite Eight matchup with top-seeded Michigan State looms large.
Before either of those enticing matchups can take place, Missouri must get past MEAC Champion Norfolk State, the No. 15 seed, in the second round on Friday.
Marquette knows all about what Norfolk State is capable of. After beating Drexel and TCU in the first two games, the Spartans gave Marquette all it could handle in the tournament championship. They took the game to the final possession, losing by just two to a top-10 team.
Norfolk State has a presence rather uncommon for teams out of low-major conferences: a really, really good big man. Kyle O'Quinn, a 6'10" senior from New York, averaged a double-double this season. He certainly gave Marquette problems earlier this year, and can do the very same against an undersized Missouri team.
While a Final Four run is very much a possiblity for Missouri, it better not overlook the possibility of another 15-over-2 upset from a MEAC team (Coppin St. in 1997, Hampton in 2001).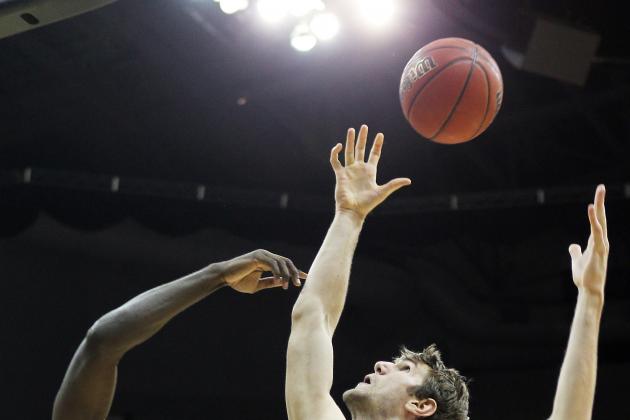 Jamie Squire/Getty Images

The Big 12's other champion, of the regular-season variety, also better beware of a very dangerous No. 15 seed in its first tournament game.
Kansas, a No. 2 seed in the Midwest region, must take on Detroit in Omaha on Friday. Detroit is this year's representative out of the Horizon League, which has of course seen plenty of success in recent tournaments with Butler's back-to-back Final Fours.
Detroit is more than capable of upholding the Horizon's reputation of busting brackets, despite its unfavorable seed. If you watched them dismantle Valparaiso in the second half of the Horizon final last week, you would know how good this team can be. The Titans are playing their best basketball of the year after struggling some early on without center Eli Holman.
Holman is a power-conference-level playing in the post for a mid-major team. The Indiana transfer helped turn the Titans season around, as they went 18-7 after his return in mid-December. Before that, they were just 4-6.
In addition to Holman, Detroit has a big-time talent in the backcourt with Ray McCallum. McCallum carried the Titans to the Horizon League championship, scoring 20-plus in each of their three games. He will not be afraid one bit of facing Kansas on Friday.
With big-time talent in both the frontcourt and backcourt, Detroit is one of the most capable 15 seeds in recent tournament history. Combined with Kansas' troubles with quality mid-majors in early rounds in recent years, and you may just have the ingredients for a shocking early-exit for a team with Final Four expectations.