2012 NFL Mock Draft: Skill Players Guaranteed to Fail in Rookie Season
March 14, 2012

Sarah Glenn/Getty Images
If every "sure-fire" prospect became a star in his first NFL season, the Pro Bowl wouldn't be necessary because they'd all be going to the Pro Bowl.
However, naturally, some prospects flop and some take longer to develop. Just because a prospect fails in his rookie season doesn't mean he won't be a good player in the future, especially if he's a quarterback.
Here's a look at my latest mock draft, complete with the skill players I see stumbling in their first NFL seasons (in italics).
1. Indianapolis Colts: Andrew Luck, QB, Stanford
It's pretty obvious by now the Colts are going to draft Andrew Luck. He's a once-in-a-generation prospect who figures to be the perfect successor to Peyton Manning.
2. Washington Redskins (via STL): Robert Griffin III, QB, Baylor
Jay Glazer of FOX Sports reported on Friday that the St. Louis Rams traded their No. 2 overall pick for the Redskins' No. 6 overall pick, two future first-rounders and a second-rounder.
Robert Griffin III, with his dazzling blend of pocket passing and running ability, could become the next franchise quarterback for the Redskins.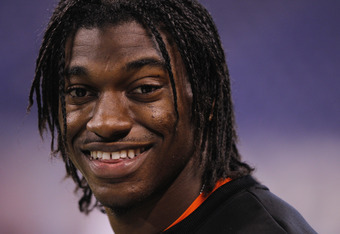 Joe Robbins/Getty Images
3. Minnesota Vikings: Matt Kalil, OT, USC
First-round pick Christian Ponder struggled last season, in part because of poor protection from the offensive line.
Matt Kalil is the best offensive lineman in the draft class and is a no-brainer here.
4. Cleveland Browns: Trent Richardson, RB, Alabama
With Peyton Hillis sent off to free agency, Trent Richardson, the top running back in the draft, is the obvious selection here.
Richardson has a dazzling combination of speed, strength, burst, vision, patience and big-play ability. He's going to be a superstar in the NFL.
5. Tampa Bay Buccaneers: Morris Claiborne, CB, LSU
Morris Claiborne was already being called the best cornerback in the class before the combine. He has better coverage skills than former teammate Patrick Peterson.
So when he blew threw the combine, Claiborne was locked as a top-10 pick. The Buccaneers will make him a top-five pick with Ronde Barber aging and Aqib Talib continuing to have issues.
6. St. Louis Rams (via WA): Justin Blackmon, WR, Oklahoma State
This was a great trade for the Rams. They have a solid young quarterback in Sam Bradford. He just needed weapons.
Now the Rams have the opportunity to give him a strong playmaker in Justin Blackmon. The Rams front office just scored an "A+".
7. Jacksonville Jaguars: Melvin Ingram, DE/OLB, South Carolina
I lot of people have the Jaguars selecting Quinton Coples to shore up their pass rush, but that would be a mistake. Melvin Ingram is more consistent and he's a dynamic pass-rusher himself.
8. Miami Dolphins: Riley Reiff, OT, Iowa
Some believe the Dolphins may reach for a receiver here, given they just traded away Brandon Marshall, but Riley Reiff is a solid offensive tackle who will bolster the outside.
9. Carolina Panthers: Dontari Poe, DT, Memphis
Dontari Poe just had a monster combine and if he can live up to that strength and athleticism, he figures to be a fixture in the NFL for years to come. The Panthers need help in the interior and Poe has the potential to help them greatly.
10. Buffalo Bills: Courtney Upshaw, DE/OLB, Alabama

Just because the Bills will be switching to a 4-3 defense next season doesn't mean they don't want to be flexible. Courtney Upshaw is a legit pass-rusher and that is what the Bills need.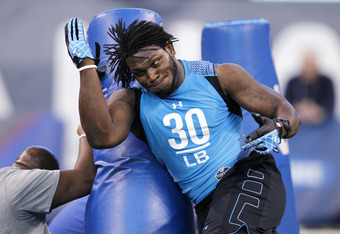 Joe Robbins/Getty Images
11. Kansas City Chiefs: Jonathan Martin, OT, Stanford
Jonathan Martin's stock slipped a bit given his underwhelming numbers at the combine, but he's still a tackle I can see being solid in the NFL. Sometimes players just play beyond their numbers and Martin showed that throughout his time at Stanford protecting Andrew Luck.
The Chiefs need to find a suitable left tackle to protect whoever will be their quarterback.
12. Seattle Seahawks: Ryan Tannehill, QB, Texas A&M
I wouldn't advise this, but it's pretty clear by now that Peyton Manning isn't headed to Seattle and the Seahawks are desperate for a quarterback. If they don't find one in free agency, they have to give Ryan Tannehill a shot, even if he's a project.  
13. Arizona Cardinals: Cordy Glenn, G/T, Georgia
Cordy Glenn is likely a better guard at the pro level, but he showed enough athleticism at the combine to justify inserting him at tackle.
Kevin Kolb needs some protection before he succeeds and Glenn is a nice prospect.
14. Dallas Cowboys: Stephon Gilmore, CB, South Carolina
I've been high on Stephon Gilmore for a while now and his combine was absolutely stunning. He displays the coverage skills, tenacity against the run and returning ability to be a great fit for the Cowboys (the Cowboys could use Dez Bryant strictly as a receiver).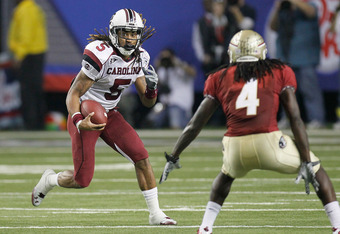 Kevin C. Cox/Getty Images
15. Philadelphia Eagles: Luke Kuechly, LB, Boston College
The Eagles have needed a solid interior linebacker for years and if Luke Kuechly drops to them, I'd be surprised if they didn't snatch him up. He has the instincts, range and tackling ability to be a difference-maker for the Eagles. It also doesn't hurt that he dominated at the combine.
16. New York Jets: Michael Floyd, WR, Notre Dame
The Jets need a receiver to complement Santonio Holmes and complement Mark Sanchez. Michael Floyd doesn't have elite speed, but he's strong, physical and can win jump balls. He's a guy who could make an impact from the beginning.
17. Cincinnati Bengals (via OAK): David DeCastro, G, Stanford
David DeCastro is an exceptional prospect with the smarts and toughness to match. The Bengals need help on the offensive line and DeCastro would be a solid addition.
18. San Diego Chargers: Mike Adams, OT, Ohio State
Mike Adams may be a bit of reach here given his underwhelming combine performance, but he played well in the Senior Bowl and he played well all season for Ohio State. I think he has the ability to develop into a nice starting tackle and Philip Rivers needs the protection.
19. Chicago Bears: Amini Silatolu, G, Midwestern State (Texas)
Amini Silatolu is a reach here (some don't even have him in the first round), but with the Bears trading for Brandon Marshall, it may be worth the risk to try to find a starting guard of the future. He's one of the more athletic and explosive guards in the class—his combine won't show you that but his game tape will. I think Silatolu could become a very good player with some work.
20. Tennessee Titans: Nick Perry, DE, USC
Nick Perry is one of the most underrated prospects in the class in my opinion. He's quick, explosive and a born pass-rusher. The Titans could use some of that.
21. Cincinnati Bengals: Janoris Jenkins, CB, North Alabama
And now...the moment you've all been waiting for...Janoris Jenkins to the Bengals.
Jenkins is an exceptional talent and his character issues aren't likely to scare off the Bengals organization. Opposite Leon Hall, this could be a great one-two punch in the secondary.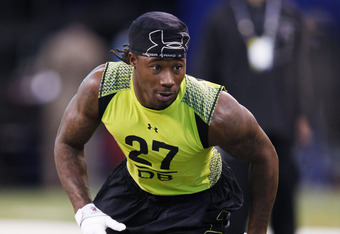 Joe Robbins/Getty Images
22. Cleveland Browns (via ATL): Kendall Wright, WR, Baylor
A lightning-quick receiver and Trent Richardson? Not bad for one round of drafting.
This would address the Browns' needs and give them a potential future DeSean Jackson in Kendall Wright. And forget about Wright's combine 40 time. He runs faster on the field and that's what matters.
23. Detroit Lions: Dre Kirkpatrick, CB, Alabama
Dre Kirkpatrick could obviously go earlier than this, but I don't think it's unfathomable to draft Stephon Gilmore or Janoris Jenkins before him, either. Nonetheless, Kirkpatrick could become a starter for the Lions in the first week of action next season.
24. Pittsburgh Steelers: Dont'a Hightower, ILB, Alabama
Cornerback and offensive line are bigger needs, but there's no one worth reaching for here. In that case, look for the Steelers to take a look at their inside linebacker of the future, Dont'a Hightower. Hightower has great size and strength and plays big, clogging the middle.
25. Denver Broncos: Michael Brockers, DT, LSU
I was not impressed with Michael Brockers at the combine. He showed up way overweight didn't show the combine numbers everyone expected. However, he does have tremendous potential. He played dominant football at LSU and has the ability to be a star at the next level.
26. Houston Texans: Mohamed Sanu, WR, Rutgers
I loved how Mohamed Sanu played for Rutgers this past season. He showed great hands, strength and fearlessness, as well as some show-stopping catches. He would give the Texans a nice second receiver opposite Andre Johnson. 
27. New England Patriots (via NO): Whitney Mercilus, DE/OLB, Illinois
The Patriots need a pass-rushing threat. They can't afford to ignore this anymore.
Whitney Mercilus is an outstanding athlete with great closing burst and is a versatile player. He would be a good fit in New England with the opportunity to iron out some of his skills under a great coaching staff.
28. Green Bay Packers: Andre Branch, DE, Clemson
Andre Branch has been a fringe first-rounder for a while now, but his motor, athleticism and pass-rushing ability would make him a good fit at outside linebacker in a 3-4.

29. Baltimore Ravens: Peter Konz, C, Wisconsin
It's not often you come across a center who has the ability to start in his first NFL season. Peter Konz has this ability and would be a good add for the Ravens, who have Matt Birk and Andrew Gurode hitting free agency.
30. San Francisco 49ers: Stephen Hill, WR, Georgia Tech
The 49ers signed Randy Moss, of course, but he's obviously no long-term answer. Grabbing a riser like the lightning-fast Stephen Hill could see the 49ers land one of the biggest surprises of the class.
Hill does need help on his route-running, though, and will need some grooming at the next level.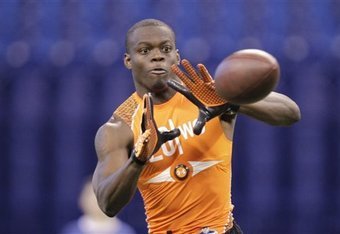 31. New England Patriots: Mark Barron, S, Alabama
The Patriots need to plug a hole at safety and Mark Barron is the top safety in the class. He's an instinctive, aware, physical defensive back who hits hard. 
32. New York Giants: Devon Still, DT, Penn State
This is a value pick, but it also would bolster the Giants in the interior, which is a need. If Devon Still develops into his potential, the Giants' defensive line would be even more scarier and be able to defend the run better.
Follow me on Twitter. We can talk about NFL prospects.