Perry Jones III Can Lead Baylor Deep into the Dance
March 13, 2012

Jamie Squire/Getty Images
There is no denying it: Perry Jones III did not have the type of sophomore season many were expecting.
After all, Jones is one of the most physically gifted players in all of college basketball, and NBA scouts have been drooling over his potential since his junior year at Duncanville (TX) High School. At 6'11", 235 pounds, Jones has an NBA-ready body in the mold of Chris Bosh.
As a freshman in Waco, Jones averaged just less than 14 points and over seven rebounds a game. His game was developing nicely, although he was not the focal point of the offense as that distinction went to senior guard LaceDarius Dunn.
But Jones was efficient, making the most of his opportunities while only taking about 10 shots per game. Despite leading the Bears to an 18-12 record, Jones was forced to sit the team's Big 12 tournament game against Oklahoma due to eligibility issues. Jones was suspended a total of six games. Baylor lost to the Sooners and the team missed out on an at-large berth into the NCAA tournament.
Perry Jones III was facing what seemed like an easy decision to people like you and me: either return to Baylor, knowing he had to serve five more games of his suspension to start the season, or go the NBA where he was predicted to be a top-five pick in the draft.
That one's easy. Next question?
But Jones surprised just about everyone when he announced his intentions to return to Baylor for his sophomore campaign. He wanted to help his team return to Big 12 prominence and to play in the NCAA tournament. His decision showed true character in the face of adversity. It would have been easy to not just chase the money, but also to avoid serving his suspension and the negative press that goes with it.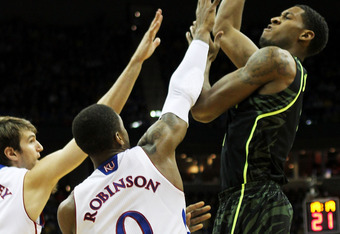 Jamie Squire/Getty Images
But as they say, Jones "manned up." He took responsibility for his actions, a trait not always found in today's top one-and-done athletes. Jones came back to school and Baylor turned on the afterburners.
They started the season 17-0. The Bears, who went 7-9 in the Big 12 in 2011, went 12-6 in conference play and finished 27-7 overall this season. Led by Jones, Baylor has beaten Saint Mary's, West Virginia, BYU, Texas, Iowa State and Kansas State, all teams who made this year's NCAA tournament.
From a statistical standpoint, Jones' numbers have only slightly improved this season. He is averaging 14 points and 7.7 rebounds per game. The 24-hour social media machine has criticized Jones for not being a better shot blocker and especially for not being more assertive on the offensive end of the floor.
What has been overlooked is the fact that without LaceDarius Dunn, Perry Jones has become the focal point of the Baylor team and who opponents key on. That has opened the door for role players like Qunicy Acy and Quincy Miller to emerge, and it has clearly helped Baylor play better as a team. What a novel idea.
The positive for Jones is that these harsh reactions are due to the fact that everyone who knows anything about basketball sees the same thing when they watch him play: unlimited potential. Despite playing the four and five positions for Baylor, Jones moves with the agility of a two-guard and has the shooting touch of an NBA swingman/small forward. He can handle the basketball like a perimeter player, but also uses his frame to clear out space and eat rebounds.
Often times we classify players with big upsides but without the statistics to back it up as "disappointments." We forget that they are 18 and 19 years old, still developing their games. LeBron James waited eight NBA seasons and a collapse in the finals before improving his low-post game, and he is the best basketball player on the planet. Nobody's perfect. That's just how it goes.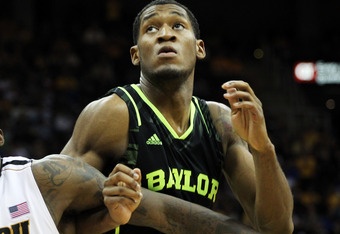 Jamie Squire/Getty Images
And as it turns out, Jones may have been listening to all the talking heads. As they say, "never wake a sleeping Giant." After suffering through a tough start to the month of February (single-digit points four times in a six-game stretch), Jones has a double-double in four of his last five games on 56 percent shooting.
He was a monster in the Big 12 tournament, averaging 21.6 points and 10 rebounds in Baylor's three games, which included wins over Kansas State and Kansas. He led the Bears all the way to the championship game.
Perry Jones is peaking at the right time, tournament time. Just like every team, Baylor certainly has a tough draw despite their third seed. But from a matchup perspective, they could make a deep run. They likely will face UNLV in the Round of 32. The Runnin' Rebels lack an interior presence to match up with Jones. In the Sweet 16, a matchup with Duke is probable. Can the Plumlee Brothers really handle Jones' athleticism? Doubtful.
And if Jones can lead the Bears to an Elite Eight, he will not only have erased any lingering doubts his nay-sayers might have, but it will also set up a match up with the No. 1 Kentucky Wildcats and Player of the Year Anthony Davis.
If Perry Jones III and Anthony Davis go head-to-head in a regional final, I suspect the whole country will have their eyes glued to the screen. After all, it's not every day two future NBA All-Stars go mano-y-mano with a berth to the Final Four on the line.