Oregon Ducks: 10 Benchmarks for Spring Success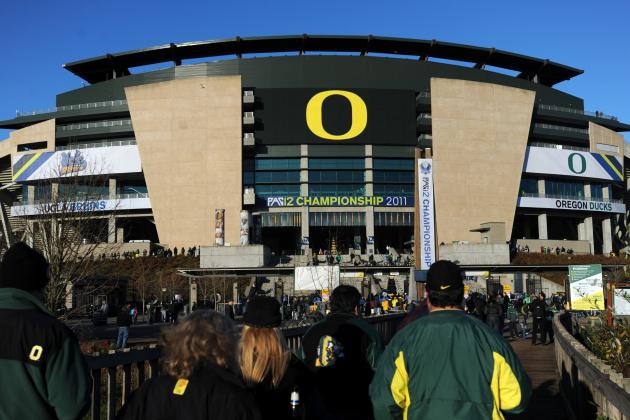 Steve Dykes/Getty Images

It's a very good time to be an Oregon Duck. The Ducks are on a roll, and just the thought of the 2012 football opener in Autzen Stadium makes our hearts beat faster.
The very nature of college football, however, means that no two years are alike. Players graduate, coaches get wooed by the NFL, the NCAA investigates, guys get arrested, blah blah blah.
What can we expect from the 2012 Ducks? Spring practice starts April 3: What will come out of it?
What do you hope to see in the April 28 spring game, or read about the team following it?
Here's my list.
Begin Slideshow

»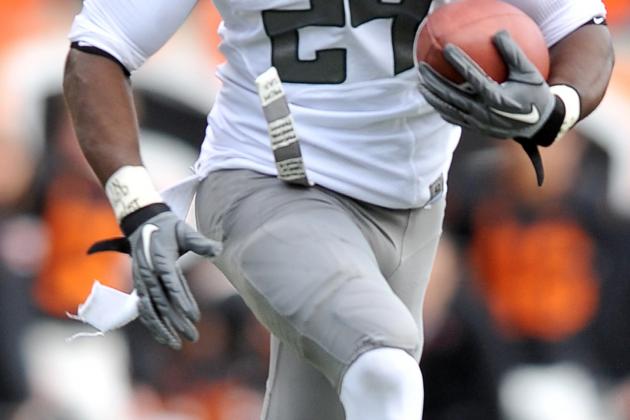 Steve Dykes/Getty Images
Kenyon Barner Runs Away From the Beavers
Stating the obvious, a player like LaMichael James doesn't come along every year. And the people who say, "just plug in the next RB in Oregon's scheme" might be sorely disappointed in 2012.
I fully expect Kenjon Barner to step up and be a reliable RB for the Ducks. But what happens if Barner, God forbid, goes down?
It appears that Tra Carson intends to transfer, although he is still listed on the roster on the Ducks website. From his recent tweets, it sounds as if Carson is still in Oregon. Anyone know for sure that Carson is leaving?
It will be interesting to see what Coach Kelly does with De'Anthony Thomas throughout spring practice, and how he and Barner work in tandem.
4-star recruit Byron Marshall from San Jose, CA won't enroll until the fall, so we'll have to wait to see how he develops.
Certainly the Ducks have tons of talent at the RB position, but spring practice will give us an early look at how well it gels.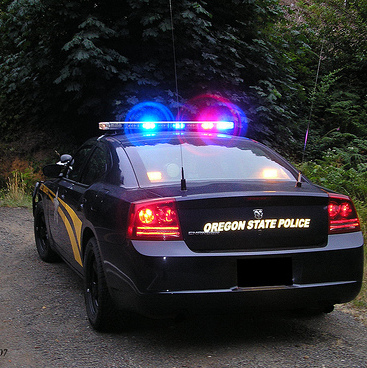 Oregon State Police Photo
With all the high-profile players in Division IA programs running afoul of the law since the end of the bowl season, let's hope the Ducks keep their noses clean.
It's too late for Josh Huff. The rest of you, please don't have too much fun on spring break. I'm sure Chip Kelly and the other coaches have told you this, but here's a gentle reminder: The laws may suck, but they apply to you.
There are some really good movies coming out on DVD this month—stay home and watch them, OK?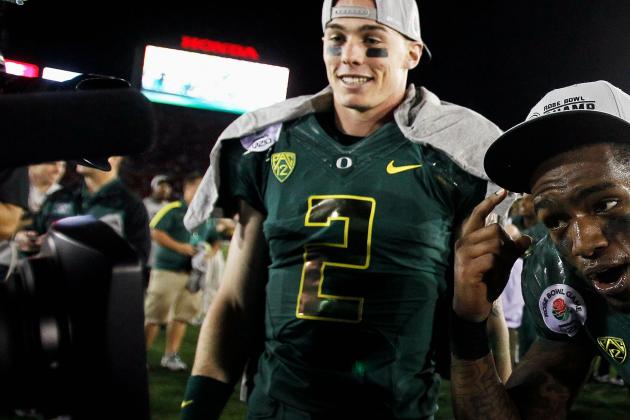 Jeff Gross/Getty Images

I don't really care who wins the QB competition between Bryan Bennett and Marcus Mariota—they are both cute as bugs.
I don't even care if recruits Jake Rodrigues and Jeff Lockie sneak in there and upset the apple cart.
I just want a good QB who can get the job done like Darron Thomas did. I want his successor to be smart, agile, fast, strong and a leader.
And I want the issue settled sooner rather than later.
Is that asking too much?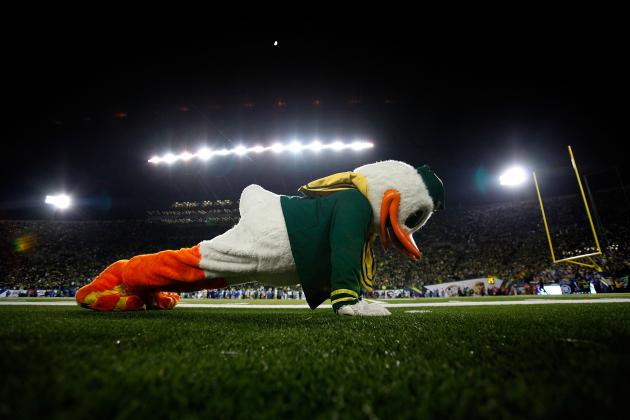 Jonathan Ferrey/Getty Images
Besides him
Besides The Duck, who is going to lead the 2012 team? Losing guys like Darron Thomas, David Paulson, LaMichael James, Mark Asper and Eddie Pleasant is leaving a leadership gap.
Who will step up to replace the departing leading men?
Whoever wins the starting QB spot will have to show some early leadership. My money is also on senior and so-crazy-he's-smart John Boyett on the defensive side.
Does Kenjon Barner have the leadership gene? And let's keep our eye on young sophomore center Hroniss Grasu to be more vocal this year. I think he has what it takes.
Leadership might not be important when things are going along swimmingly. But the minute there's trouble—and you know there will be—the Ducks will need strong leadership to pull the rest through it.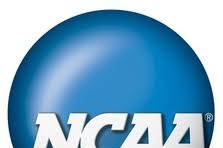 We have this saying in Portland brought to us by the funny people behind the TV series Portlandia: Put a bird on it.
It means: spruce things up, make it pretty.
I think it's time for the NCAA to put a bird on the Oregon investigation. Either make it pretty or ruin all of our lives.
One or the other. Now.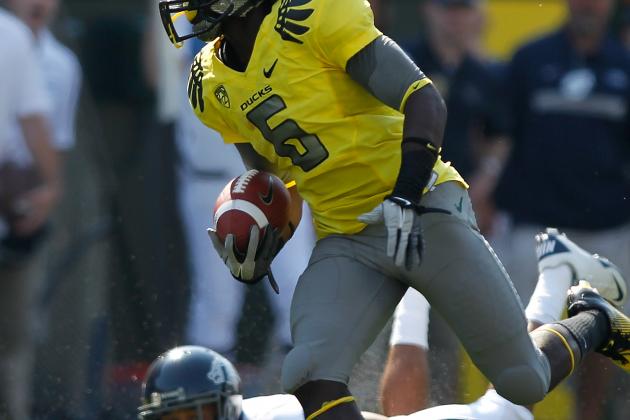 Jonathan Ferrey/Getty Images

If Tim Tebow really has God's ear, here's what I would like him to pray for on our behalf:
1. De'Anthony Thomas avoids mug shot city.
2. De'Anthony Thomas shows up for spring practice healthy and strong.
3. De'Anthony Thomas got great grades winter term.
Amen.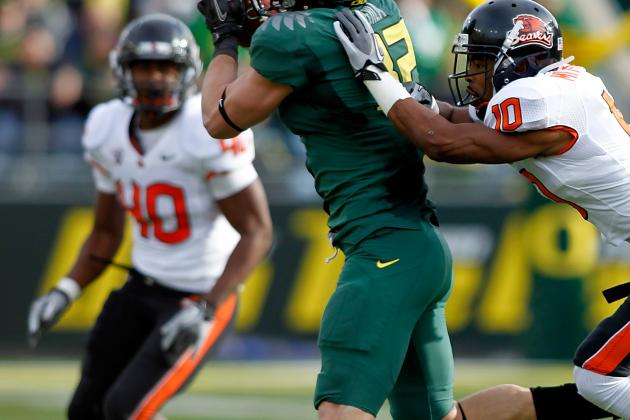 Jonathan Ferrey/Getty Images

Here's wishing David Paulson good luck in the NFL draft.
And here's wishing someone shows up in spring practice to fill Paulson's impressive shoes. Oregon has been blessed over the years at the tight end position, and I'm hopeful there is another Paulson or Ed Dickson on the current roster.
I think Colt Lyerla will start and Curtis White (probably) will back up, but there are several unknown quantities at this position and it might get interesting.
Rookie Evan Baylis was to enroll in the spring and I'm anxious to see him. Also, rookie Pharaoh Brown (I can't wait to hear how stadium announcer Don Essig mangles that name!) was the Ducks top recruiting target at TE.
I think Baylis and Brown will both get a shot at some point during the year. Keep your eye on Baylis during spring drills.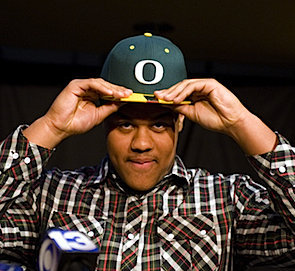 I recall at Chip Kelly's national signing day presser, he indicated that several of Oregon's recruits would be enrolling early and would participate in spring drills.
Let's see if Arik Armstead, Evan Baylis, Jake Rodrigues and any other members of this recruiting class did enroll early and are on the field. I also want to know if JC transfers Kyle Long (offensive lineman) and Dylan Ausherman (punter) have enrolled—neither are on the roster yet.
Beyond showing up for practice, let's watch carefully this spring how the new recruits are settling into their new lives in Eugene. Are they going to class? Are they homesick?
I hope the newbies are happy and feel at home. I'm tired of guys transferring.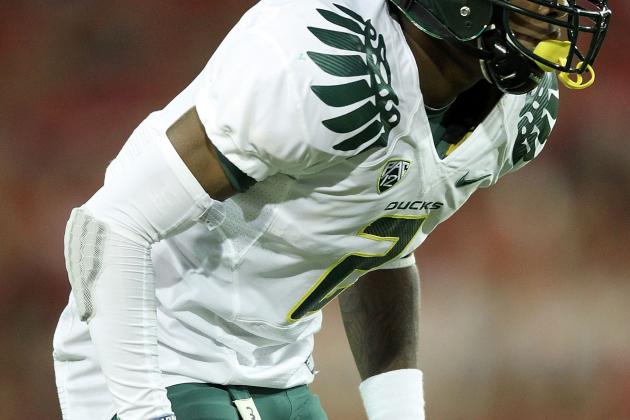 Christian Petersen/Getty Images

Troy Hill and Terrance Mitchell are a year older and, presumably, wiser. Cliff Harris is gone for good.
The Ducks seem to be loaded with talent at the DB position, and yet...
What is that nagging thing at the back of my brain?
I think it has something to do with Matt Barkley.
While everyone else is stewing about the QB competition, I will be watching Mitchell and Hill, and any other DBs that compete, for signs of maturity.
If this group isn't better this year, the Ducks lose.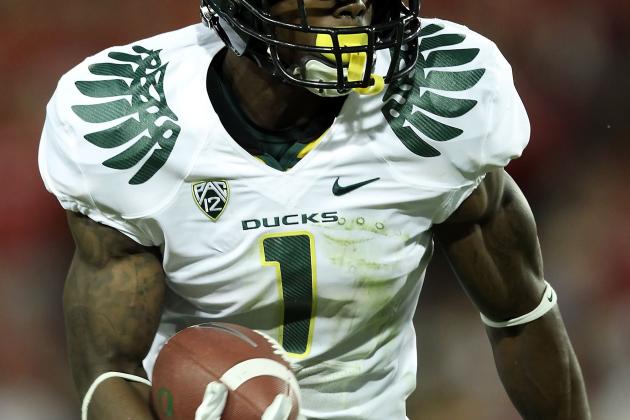 Christian Petersen/Getty Images

Wide receiver Josh Huff was arrested in Eugene earlier this month on suspicion of driving under the influence of intoxicants, driving without a license and speeding.
Huff will be arraigned in Eugene Court on March 23. Will he be at spring practice on April 3?
I'm gonna guess "no." **
I like Huff and admire his talent, so I hope Oregon law and Coach Kelly gives him another chance. If Huff does get a second chance, I hope he's smart enough to take it.
In any event, I think we should pay close attention to all the other WRs in the Ducks stable during spring practice.
** This is actually reverse psychology on Chip Kelly.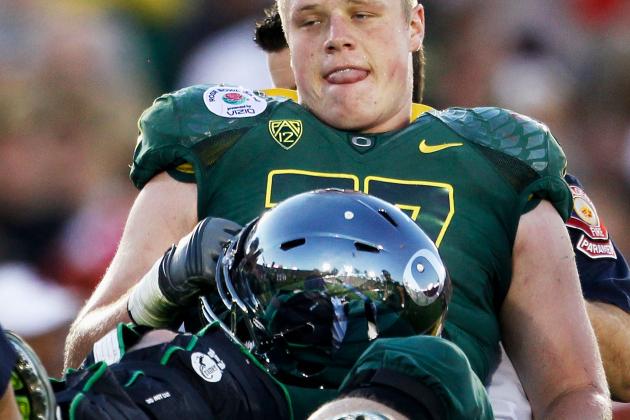 Jeff Gross/Getty Images

Oops. I've done my ten benchmarks for spring practice and I haven't covered these issues:
1. Will Carson York be full strength after his injury during the Rose Bowl?
2. Will we have a good defensive pass rush?
3. Will the offensive line get the job done?
4. What about the kickers?
There's lots to watch for in the early days of spring.
Your thoughts?