Spring Training 2012: Matt Thornton, Addison Reed Close in White Sox Closer Race
March 14, 2012

Hannah Foslien/Getty Images
Matt Thornton and Addison Reed are giving a nice fight for the Chicago White Sox's closer role. The two pitchers look to be running close at this point in the battle to pitch the ninth inning. Both Thornton and Reed have looked good to this point in spring training, while Jesse Crain is far off in the competition.
Thornton's spring training statistics have been somewhat better than Reed's. Thornton has allowed one hit in two scoreless innings in two outings with one strikeouts and no walks. Reed has allowed three hits, one earned run and two walks in three innings in three games while striking out three batters. The three hits and the earned run came in Tuesday's loss to the San Diego Padres.
These are small sample sizes, but it's good to see that both Thornton and Reed have struck batters out in their appearances to this point.
Reed and Thornton Are Tweaking Their Pitches
Both pitchers are working to fine tune their pitches. Thornton is letting his 96 mph fastball be, while working on off-speed pitches. Thornton told the Chicago Tribune that he's trying to get better movement on his off-speed pitches, saying:
"I was throwing [the cut fastball] hard against the Angels last Tuesday, but it wasn't getting the life out of it that I did in the bullpen. My slider is more of a slurve [with the dip of a curve]. I'm throwing my cutter hard, but I'm trying to get [more break] with it. It's a matter of the effort level with that pitch. With the slider, it's a matter of getting the right release point, the effort level and continuing to work on it. I got another seven, eight games, so it's good."
Or maybe it's not good. Thornton doesn't sound like his stuff is coming along this spring. Acknowledging that he can't simply blow by hitters with his fastball anymore, Thornton is trying to figure out how to win matchups with batters with his off-speed pitches. That may or may not work, especially since he seems like he still has work to do to get there.
Reed is working on his changeup. He told MLB.com that he's working on keeping the changeup down in the strike zone.
Crain seems unlikely to get the closer job. He's allowed two runs in three innings with three walks and three strikeouts in three games.
Anyway, Crain has hardly any experience in save situations. Crain has only four career saves, and 99 of his 105 games have been in non-save situations.
Reed Looks Like the Favorite to Win the Closer Job
White Sox pitching coach Don Cooper said he's hoping Reed can lock up the closer job before the end of spring training. Cooper said, "We are trying to get him solidified to be a major league reliever first. That will be one heck of a job to do what he does, if we can say by the end of spring training that he's the guy."
That would be the ideal situation. Currently, Reed seems positioned to take the closer role sooner or later in 2012. He rose up through the White Sox farm system in 2011, posting a 1.26 ERA, 111 strikeouts and 14 walks in 78.1 innings across all minor league levels.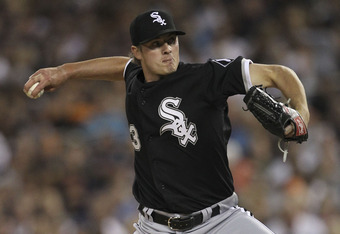 Leon Halip/Getty Images
Then, Reed allowed three runs in 7.1 innings in six games while striking out 12 batters and walking just one for the White Sox at the end of the season.
His 12.8 strikeouts per nine innings in the minors look phenomenal, as do his 1.6 walks per nine innings.
Reed, a third-round pick by the White Sox in 2010, is ranked 66th among prospects by Baseball America.
Telling by his work last year and the direction of his fundamental stuff, Reed looks like a better candidate for the role than Thornton. Thornton saw his strikeouts-per-nine-innings rate drop from 12.0 in 2010 to 9.5 in 2011 and his walks-per-nine innings rate rose from 2.5 in 2009 to 3.2 in 2011.
Thornton's losing velocity on his fastball and has become a below-replacement pitcher (minus-0.1 bWAR and minus-1 runs above replacement).
He has thrown a 100 mph fastball earlier in his career and posted bWAR figures between 2.2 and 2.7 the previous three years.
Conclusion: Reed Rising Fast, Thornton on the Decline

Reed and Thornton are moving in different directions. Reed looks to be a rising star for the White Sox, soon to take over the closer job, whether that happens on Opening Day or within a couple of months after that. Thornton might win the job if his full array of pitches looks better than Reed's, but his star is fading fast.
Thornton could become the closer only to hand the position to Reed by the summer. At any rate, the White Sox are gearing up to have a young up-and-comer close games.