Brandon Marshall Trade Takes Chicago Bears to New Offseason Plan
March 13, 2012

Marc Serota/Getty Images
In a stunning move, the Miami Dolphins traded star wide receiver Brandon Marshall to the Bears for two third-round draft picks.
Marshall is easily worth two third-round picks and reunites him with his gunslinger quarterback Jay Cutler as well as quarterbacks coach Jeremy Bates.
The Bears thus acquired the long-awaited legit No. 1 receiver that the team had been sorely lacking for years.
Marshall reportedly had attitude problems but Emery apparently believes that won't be an issue in Chicago.
This throws cold water on the Great Vincent Jackson Chase and allows the Bears to pursue game-changing free agent defensive end Mario Williams.
However, the pursuit of Williams doesn't mean the Bears should be content with their receiving corps. As articulated in my column on Phil Emery's Realistic Blueprint for a 2012 Super Bowl, every Super Bowl team in recent years has had not just one, not just two, but three top receiving options. Defensive line is very important—but still second in need behind multiple receiving threats.
Brandon Marshall is a big step in that direction. The Bears are also almost certainly going to hope that Earl Bennett can play the Mario Manningham role from the Giants' Super Bowl offense—especially since former Bears GM Jerry Angelo lavished a rich contract upon Bennett.
Bennett has shown flashes of that ability. But even if so, that means they need one more big-time receiver.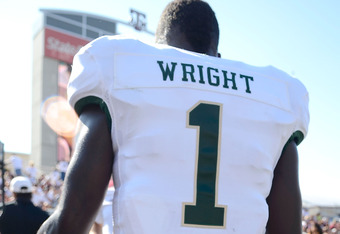 Sarah Glenn/Getty Images
One possibility is the upcoming draft. However, the draft can be unpredictable. The best option behind Justin Blackmon appears to be Notre Dame's Michael Floyd. 
The Bears hope Floyd falls to them at No. 19, but there's a good possibility he will be long gone by then.
Another draft option after Floyd could be Kendall Wright, the big-play teammate of Robert Griffin III. With speed to burn but receiving skills beyond mere speed, Wright could blossom into a star opposite Marshall.
The downside of drafting a wideout is that rookie receivers are never consistent as they transition to the pro game (with the exception of Randy Moss). Young wideouts typically need two or three years to "get it" in the NFL. But since the Bears' window of Super Bowl opportunity is just two years, they may not want to wait for a rookie receiver to develop.
The other route is to go free agency. With Marshall in the fold (it's still stunning to write that, as I'm sure it is for Bears fans to read that), the Bears can target a cheaper receiver than a Vincent Jackson, who could command as much as $10-12 million per.
With the free agent receiver supply far outnumbered by demand, Mario Manningham likely will get more money than he normally would. If so, he would price himself out of the Bears' range.
Cheaper free agent options include Pierre Garcon and Robert Meachem. Both of them are young with potential, but the flip side is their ceiling is also lower.
Mike Wallace is also an option in exchange for a first-round pick, but as elite as Wallace can be, the Bears likely would not give up their first-round pick.
If the Bears land Mario Williams and Garcon (whom I would prefer over Meachem) in free agency and also grab either Floyd or Wright in the draft, they would be immediate Super Bowl contenders.
There's still the problem of Lovie Smith but, hey, let's stick to happy thoughts on what is a very positive day for the Bears.