Free-Agent, Draft Receivers 49ers Should Target After Signing Randy Moss
March 14, 2012

Christian Petersen/Getty Images
Apparently it only took 15 minutes for the recently resurrected Randy Moss to impress the San Francisco 49ers. In fact, a few hours after the brief workout on Monday, the two parties agreed to a one-year contract.  
Like or dislike the deal, you have to be intrigued by what the 35-year-old can bring to an otherwise tame offense, one that ranked 29th in passing yards per game with 183.1.
Moss believes he can really help the team out, despite his year away from the game, aka retirement. 
"It was a decision to get back in the game because I still love the game and think I can play at a high level," he said. "It was obvious they liked what they saw. I don't want to let them down."
The 49ers sure hope so, especially after their receiving corps managed just one catch for three yards in a 20-17 loss in the NFC Championship Game to the New York Giants.
Outside of Moss, the 49ers are thin with only three receivers under contract for next season: Michael Crabtree, Kyle Williams and Joe Hastings. Not necessarily a group that instills fear in opposing defenses. 
Other wideouts Ted Ginn, Joshua Morgan and Brett Swain are free agents, with Morgan having already signed a two-year deal with the Washington Redskins. 
Moss, who also worked out for the New Orleans Saints and reportedly ran a 40-yard dash in the 4.3-4.4 range, will provide a vertical threat and big red-zone target for quarterback Alex Smith, but don't expect the 49ers to halt their search for more receivers. The failed Braylon Edwards experiment is too fresh on their minds.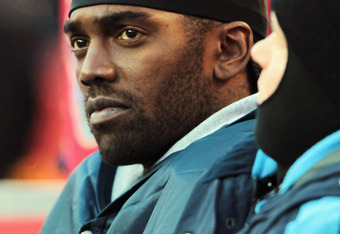 Jamie Squire/Getty Images
Look for San Francisco to exploit the NFL draft and free agency, both of which are deep with receiver talent, for additional depth. 
There are three, among the countless options, that stand out to me as ideal fits for the 49ers offense. 
Mike Wallace, Pittsburgh Steelers
This one is a no-brainer. The 49ers would have to give up their first-round pick, on top of a pile of cash, to acquire Wallace, but he's a proven star and worth the cost. Wallace is the fastest receiver in the league and has significantly improved his route running. With him, Moss, Vernon Davis and Delanie Walker, the 49ers would have plenty of speed to spare.
T.Y. Hilton, Florida International
Blazing fast? Check, ran a 4.34 at his pro day on Friday. Elusive? Check, harder to tackle than a greased up cheetah. On-field production? Check, 72 receptions for 1,038 yards and seven touchdowns his senior season. Versatile? Check, also produced touchdowns as a runner and return man. 
This sort of versatility would be a refreshing sight in the red and gold. With Ginn likely gone, Hilton could slide into the slot and take over special teams duties as well. He's equally dangerous in the open field and has much better hands as a receiver.
Brian Quick, Appalachian State
Small-school player with big talent, Quick is a steal anywhere past the second round. He's a former basketball player, so there is a learning curve, but his blend of size (6'4", 220 lbs.) and leaping abilities is lethal inside the red zone. Expect a lot of post-ups and alley-oops with him in the lineup.
The above players meet team needs and, most importantly, are attainable at this point. If you have others in mind, feel free to add them below.