The 2012 Colorado Avalanche Charity Brunch: A Fan's Perspective
March 13, 2012

Over the years, I have followed the Colorado Avalanche's Annual Charity Brunch via avalanche.nhl.com and the segments they do on Avalanche All Access, Altitude TV's weekly Avalanche show.
This year, however, I finally got to attend the event live and in person thanks to a 2011 Christmas gift from my wonderful wife.  :)
The event was very elegant and well put together, and was hosted by the Avs Better Halves, the wives and girlfriends of the players. The event began with a silent auction of the Avs' "Favorite Things" baskets.  Each player put together a gift basket of his favorite things, and which were all auctioned off.
Many included autographed jerseys, sticks, their favorite movies, video games, and even some of their favorite beverages.
Paul Stastny went with a Mad Men theme in honor of one of his favorite shows.  He had a shirt and tie from the show as well as a bottle of Stranahan's Colorado Whiskey and seasons one through five of the cable TV show.
Most of the baskets sold for around $500 to $1000.  I had a couple introductory bids on baskets, but didn't end up winning anything.
The Better Halves also sold mystery-signed pucks. I got Chuck Kobasew's and Assistant Coach Sylvain Lefebvre's. One lucky kid got the golden-signed Milan Hejduk puck, which gifted him a suite for the upcoming game against Vancouver.
Next up was the lunch. There were seven lines with four players and coaches in each line.  Although each line had the same food, I made sure to go through each and every line in order to meet every player. By the time I was done, my plate probably weighed seven pounds and could have fed an entire family!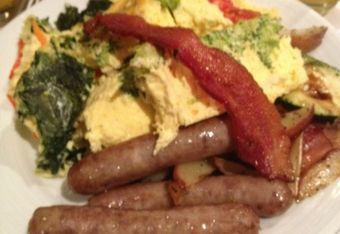 Now I'm sure the event was mandatory for all the players, but to a fan, it certainly did not seem so.  Each and every player made the impression that they wanted to be there and that they were having just as good of a time as we the fans were.
Every single player was willing to talk to you when you came through his line, have a laugh or two and really show you how down-to-earth and how cool of guys they are.
I was nearing the end of my run when I approached Ryan O'Byrne and Paul Stastny. O'Bryne asked if I wanted some more eggs.  Stastny, laughing, turned to O'Byrne and said, "look at how much he's got!  He doesn't need any more."
O'Byrne grinned and said I could fit a bit more on there. I graciously accepted and moved along with my massive plate. Seriously, it put Thanksgiving plates to shame!
Matt Duchene, who was not hobbled by crutches, but was sporting a soft walking boot. He was in very good spirits, although I'm sure his latest injury has added much frustration to an already frustrating season. I asked him about his ankle and he said that it's doing better.
I told him that I hoped to see him back on the ice very soon. He sincerely thanked me and said that he hopes to be back soon too!  While the Avs have a strict policy that prohibits the media from talking with injured players, I am not a member of the media so I've talked with Dutchy more recently than any reporter or writer has!  haha
Duchene also got himself into a bit of a pickle the other night when he literally lost his driver's license.  He asked his Denver fans on Twitter to help find it, saying that it likely fell out of his pocket at Cherry Creek Grill or the Buell Theater.
One fan humorously said that he found it and posted a picture of the infamous McLovin' ID from the movie Superbad. Duchene tweeted a follow-up yesterday that he went out and got a new one, but still let him know if you find the old one.
Gabriel Landeskog, who is quickly becoming one of Colorado's most popular athletes, endeared himself to his fans even further last Friday night by posting a trivia question on Twitter and rewarding the person who got the correct answer with a pair of tickets to a game. The question was what number did his brother wear when he played hockey. Turns out, it was a trick question and his brother did not play hockey and therefore did not have a number.
I mentioned to David Jones that he gave me a retweet for my wedding a couple weeks ago and he instantly remembered me and congratulated my wife and me again. He mentioned that he too got married just last summer.
The brunch concluded with the fashion show.  Special Ambassadors from The Children's Hospital were paired up with the players and coaches and they all had a blast walking down the runway. The stories of the children were very heartbreaking, and truth be told, I may have shed a tear or two.
It was very heartwarming to see the players with the kids. Giguere came out with a baby who managed to stay asleep the entire time and McLeod came out with a youngster donned in a mask and sporting a blowup sword. Cody Mac let the kid cut him down with the toy sword, which drew a massive ovation.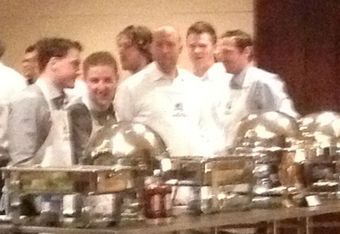 To a fan, every single player seemed like the kind of guy who, if you ran into him at a bar, he'd be willing to shoot a game of pool with you, have a beer and talk some hockey (except for Landeskog, who still has a couple years to go before his 21st birthday). No one seemed larger than life or with an ego for which professional athletes can be infamous.
I have talked to several employees of Kroenke Sports and they all say the Avs are much easier and much more fun to work with than another Kroenke Sports-owned team who plays their games at the Pepsi Center. *cough* *Nuggets*
The Avs may not get the recognition of other teams in the NHL or even here in Denver, but in Colorado and throughout the sports world, I believe that you would be hard-pressed to find a better group of guys.
Sure, I'm not without bias here, but it seems all too often you hear of players getting into trouble with the law and not really living up to the expectations of a role model.
In the 16-and-a-half years that the Avalanche have been in Colorado, there have been very, very few instances of players getting into trouble with the law, most of which were minor. I cannot even think of one that occurred within the last decade. 
Never do you hear of an Avalanche player, and very seldomly a hockey player, being accused of murder, rape or anything like that. I'll reiterate that the Avs are a first-class organization all the way around.
This year, the charity brunch raised over $75,000, and it has raised over $900,000 since its inception in 1997.
Obviously, it is a great cause, I had a great time, and I am glad to be able to be a part of such a wonderful event put on by such a wonderful organization.