NBA Trade Rumors: Trading Draft Pick for Goran Dragic Is No-Brainer for Lakers
March 14, 2012
Christian Petersen/Getty Images
The LA Lakers tried to trade for Rajon Rondo, but they failed and now it's time for Plan B.
They aren't going to get market value if they trade Pau Gasol at the deadline, and that means an All-Star point guard isn't walking through those doors for the remainder of the season.
But that doesn't mean the backup plan is awful. Gather.com is reporting that Houston Rockets point guard Goran Dragic is now a potential target for Los Angeles, with a first-round pick the asking price.
The Lakers own two of them, so that's not a huge asset to surrender, and they'll be getting a point guard who deserves a chance to be a starter. He has averaged 8.2 points, 3.6 assists and 2.0 rebounds while shooting 44 percent from the floor. That's as the backup to Kyle Lowry.
Since Lowry went down with an illness, Dragic has thrived in the role of starter. He has averaged 21.5 points and eight assists since taking over as the starter two games ago.
He has great foot speed and exceptional vision in traffic. He creates open looks for others while being a proficient three-point shooter himself.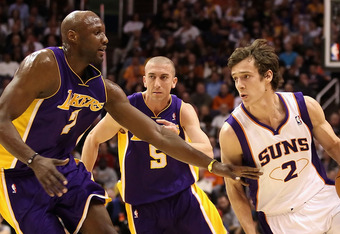 Christian Petersen/Getty Images
You're telling me this guy couldn't immediately help the Lakers? Remember in the 2010 playoffs when Dragic, who was with the Phoenix Suns, was one of the catalyst for almost shocking the eventual champs? The Lakers '10 title almost didn't happen because of this guy (and Steve Nash).
The 25-year-old can play, and has a proven track record in the postseason. He has a skill set that can be molded to fit the Lakers offense and is leaps and bounds better than Derek Fisher and Steve Blake.
All that for a pick toward the end of the first round, and they can keep Pau Gasol.
This is a deal the Lakers have to make to ensure they can make a deep run in the 2012 playoffs. Despite all of the concerns from fans, the Lakers are right in the mix for the No. 3 seed in the Western Conference. They need another point guard, and the Rockets aren't trading Lowry, who is out two to four weeks anyway.
Gragic is the short-term answer (potentially long-term), and the only way LA can stay competitive for a title this year without giving up one of their three stars.
The Lakers have to make this deal happen.