WWE: Has Zack Ryder Been Ruined by Falling for Eve Again?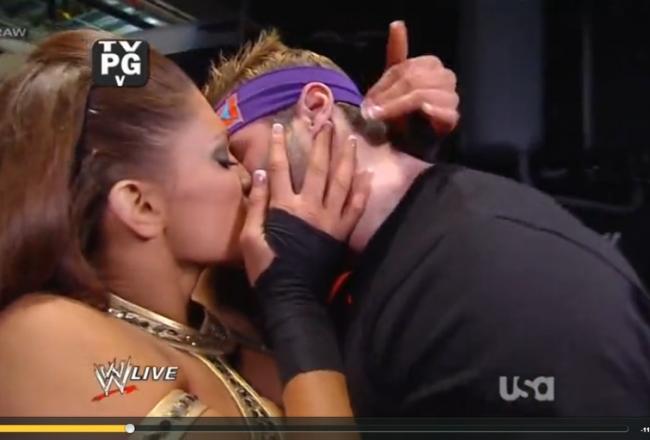 Photo courtesy of arolemodel.com

It took Zack Ryder years of hard work before he finally got a push on WWE TV in 2011, but that push was gone much quicker than it came.
Although Ryder spent the latter portion of 2011 accomplishing more than he ever had at any point in his career (main-eventing Monday Night Raw alongside John Cena, winning the United States Championship, etc.), he was then thrust into the center of the ever-so-terrible "Rise Above Hate" angle between Cena and a returning Kane. It was good at first. It turned bad quickly.
Not long after Ryder first crossed paths with the Big Red Monster, he was turned into Kane's perennial punching bag. He was attacked while changing his tire (in true 1980s horror movie style, I might add), chokeslammed through the Raw stage and pushed off that very same stage while in a wheelchair.
That all happened in the span of a couple of months, and though it was meant to give Ryder more TV time, what it really did was make him look weak. Instead of having sympathy for Ryder, I thought to myself, "Man, the creative team is making him out to be a real d-bag, huh."
But, oh, it got worse. Not only did Ryder serve as Kane's personal jobber, he was also spurned by Eve, who put him in the "friend zone" and then made out with his good friend John Cena right in front of him.
Ryder was disgusted by Raw's resident hoeski at first, but as seen over the last few weeks, he did what most men do at some point in their lives: Let a woman's incredible looks overshadow everything else.
He became a lovesick puppy, so awestruck by Eve's attractiveness that he's willing to forgive and forget anything she's done in the past, even kissing Cena.
The storyline has played out on Twitter as well, but it was really turned up a notch on Monday night when Eve had agreed to have dinner with Ryder after Raw, but never showed up.
Ryder tweeted:
I was up all night waiting for @EveMarieTorres to text me back...she never did...I overslept...I missed my flight #notsssiiiccckkk
The now-heel Eve, not surprisingly, missed the date, and Ryder—in true high school fashion—was stood up, continued to text her and was completely ignored.
Ryder is now looking like even more of a moron as he pursues a manipulative woman who has no real interest in him. Ryder is ruined.
He's gone from someone who was rising up the ranks of the WWE to someone who's comparable to the moronic friend that everyone has.
You know, that friend—the one whose girlfriend cheats on him all the time, wakes up in bed with a different guy every morning, goes back to him, begs for forgiveness and gets it.
Has Zack Ryder been ruined by falling for Eve?
Yeah, that's what Ryder is at this point, and I have to be honest with you: I hate what he's becoming. I can't stand when my friends are too blind to see that they're with the wrong woman, and I loathe that Ryder is doing the same, even if it's just a fictional storyline in a male soap opera.
I hate to see guys with no spine. I hate to see guys who think that a nice pair of boobs and a beautiful face outweighs other quality. It makes me hate them.
Yet, Ryder has done all those things, and it's developed his character, sure. But this isn't the kind of character development—like Dolph Ziggler becoming "The Showoff"—that works.
This is the kind of character developmental that turns someone whose gimmick was just fine into someone who's gimmick is now ambiguous.
We don't know what to think of Ryder. We don't know whether to think he's a good guy going bad, a good guy getting screwed over or a good guy who's too nice to ever be taken seriously as main eventer.
But I know that I can't take Ryder seriously. Not right now. Not in his current role.
Maybe looking a lovesick jobber will lead to something great for Ryder in the long run, but for now, the only place is it's leading him is to the bottom of the card.
Drake Oz is a WWE Featured Columnist for Bleacher Report. You can follow him on Twitter and ask him any wrestling-related questions on Formspring.
This article is
What is the duplicate article?
Why is this article offensive?
Where is this article plagiarized from?
Why is this article poorly edited?