Doug and Jackie Christy to Produce Adult Film and Be Even Weirder
March 13, 2012

Baller Doug Christie had a lengthy, albeit entirely unremarkable, 15-year-career in the NBA before retiring in 2007. Remarkable or not, over a decade in the league is no small accomplishment, but if Christie's name rings a bell it probably doesn't have anything to do with his play on the court. 
Christie is probably best known these days for the very interesting relationship he has with his wife of over 15 years, Jackie. During Doug's playing career, Jackie was reportedly very controlling of her husband's movement on and off the court. Jackie often served as his de facto bodyguard, keeping female reporters and fans at bay and insisting Doug change clothes in a separate locker room. 
During games Doug and Jackie used to exchange hand signals to communicate and in 2002, the couple spoke to the New York TImes about their tradition of re-marrying every year on their wedding anniversary. Apparently that is the reason Doug has been able to resist the temptation to engage in extramarital activities—well, that or the fact that Jackie has his balls in a vice.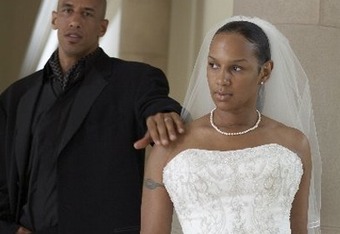 Recently Jackie has been starring in the VH1 reality trainwreck known as Basketball Wives LA. Christie was recently described as one of "the more divisive wives the franchise has ever seen" on a VH1 blog, a very impressive distinction considering the vast majority of the cast is unapologetically vile. 
In December 2011, the Huffington Post published Jackie's list of "10 Things You Don't Know About My Marriage," and none of them were a surprise. The three least surprising revelations were:
1. The couple were married just three days after Doug proposed. Um yeah, Jackie strikes me as the type to want to lock it down. 
2. Jackie lets Doug take charge in the kitchen. "He's definitely the cook in the family. He cooks every single day." Yep, that sounds about right. 
3. Doug spends most of his time homeschooling their son—they do arts and crafts and sometimes make banana pancakes. I'm sorry, but that doesn't sound like a robust academic curriculum. 
One tidbit about their marriage Jackie failed to reveal is that the couple have found a new calling in life: Porn! Haven't you ever heard the old adage "The couple that builds a porn empire together, stays together"? Actually you probably haven't, since I just made that up, but I'm pretty sure that Jackie will make sure it works.
According to a recent report by the Houston Press, the happy couple dropped by a local radio station for an interview and dropped the pornography bomb live on the air. As of right now it appears that Jackie and Doug will be producing the film, rather than starring in it—but that's subject to change at any time without notice. 
Seriously, at this point would anyone be surprised if these two end up starring in their very own porn that touched on various marriage related themes of Jackie's choosing (naturally).
Something tells me these two don't have a lot of friends, but I imagine that if the Christies hosted a dinner party, things would begin to get very weird after a couple of drinks. Passive aggressive comments, strange semi-sexual conversation with ill-timed laughs and eventually one of the guests ends up crying in the bathroom before running out the door, never to return again. 
We'll all just have to sit back and wait for this whole story to play out. I'm guessing that the Christies' venture into the world of adult film is going to get a whole lot weirder before it finally, and mercifully, fades from our memories.