Latest Odds on Mike D'Antoni's Future with New York Knicks
March 13, 2012

Christian Petersen/Getty Images
Flip a coin. 
Roll the dice. 
Odds or evens. 
If you're a New York Knicks fan or a basketball fan trying to determine whether or not current Knicks Head Coach Mike D'Antoni will remain in that role through the end of the season, then it's pretty much a 50-50 situation right now. 
For those who think to themselves that there's no way he can survive and that he will be out in the very near future, it's worth remembering one key point.
This is the New York Knicks, owned by James Dolan, that we're talking about here. 
Ask yourself this. Do the Knicks have a recent history filled with a series of logical on-and-off-court decisions?
Isn't this the same team that drafted Frederic Weis, allowed Isiah Thomas to run the show, spent big bucks on Eddy Curry, cycled an endless string of has-beens, and washed up high-profile players in and out of Knicks uniforms over the past decade?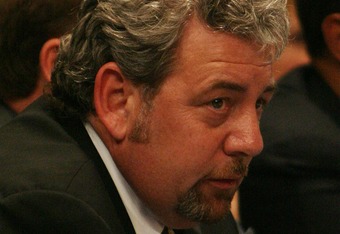 Nick Laham/Getty Images
At its heart, it's still the same team owned by the same owner James Dolan. 
That's why this current Knicks team has a roster that is comprised largely of players who are poor fits for the head coach, who Dolan has entrusted with guiding the team into the playoffs and ideally to an NBA Title. 
D'Antoni plays a motion offense that requires a skilled point guard and a crew of unselfish, opportunistic offensive players. He started the season with completely inadequate point guards and a primary player on offense who thrives in offensive sets that run counter to what his coach preaches. 
Mike D'Antoni is not known as a defensively-minded coach, yet his team this season is comprised primarily of players who are known as either mediocre or below-average defenders.
Amare Stoudemire and Carmelo Anthony are both starters who are stars because of the points they score, not the points they prevent from being scored. 
D'Antoni and the Knicks got extremely lucky when a slew of injuries and losses allowed Jeremy Lin to play at the point guard position. Lin caught fire, and that fire spread to the rest of the team, which managed to burn bright for a three-week period in February. 
That fire has slowed to a smolder, and the Knicks are now a team that once again looks lost playing in a system that their coach has always been known to promote. 
It's hardly logical to keep this odd mix of players and coaches in tact, hoping against odds that somehow it will all start to "click" and the Knicks will go from underachievers to playoff powerhouse. 
Yet in spite of obvious public displeasure, D'Antoni continues to retain his job. 
How much longer will that remain the case? That's the big question. 
Dolan may really like Mike D'Antoni, but even Dolan can't fire all the players.
It's also tough to imagine the Knicks dealing Carmelo Anthony. Not after they parted with so much to acquire him, and not in the midst of one of his worst streaks of his career.
You don't "sell low," which is what the case would be if the Knicks tried to hastily put together a deal to ship Carmelo out of New York with only two days remaining before the league trade deadline. 
It's anyone's guess how much longer D'Antoni has in New York. Most teams don't relish midseason coaching changes, but there are times when it can yield good results. A few more poor showings by the Knicks may push Dolan past the tipping point and force his hand.