Marques Colston Re-Signs with Saints: Deal Analysis, Grade and Twitter Reaction
March 13, 2012

Otto Greule Jr/Getty Images
Just hours before the start of free agency, the New Orleans Saints took one of the biggest fish out of the free-agent receiver pool.
According to Jay Glazer of FOX Sports, the Saints agreed to a new five-year deal with receiver Marques Colston. NFL Network's Jason La Canfora later reported that the deal is worth $40 million with $19 million in guarantees.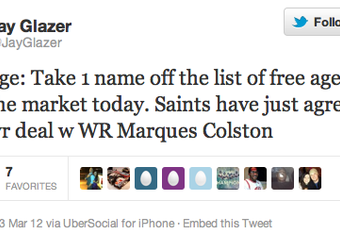 The 28-year-old receiver was scheduled to be an unrestricted free agent by 4:00 p.m. ET, but talks with the Saints heated up in a hurry. It appears as if a mutual interest between the two parties accelerated the deal before the deadline. 
Considering the Saints are roughly $7 million under the 2012 salary cap, it's likely that Colston took less money at the front end of the deal.
Regardless of when the money comes, the Saints are getting their top receiver back for five years, and Colston is sticking with an offense that is one of the NFL's most prolific. On paper, the move makes sense for both parties.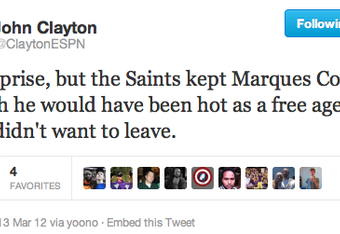 While Colston was likely to field several offers on the open market from receiver-needy teams such as the Chicago Bears and Washington Redskins, there was questions on whether his production was more the result of playing in a high-flying Saints offense compared to any undeniable receiving talent. 
When healthy, Colston's production with the Saints was at or near an elite level. 
In six NFL seasons with the Saints, Colston has five years of 1,000 receiving yards or more. He also caught seven or more touchdowns in five seasons. The only season that saw Colston produce fewer than 1,000 yards and seven touchdowns was 2008, a season in which he missed five games to injury. 
He does have a history of knee problems, however.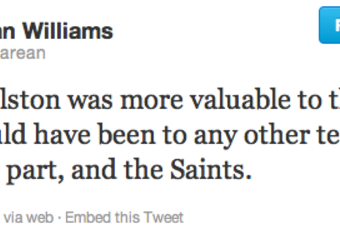 In the end, you'd be hard-pressed to argue Colston failed to make the right choice. He likely realized that the chances of matching the production he had in New Orleans was low. 
Now that he's sticking in New Orleans, expect more 1,000-yard seasons from Colston. He'll be counted on even more heavily moving forward if the Saints lose fellow free-agent receiver Robert Meachem in the coming days.
Grade: A