Kate Upton's 25 Sexiest Sports Moments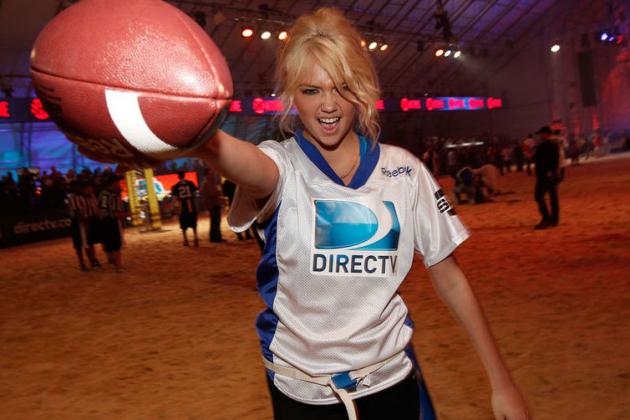 Newly minted modeling superstar Kate Upton is pretty much the hottest thing in sports these days. Upton isn't exactly an athlete, but she is rumored to be dating Jets quarterback Mark Sanchez, and over the last year she has been popping up (or out?) at sporting events around the country.
The buxom bikini babe has become a courtside fixture in the NBA; Upton has been spotted cheering on the Knicks, Clippers and Oklahoma City Thunder in recent months. She's also made appearances at the Daytona 500, the 2011 MLB All-Star Game and Super Bowl XLVI.
Then of course there's her appearance on the cover of the 2012 Sports Illustrated Swimsuit Issue. If Upton wasn't a household name before, she certainly is by now. At least in households that truly appreciate the greatness of busty broads in bikinis.
At this point, I've pretty much completed coursework on a Kate Upton major. And no, it's not because I'm some kind of stalker! It's because I felt it was imperative to bring you Upton's 25 Sexiest Sports Moments (so far).
You're welcome fellas (and lovely ladies like me who appreciate the female form).
Begin Slideshow

»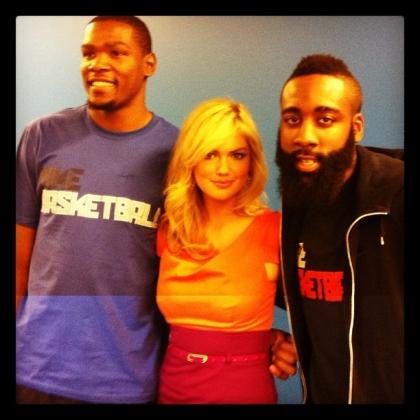 Kate recently posted this photo of her with Kevin Durant and James Harden to Twitter. According to reports, the three were at a video shoot for Skull Candy headphones in Oklahoma City.
Why Harden has such a strange stare, and what the heck Durant is looking at in this photo, are both anybody's guess.
Since Kate was already in Oklahoma City for the Skull Candy headphones event, she decided to stick around to see the Thunder play. Kate seemed to enjoy herself, but there were reports that she may have been a bit of a distraction to the players.
According to a report by NBC Sports:
Shooting at the basket where Upton sat under, both teams combined to go just 39 percent from the floor. On the other end? 49.4 percent. Also, the Suns went 9-12 in the first half from the free throw line, while at the Upton end, they missed six. Including a rare one from Steve Nash.
Keep this girl away from busy intersections during rush hour unless one of those epic 52-car-pileups is something you're purposefully striving for.
In May 2011, Kate sat down with WFAN's Boomer & Carlton Show and they discussed everything from her rumored affair with singer Kanye West to the possibility of her hooking up with Jets quarterback Mark Sanchez.
Yes, the "Boomer" in question is retired Bengals quarterback Boomer Esiason. And yes, watching (and hearing) Boomer Esiason grill a teenager about the details of her love life and suggest potential suitors for her is as icky (if not ickier) than you'd imagine.
Although the radio duo were obviously onto something with the whole Sanchez thing. This interview was conducted a full seven months before the two were romantically linked in the New York media.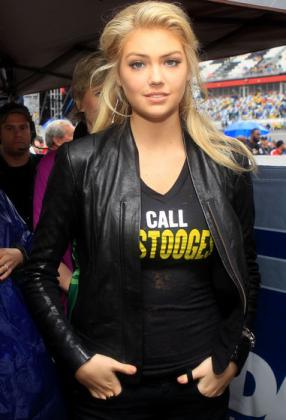 In February 2012, Kate was a co-Grand Marshal with actress Jane Lynch at the 54th annual NASCAR Sprint Cup Series Daytona 500. Naturally Kate turned heads in her skintight leather jacket and jeans.
Also turning heads was her admission that she isn't exactly a speed demon on the road—Kate confessed that her speedometer probably hasn't gone much above 80 miles per hour.
Stunning and a safe driver. Ladies and gentleman start your engines...wait, do they even say that or am I remembering a movie?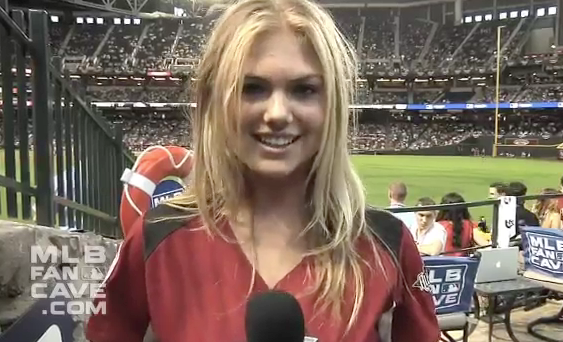 In July 2011, Kate attended the MLB All-Star game and participated in the All-Star Celebrity softball game. She took a few minutes to discuss her favorite team, favorite food and the most fun she's had in a bikini.
If you have no interest in clicking over to the video, I'll give you the highlights! The most fun Kate has had in a bikini was a televised event. Homegirl thinks Adriana Lima is the most beautiful woman in the world. And she's a Yankees lover.
MLB is psychotically possessive about their video, so click here to jump over to YouTube.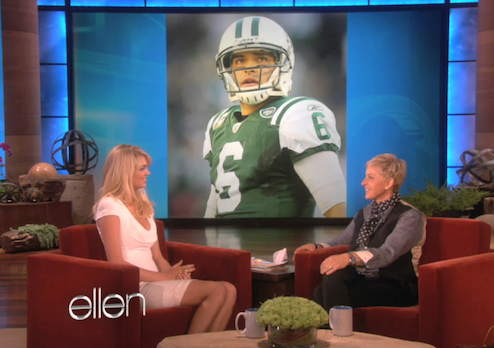 In December 2011, the first reports that Kate Upton was dating Jets quarterback Mark Sanchez starting circulating the web. The potential coupling had everyone buzzing, but the story quickly died down thanks to the holidays and the Jets failure to make the playoffs.
After landing the SI cover in February 2012, the rumors began heating up again, and Kate was asked directly about the rumored relationship by TMZ and during an appearance on Ellen.
For stupid reasons unknown, my girl played it coy and refused to confirm the relationship. Kate also refused to deny it. It's been months kids, time to let the Sanchize out of the bag...or whatever.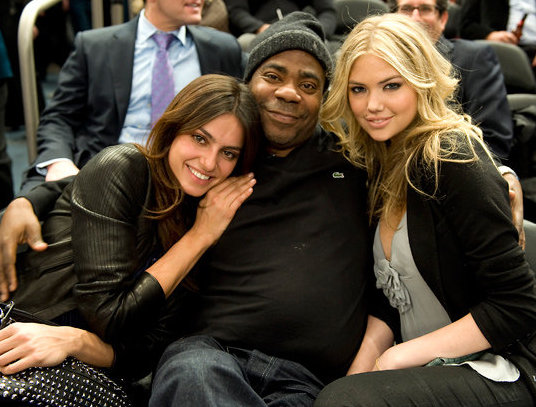 A full year before landing the cover of the Sports Illustrated Swimsuit Edition, Kate was merely a promising newcomer who was named SI's rookie of the year.
This was about the same time she and this hot brunette were spotted court-side at a Clippers game cuddling with cantankerous comedian Tracy Morgan.
I sure love me some Blake Griffin, but a Clippers game before Chris Paul came to town? But did they even play games before CP3 stormed Los Angeles? (I kid...sorta...I do hope they both sign with the Lakers eventually)
In February 2012, a commercial for MLB2K12 debuted which featured obviously qualified expert Kate Upton teaching proper finger mechanics and pitch control to David Price, Justin Verlander, C.J. Wilson and Jay Bruce.
The boys probably didn't need any lessons to begin with, but that doesn't mean they didn't appreciate her advice. Well, they definitely appreciated something about the lesson.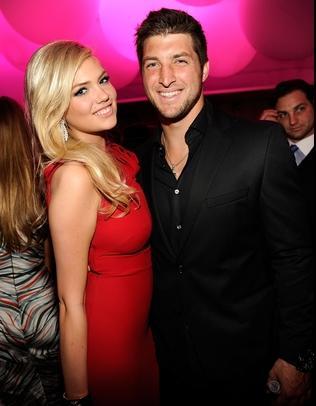 In February 2012, Kate Upton Mania met Tebow Mania when two worlds collided at the Vanity Fair Oscars party. The result was predictably magnificent.
It seemed pretty obvious that it was just a chance meeting and a friendly photo op, but that didn't stop Internet speculation from running rampant about the possibility the pretty pair were an item. It certainly didn't stop me from speculating.
Nothing ever came of the story though. Everyone knows Kate has been kicking it with Jets quarterback Mark Sanchez on the DL, but within weeks Tebow was spotted on a date with country cutie Taylor Swift.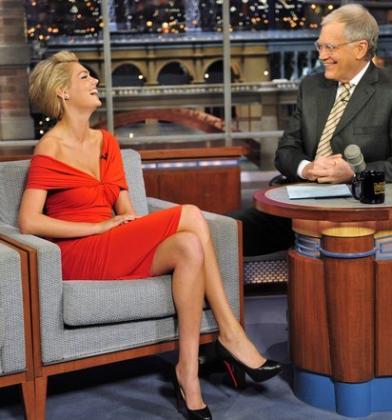 In February 2012, Kate and nine other SI models appeared on Late Night with David Letterman for the highly anticipated reveal of the magazine's cover. They also participated in a vacant, wide-eyed reading of the nightly Top 10 list.
As you know, Kate was announced as the cover girl and returned to Letterman all on her own in a smokin' hot little red number to promote the magazine and her lovely self. And promote she did.
Mission accomplished.
In May 2011, Kate was recruited by her sister Christie, a Jets employee, to take part in judging the final auditions for the 2011 Flight Crew cheerleaders.
Kate was part of a panel which included Rima Fakih, Miss USA 2010, and local New York personalities A.J. Calloway and Jeane Coakley.
Watching Kate Upton watching cheerleaders—there are certainly worse ways to spend a couple of minutes.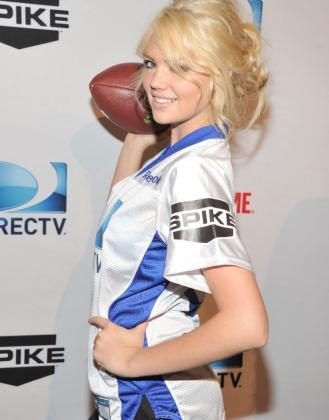 In February 2012, Kate was one of countless celebrities in Indianapolis who were in town for the Super Bowl and all the festivities leading up to the game. The day before the big game was DIRECTV's Sixth Annual Celebrity Beach Bowl.
The game was played at Victory Field in Indianapolis, and Kate was among other celebrities such as Nina Dobrev, Maria Menounos and Chrissy Teigen who participated in the event.
If you love painfully awkward banter as much as I do (or even half as much), check out Kate's pre-game interview with Bills receiver Stevie Johnson. Let's just say that neither of them have a future in broadcasting.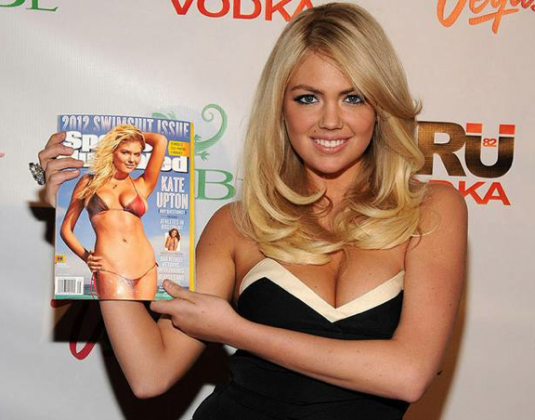 Shortly after being named the cover girl for the 2012 Sports Illustrated Swimsuit Issue, Kate was in Las Vegas with the rest of the SI models for promotional work and round-the-clock partying.
Descending on Sin City after the issue's release has become an annual tradition for the magazine's mellifluous models, and this year was no different.
The models attended various events at local landmarks, participated in a number of fan meet-and-greets and were the stars of the show at the Sports Illustrated release party.
A year before landing the coveted cover, Kate was named the Sports Illustrated Swimsuit Issue's 2011 Rookie of the Year. Anyone else wondering if that came with some sort of trophy or certificate of achievement? Probably not...
Homegirl may have been an SI rookie, but she had already graced the monstrous billboards of Times Square shilling lingerie for sultry undergarment giant Victoria's Secret. She may not have on-the-field moves like NFL rookie phenom Cam Newton, but she holds her own in terms of rookie star power.
Actually, those two would make a great couple! Time to ditch the zero (Sanchez, no offense Jets fans) and get with the hero (Newton, major respect to the rockstar rookie).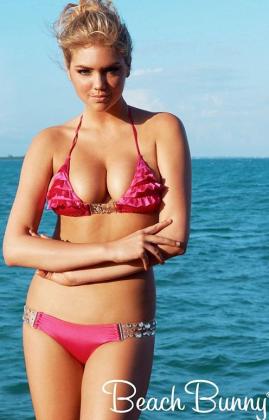 After a couple of years donning teeny bikinis in advertisements for Victoria's Secret and Guess, and in magazines such as SI, Esquire and FHM, there's no doubt that Kate is officially a bikini expert.
Beachwear designer Beach Bunny obviously recognizes talent because in March 2012 it was announced that Kate would be partnering with the company to both model and design swimwear.
Kate followed in the hallowed (sarcasm) footsteps of Kim Kardashian (or gigantic butt imprints) who has also designed for Beach Bunny. If she looks up to Kim K, could starring in her own sex tape be far off? Let's hope not.
I'm going to admit right up front that Kate strutting down the catwalk is a bit of a stretch in terms of a "sports moment." That being said, she's walking with authority, which means this totally qualifies as cardio.
And obviously cardio is exercise, and therefore the whole thing has a very loose connection to sports. Aren't you glad I was able to make that connection? I actually impressed myself a little there.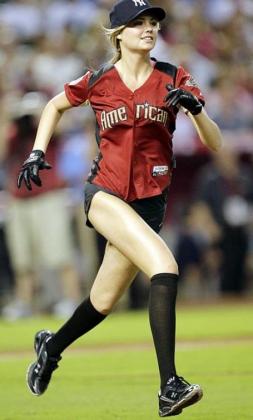 Kate was one of many celebs to participate in the 2011 MLB All-Star Celebrity Softball game. Her softball skills left a lot to be desired, which is so utterly irrelevant that I don't even know why I just typed it. I'm literally embarrassed.
First, who cares if anyone is good at softball? Second, it was a celebrity spectacle not an Olympic event. And third, nobody in the history of softball has ever looked finer sucking at playing the game. Not even stunning softball goddess Jennie Finch.
Visit the fine folks at TheChive to see more photos of this miraculous event.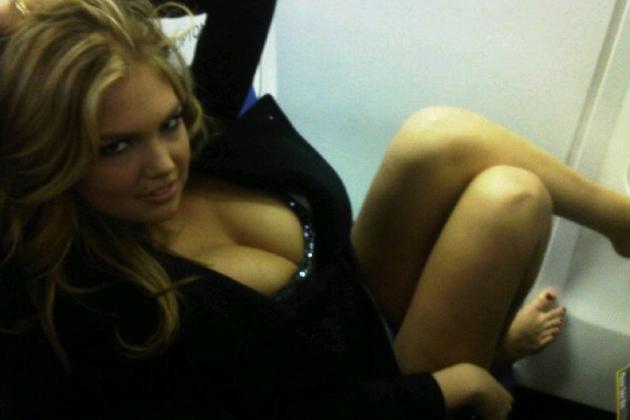 Ms. Kate, resplendent as she is, has likely attracted the affections of scores of lovesick men around the world. Among the scores are two prominent professional athletes who have declared their feelings for the bikini beauty via Twitter.
In July 2011, Patriots tight end Rob Gronkowski tweeted a suggestive photo to Kate that featured Gronk in bed clutching a strategically placed candlestick holder. Not exactly a Shakespearean sonnet, but about as close as he'll ever get.
In December 2011, Maple Leafs forward Tyler Bozak decided to try his luck at landing a date with Kate via Twitter. Bozak received an initial response from Kate, but then nothing but thunderous silence. Bozak's approach was more logical than Gronk's, but it lacked his passion.
Can't blame a couple of bros for trying…but their pickup approaches were both weak as hell. You'd think a couple of professional athletes would have a bit more game.
So apparently blatant candy nudity is totally fine to air in prime time during the Super Bowl, but a carnivorous Kate Upton innocently enjoying a hamburger is too graphic.
What kind of world are we living in? If an all-American girl consuming an all-American dish is a crime, then the terrorists have truly won.
That's just not the America I know.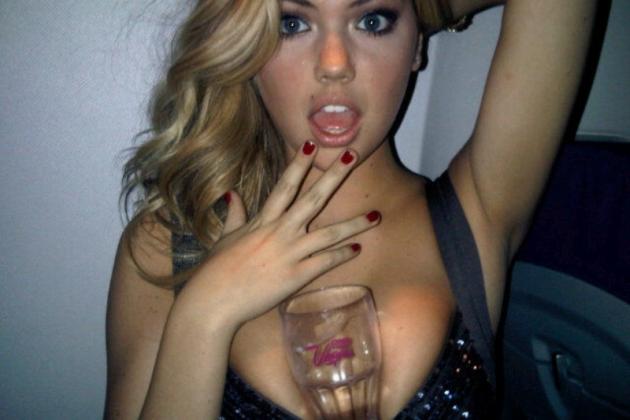 In December 2011, Rangers agitator Sean Avery let loose his inner bitchy diva and tried to pick a Twitter catfight with Miss Thing herself, Kate Upton. Apparently Avery had spotted her in the crowd at Madison Square Garden and had this to say about it:
@KateUpton since u couldn't stop looking @HLundqvist30 last night now u can follow him.......#sorryhesmarried."
Perhaps Avery was jealous that a much hotter diva was making eyes at his teammate Henrik Lundqvist, thus threatening their bromance. Not intimidated by the Rangers fashionista, Kate tweeted back:
@iamseanavery Weren't you supposed to be focusing on a game?...at least we all agree I wasn't staring at you.
Oooooh burn! Nothing sexier than putting a much maligned hockey goon in his place. Apparently Kate isn't impressed by the meticulously detailed fashion blog he authored during his summer internship at Vogue. That makes all of us.
In April 2011, Kate busted out an impromptu Dougie in the stands at a Clippers-Thunder game in Los Angeles. Kate made chair-dancing history as fellow SI model Arash Markazi looked on and giggled.
I remember hearing the term "jiggle TV" at some point to describe Susan Somers in the goofy 70's sitcom Three's Company. Probably on one of those truth behind the laughter shows on the Biography channel.
Well, the term has officially been redefined for the modern day. Bravo Kate. Bravo.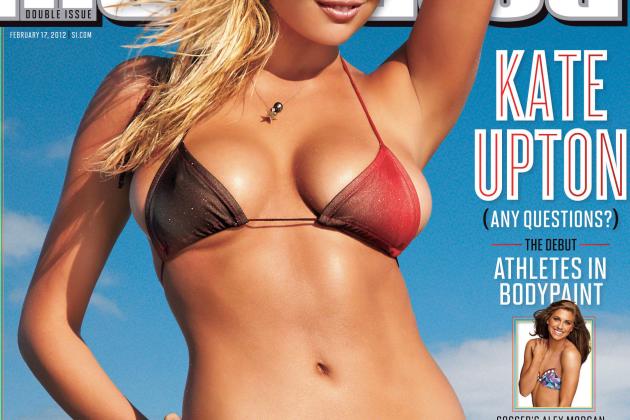 Oh, in case you haven't heard, Kate Upton landed the cover of the 2012 Sports Illustrated Swimsuit Issue. I'm just kidding, obviously you already knew that because I've mentioned it about 20 times to this point.
After being named the Rookie of the Year in 2011, Kate was an obvious choice for the cover this year. Nobody has questioned the choice of cover girl, but plenty of people have wondered if this was the best photo they could find.
She looks great, but she always looks great. Which brings us to...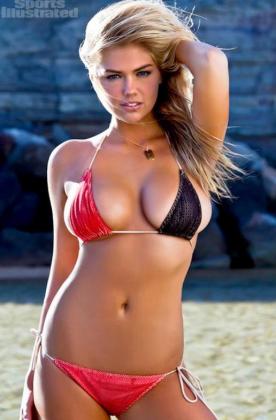 The airbrushed to death photo used on the cover isn't nearly as flattering as most of Kate's more natural looking shots that appeared in the magazine and online.
Why magazine editors insist on publishing cartoonishly doctored photos of beautiful women remains one of the great mysteries of the modern day. I'm certain she didn't have a say in the decision, but the professionals who do this for a living could have done a much better job.
And if they couldn't have done a better job, perhaps they should be fired immediately and replaced with someone awesome...like me. Not to brag, but I've excelled in many similar fictional jobs like movie casting and celebrity matchmaking.
If you are one of the over five million people who have seen Kate's impromptu "Dougie" at the Staples Center, you already know my girl can work it. And you may recall she looked damn good Douging in the stands at a Clippers game.
But she looked damn great Douging on the beach in a teeny bikini during her various photo shoots for the Sports Illustrated Swimsuit Issue.
In your entire life, if you only watch one YouTube video of a model bouncy-dancing in a bikini—make it this one. It's almost as entertaining as that baby panda sneezing (or a more timely viral video reference).
A staring contest probably doesn't even come close to qualifying as a sport. I guess it's more of a strategic game, like golf! Or bowling, to a substantially lesser degree.
Obviously the ad wizards over at Sobe know what they're doing Kate's televised stare down is definitely one of the sexiest commercials ever. Although...I still don't know exactly what kind of drink Sobe is.
Either way, I'm sure most of you are eagerly awaiting a televised oogling re-match.