March Madness 2012 Picks: Sleepers Sure to Score Upsets in Each Region
March 13, 2012

Ethan Miller/Getty Images
San Diego State is amongst the sleeper teams that will prove troublesome for the favorites, along with Florida State, UNLV and Davidson, to pick a sleeper from each region.
All four teams have proved throughout the year that they have more than justified their place in the tournament and are now ready to make a deep and surprising push.
Favorites like Duke, UNC and Kentucky will be smart to take caution and not look past the mid-major sides.
Here is a breakdown of why they will impress this March.
Midwest: San Diego State
The Aztecs (26-7, 10-4 MWC) took a step back from last season, where they made an impressive run to the Sweet 16 under coach Steve Fisher. Though they finished with a share of the Mountain West regular season title, they were beat handedly by New Mexico in the tournament final.
However, they are known for keeping games close, as only once all season did they lose by more than 10 points, and that was in the altitude at Colorado State.
Fisher will have his guys ready in their first game against NC State. On paper, it could potentially be their most difficult matchup until they get to the Sweet 16.
Even then, the Aztecs' results have been directly related to their ability to shoot the ball. In most of their losses, their shooting as a team was below .400. If they are able to get hot, there are few who can stop them.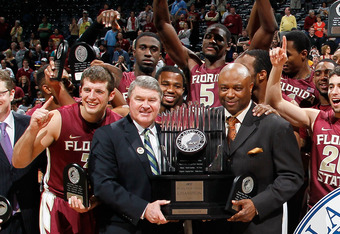 Kevin C. Cox/Getty Images
East: Florida State
The Seminoles (24-9, 12-4 ACC) are having an excellent season. Playing the spoiler to top dogs more than once, with wins against Virginia once and Duke and North Carolina twice (one being in the conference tourney), have given them the third seed in the East.
Though they are seeded high, few expect them to make any waves coming out of a tough region, with Syracuse, Ohio State and Wisconsin getting most of the recognition.
But FSU has played the role of underdog all season long and has come out on top more than often.
They may not have the pedigree of players the other schools poses, but coming out of the ACC they are very used to playing against top talent and knowing what it takes to counter it.
In hindsight we may not look back as them being a sleeper, as no team has as impressive a resume leading up to the tournament. But any time tradition is challenged, people take note.
South: UNLV
The Rebels (26-8, 9-5 MWC) got off to an excellent open to the season that really got them attention.  However, they began to falter as conference play opened; eliminated by New Mexico in the second round of the tourney, they dropped to a six seed.
However, they have a favorable schedule, opening the tournament against Pac-12 representative Colorado, with the potential to meet Baylor in the second round. SDSU, who UNLV beat in the regular season, did not have much trouble with Baylor and neither will the Rebels.
With stats that put them 24th in the country in scoring, 34th in rebounds and third in assists, they are the kind of well-rounded team that can really make them a load to handle for any school.
West: Davidson
The Wildcats (25-7, 16-2 Southern) won the Southern Conference tourney to get the bid to the show, but they are a long way removed from the team Steph Curry played on a few years ago.
However, a big victory over Kansas in the regular season put them back on the map.
Averaging 78.4 points per game, they are 12th in the country in scoring, while their opponents Louisville only gets around 68.8 PPG.
Obviously the Cardinals face much stiffer opponents in the Big East, but if the Wildcats' shots are on, there will be little Rick Pitino and his team can do to stop them.
Follow me on Twitter: @thecriterionman