2011-12 NHL Success Stories: Jaroslav Halak Used to Competition in the Crease
March 13, 2012

Rich Lam/Getty Images
In a first round chock full of future NHL All-Stars, the 2003 NHL Entry Draft may go down as one of the league's finest classes ever.  Mike Richards, Corey Perry, Marc-Andre Fleury, Ryan Suter and Eric Staal are just a few of the names that were called.  Jaroslav Halak had to wait until the 9th round to hear his name called by Montreal.
Even the ninth round of that draft had a bevy of NHL talent.  Matt Moulson, David Jones, Tanner Glass and Halak's St. Louis creasemate Brian Elliott were the other players chosen in the last round that are currently in the NHL.  
After being selected by Montreal, Halak played one more year in Slovakia before crossing the pond to play in North America, with Lewiston of the QMJHL.  In his only year with the MAINEiacs, Halak's numbers were solid, with 24 wins and a .913 SVP to his name.  It was his first taste of the competition to come as well.
In Lewiston, he was competing for crease time with a young Jonathan Bernier, who would go on to be an NHL draft pick himself.  
After finishing his junior career in the QMJHL, Halak was signed by the Canadiens.  Once again, he proved up to the challenge, earning a promotion from the ECHL to the AHL, where his exposure to Canadiens management would be far greater.  It was a similar case of stiff competition though.
In 2005-06, the Canadiens AHL affiliate, the Hamilton Bulldogs, was shared with the Edmonton Oilers.  Fending off competition from veteran Yann Danis and Oilers farmhand Jeff Drouin-Deslauriers, Halak played well on a sub-.500 Hamilton team.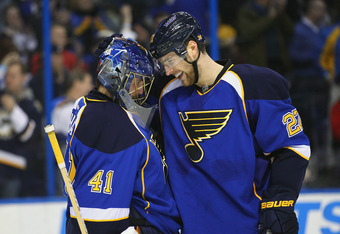 Dilip Vishwanat/Getty Images
Stops in the ECHL and AHL earned him a promotion with the big club in winter 2007, where he posted a 10-6 record.  His first NHL start saw him stop 31 of 33 shots against Columbus.  The 21-year-old had made a name for himself in arguably the toughest city to play in and finished the season with a 10-6 record and .906 SVP.
Unfortunately for Halak, that 2006-07 season was the year that the legend of Carey Price was born.  Price, drafted fifth overall in 2005 out of Tri-City of the WHL, was in the midst of a season that would see him be named the CHL's top goaltender, win the Calder Cup with Hamilton and be named the AHL's playoff MVP.
Price parlayed that success into a strong 41-game rookie year with the Canadiens, earning NHL All Rookie Team honours while splitting time with Cristobal Huet.  That year saw Halak play just six games with Montreal, but he still posted gaudy numbers, including a .934 SVP.
With Huet's contract due at the end of the season, Canadiens management recognized their good fortunes, and Halak was in the NHL to stay, although Price would be the team's starter for the 2008-09 season.  After splitting time that season, Halak played more than Price the following year, winning over fans in the process.
The 2009-10 season saw the Montreal Canadiens outlast both Alexander Ovechkin's Washington Capitals and Sidney Crosby's Pittsburgh Penguins before falling to the Philadelphia Flyers.  Halak played over 90 percent of the team's minutes, with Price being forced to watch.  
Following the team's unexpected run to the Eastern Conference Finals, Canadiens management was forced to make a decision: Stick with Halak, the ninth-round pick who defied all odds just to make it to the NHL, or have faith in Price, whose struggles made him the frequent target of Canadiens fans.  Bob Gainey chose the latter and shipped Halak off to St. Louis.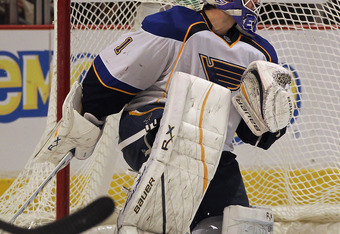 Jonathan Daniel/Getty Images
At this point in the story, Halak should have earned the right to be the clear-cut starter, and in 2010-11 he enjoyed the luxury of that position.  His backup was journeyman Ty Conklin, a solid goalie but not a threat to overtake him.  Halak played well on a non-playoff team.
Conklin left as a free agent, and the St. Louis Blues brought in Brian Elliott, coming off a tough year with Ottawa and Colorado, to back up Halak.  Outsiders assumed that once again Halak would get a majority of the minutes.  That was not the case.  
With his strong play this year, Elliott is a favourite to win NHL Comeback Player of the Year.  He made his first NHL All-Star Game.  He currently leads the league in Goals Against Average (Halak is second) at 1.61, and is tied for third (with Halak) in shutouts with six.
In spite of Elliott's remarkable season, Halak has played a majority of minutes for the resurgent, league-leading Blues.  
Jaroslav Halak defied the odds just by playing a game in the NHL.  In a league where many teams have starting goalies that are ensconced in their positions (Martin Brodeur, Carey Price, Miikka Kiprusoff, Pekka Rinne), Halak has seemingly never been in that position.
His one year in the CHL saw him fending off future Los Angeles Kings first-rounder Jonathan Bernier.  Carey Price was another higher touted player that, due in part to his status, was given more of an opportunity than Halak.  Brian Elliott came out of nowhere to shine for the Blues.  
There is something to be said for complacency, and Halak is not one to have that.  He has earned everything in his career thus far and has far outperformed his ninth-round selection.
With the Blues fighting not for a playoff spot but for first place in the league, Halak's talents will get noticed on a bigger stage.  And his may be the ideal situation to be in for an athlete: Take nothing for granted, and always be looking over your shoulder.
Follow Salim Valji on Twitter