The UFC's Rogan and Goldberg: No Lampley and Merchant, but Getting There
March 13, 2012

People often debate the need for good commentary when it comes to the fight game. It seems to be a point of contention that unless the commentary is deadly accurate, then it is nothing more than a hindrance.
This kind of thinking is further amplified by those fighters who are contesting what they feel to be a bad call from the judges. "Watch the fight with the sound off!" they cry to the public, "Then tell me who won."
The idea behind this thinking is obvious: the commentary has influenced the viewing public in the wrong way.
When it comes to the UFC, Mike Goldberg and Joe Rogan have experienced this kind of backlash before. Countless times the viewing public has declared their disgust with Rogan and his bias towards one fighter or the other.
If anything, Rogan can take comfort in the fact that he is not alone.
Two of the best commentators in the business, Jim Lampley and Larry Merchant, have also felt the sting of public scorn for perceived bias or the style of their commentary on a given night.
It's simply going to happen, no matter how good you are.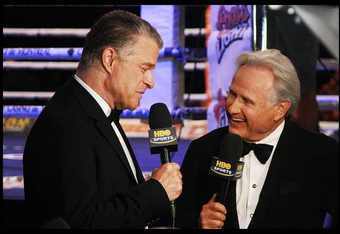 Jim Lampley and Larry Merchant have been the voices behind some of the biggest boxing matches for over the past twenty years. In the past, both of them have shown they can go fact-for-fact in the sport of boxing history with any boxer or trainer, and they do it with a verve that makes both sides look good.
It's a treat to listen to experts talk as if they are alone at a corner table, and Lampley and Merchant have the knowledge and background that allows such brilliant boxing minds as Emmanuel Stewart to do that very thing.
If Mayweather Jr. and Pacquiao somehow manage to find their way into the ring at the same time, you can bet it will be Lampley and Merchant that end up calling the action.
And still, no matter how hard they try, some people are never pleased with the job they do.
Well, for the sake of argument, I've tried watching the fights with the volume turned down.
It sucks.
So, yeah, maybe Goldie and Rogan are no Lampley and Merchant, but they're getting there. Goldberg provides a sounding board that manages to keep the ship on course, while Rogan provides a depth of knowledge in the game that comes from actually training in Jiu-Jitsu and talking to countless fighters, who give him access to their world.
But I would really love to see them bring in Jeff Blatnick as a third.