March Madness 2012: Elite 8
Jonathan Daniel/Getty Images
An Ohio State fan holds up a "March Madness" towel during the Big Ten Championship game.
Ahh, yes, March Madness. You know what that means: time to print out a bracket and grab a pencil—or, if you're a TRUE man, a pen—and get to work on filling out those glorious sheets that make their rounds to sports fans of America just once a year.

For some people, filling out a bracket is just for fun; for others, filling out a bracket is a researched, thought-out, rigorously daunting task that will convey their college basketball knowledge to their fellow sports fans.

There are many possible bracket outcomes. In fact, the odds to pick a perfect bracket are about nine-quintilian to one. To this day, there is no evidence that anyone has ever filled out a perfect bracket.
Some people considered "experts" however, can consistently come up with brackets that land upwards of the 95th percentile of the nation. This is done by compiling vast amounts of information and weighing the possibility for each team to outperform their counterparts. It takes time, research, and an open mind in order to piece together a great bracket.
After spending many hours coming up with the best possible outcome for MY bracket, I'm ready to reveal the most likely Elite 8 for this year's version of March Madness.
Begin Slideshow

»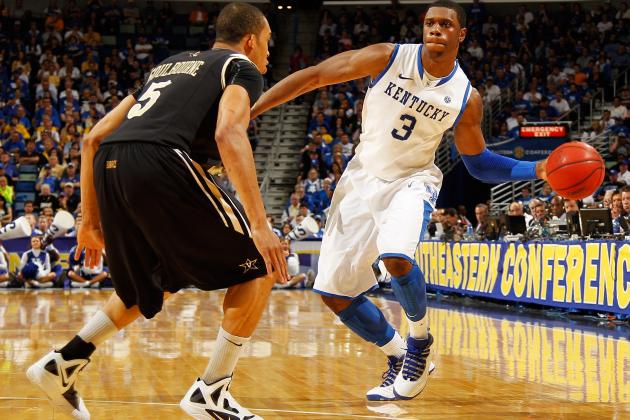 Chris Graythen/Getty Images
Terrence Jones, right, works the ball inside past Vanderbilt's Lance Goulbourne.
Even though Kentucky is the overall number one seed in the NCAA tournament, there are still many doubters that think that the youth on Kentucky's roster will ultimately lead them to an early exit.
While there is no arguing that Kentucky is young—four of their five starters are either freshmen or sophomores—it can be argued that Kentucky has experience. Out of Kentucky's five starters, three of them (Darius Miller, Terrence Jones, and Doron Lamb) have already been to a final four.
Kentucky is simply too talented to ignore: out of their top eight players (in regards to minutes per game), Kentucky has seven McDonald's All-Americans. That is more McDonald's All-Americans than all of the teams that Kentucky would have to play against on their way to the Elite 8 combined.

With just two losses on the year by a combined eight points, Kentucky is a lock for the Elite 8.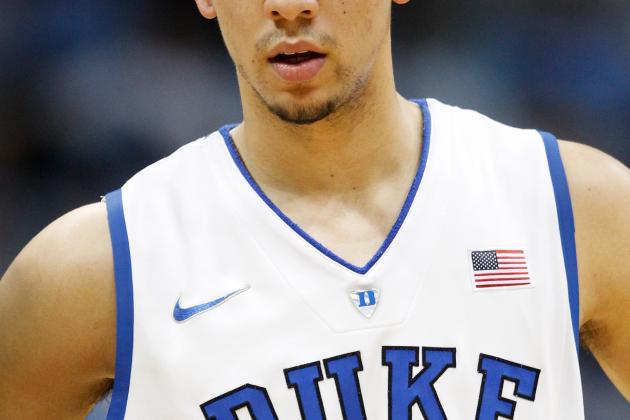 Streeter Lecka/Getty Images
Duke's freshman phenom, Austin Rivers.
While many people believe Duke will also be an early exit team, most experts would say otherwise.

Duke's first true challenge would be against a third seeded Baylor squad, who has been inconsistent all year (assuming Baylor can get past San Diego State and UNLV).

Baylor has proven that they do not play well against top quality teams; their record against RPI top-25 teams is just 1-5. They do have an 8-2 record against teams ranked between 26-50 in the RPI, however, five of those wins came against teams ranked 45th or lower.

Duke proved that they were a dominate force while beating top-quality teams like Michigan State, North Carolina, and Kansas. They had the second ranked strength of schedule in the nation and were ranked fifth in the RPI.

There is little doubt that we'll be seeing a matchup between two of the best teams in the nation on March 24, when the number one seeded Kentucky and the number two seeded Duke square off in the Elite 8.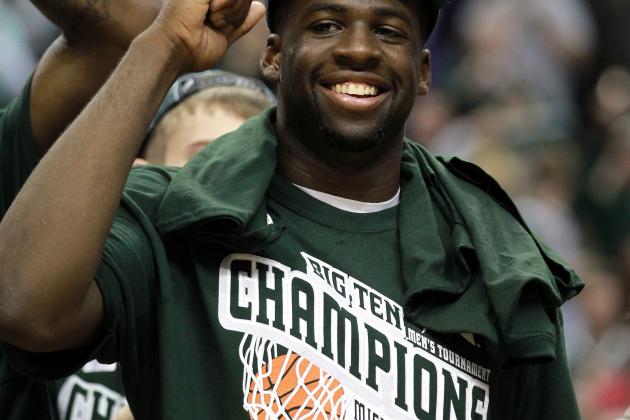 Andy Lyons/Getty Images
Michigan State's Draymond Green, a double-double machine, won the Big Ten player-of-the-year award and led Michigan State to the Big Ten championship.
Michigan State might be the most obvious Elite 8 pick in recent memory.
There has been much outcry over the fact that the tournament committee gave the Big Ten champions, Michigan State (27-7), the one seed over the Big Twelve runner up, Missouri (30-4). However, the last time Michigan State earned a one seed (2000), they also had seven losses. They then went on to dominate every team they played in the NCAA tournament by over ten points en route to winning the national championship.
No team in the West region provides a serious threat to Michigan State, as the Spartans boast one of the most efficient defenses and rank as the best rebounding team in the nation.
With 6'10, 280 pound center Derrick Nix, 6'11 Adriean Payne—who possesses a 39 inch vertical—and 6'7, 240 pound All-American Draymond Green, opposing teams will have to avoid the painted area and hope their shots are falling.

Michigan State will suffocate offenses and pound the boards all the way to the Elite 8.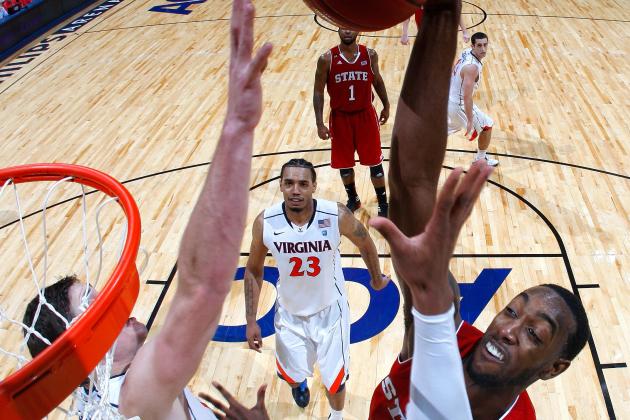 Kevin C. Cox/Getty Images
Virginia's Mike Scott, #23, watches as N.C. State's C.J. Leslie goes up for a one-handed slam.
I know, I know, you're writing me off as crazy now: "There is no way Virginia can beat Florida or Missouri or even Marquette." Well, I think this pick requires a little more in-depth justifying, because it is very rational.

Teams like the Virginia Cavaliers ruin millions of brackets each and every year. For example, Butler and VCU made it to the final four last year as an 8 seed and a 10 seed, respectively. It's very hard to guess which team might make a run, but with a little research it's very possible.

Virginia boasts the nation's best defense, and they just happen to be one of the top rebounding teams in college basketball as well.
The Cavaliers have been very underachieving thus far, but they may not be given as much respect as they should be given. At 22-9, Virginia has only lost one game this year by more than eight points and seven of their losses have come by three points or less. These losses came against teams like North Carolina, Duke, and Florida State. This team was amazingly close to going 29-2 with a shot at the ACC championship.

Virginia's largest problem this year has been their depth. Only four of the players on their roster have played in all 31 of their games this year, and over a third of their players have started in less than 18 games. In a majority of Virginia's losses, their depth was the deciding factor.
Fortunately for the Cavaliers, depth won't be an issue against Florida or Missouri.

Florida has just one non-starter who has played in all of their games and just one non-starter who plays more than 15 minutes per game. Depth has been an issue for them, and they won't be able to capitalize on Virginia's lack of depth.

Missouri has just seven players on scholarship and lacks depth possibly more than any other team in the tournament. They will not be able to capitalize on Virginia's weakness either. Throw in the fact that Missouri was swept by the only team they played that was in the top 45 in the nation in both rebounding and defensive efficiency (Kansas State), and Virginia is sitting pretty.

If I've ever been confident in a 10 seed making a run in the tournament, this Virginia team is the one.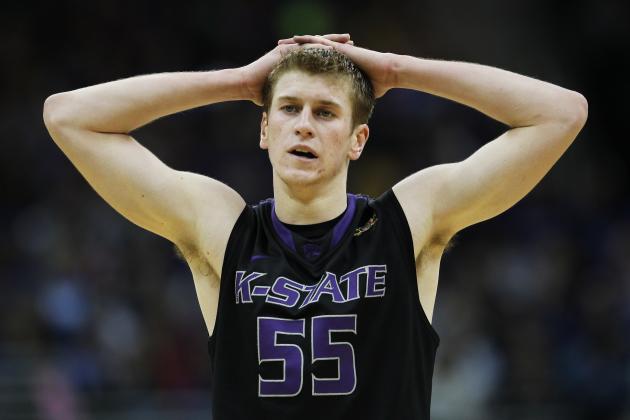 Jamie Squire/Getty Images
Kansas State guard Will Spradling looks on in a Big Twelve tournament game against Baylor.
Kansas State-Syracuse: the inevitable second round match-up that is almost identical to the second round Virginia-Missouri match-up in the West region.

Kansas State and Virginia are both grind-it-out, physical, defensive teams who hit the boards hard and make the most of every possession. Missouri and Syracuse are both guard-dominated teams who have struggled against teams like K-State and Virginia (Missouri was swept by Kansas State this year).

Another huge factor to consider is that Syracuse lost arguably their best player, Fab Melo, due to eligibility issues. Melo was one of Syracuse's best rebounders.
In games with Melo, Syracuse had a +11.0 point margin and a +0.4 rebounding margin. When Melo sat out for three games, Syracuse had a negative margin in both points and rebounding.

Kansas State will beat Syracuse on the way to their second Elite 8 appearance in the last three years.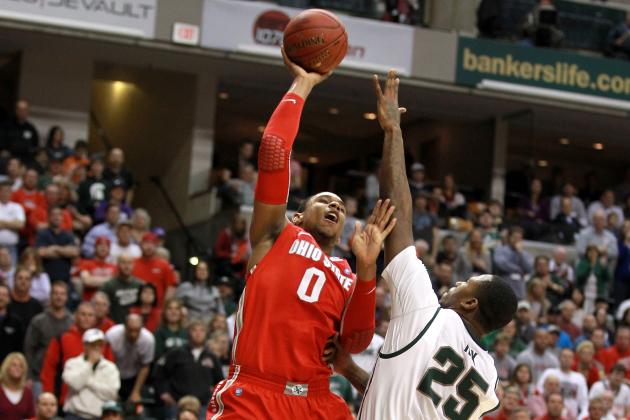 Andy Lyons/Getty Images
Ohio State's Jared Sullinger, left, goes up for a shot against Michigan State's Derrick Nix in the Big Ten Championship game.
Ohio State, the second best team in the Big Ten, which is considered the best conference in the nation, is the second best team in college basketball, according to KenPom.com.

This Ohio State team might be one of the most dangerous teams in the nation. They've been ranked in the top 10 in almost every poll imaginable the entire season. They've proven that they can beat any team in the nation with wins over No. 8 Florida, No. 4 Duke, No. 8 Indiana, No. 20 Wisconsin, and No. 5 Michigan State, and two blowout wins against #13 Michigan.
Ohio State has been playing extremely well as of late, as Deshaun Thomas has stepped up and started playing to his potential by averaging 19.2 PPG and 7.3 RPB in his last eight games.
With five players who could score over twenty points on any given night—Thomas, Sullinger, Buford, Craft, Smith Jr.—Ohio State presents one of the most efficient offenses in the nation.
Buford hasn't been playing extremely well so far this year, but his senior leadership has helped Ohio State become one of the best teams in the NCAA, and he is fully expected to help lead this team to a deep tournament run.

Ohio State should be considered a lock for the Elite 8.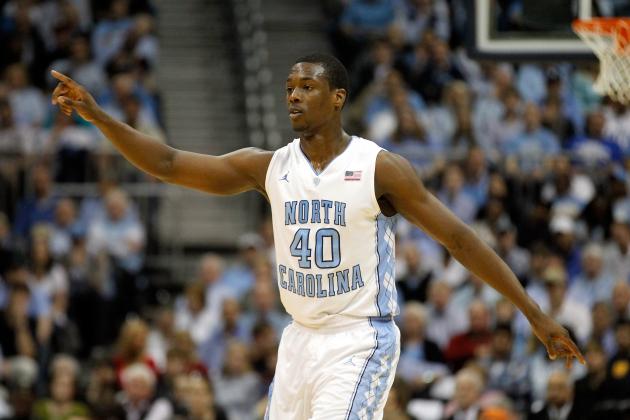 Streeter Lecka/Getty Images
North Carolina's Harrison Barnes is averaging 17.4 PPG and 5.2 RPG.
Love him or hate him, but if there is one person whose opinion we should all look up to, it's the president of the United States'. In this year's March Madness, Barack Obama has North Carolina beating Kentucky for the national championship.

While I'm not going to go so far as to say that they will win the national championship, I do believe that an elite 8 birth is inevitable.

Much like Ohio State, North Carolina has been in the top 10 all-season long. Also, like Ohio State, North Carolina is extremely efficient on the offensive end.
One thing North Carolina does better than just about anybody in the nation, however, is rebound. North Carolina is top 10 in nearly every rebounding category that exists due to the play of their 7 foot forwards, Tyler Zeller and John Henson, and their ridiculously athletic wings, Harrison Barnes and Reggie Bullock.

With Michigan and Temple being the toughest teams in their region—and the most oft-picked teams to be upset in the first round—the Tarheels may have one of the easiest paths to the Elite 8 of any team in the nation this year.

North Carolina is one of the teams most commonly placed in the Elite 8, and rightfully so.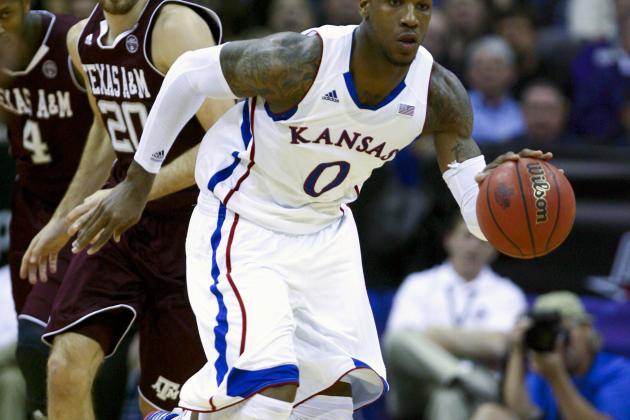 Ed Zurga/Getty Images
Kansas' Thomas Robinson is arguably the best player in the nation, averaging 18 PPG and 12 RPG while shooting over 53% from the field.
To round out the Elite 8, Kansas will storm through the Midwest region of the bracket with little competition.
The Jayhawks are undoubtedly one of the best teams in the nation thanks to the play of player-of-the-year favorite Thomas Robinson. Robinson averages a double-double and has only scored in single digits one time out of Kansas' 33 games (he scored 9 points while playing limited minutes in an 89-34 blowout over Howard).

Kansas is 11-5 against RPI top-50 opponents and has not lost a game by more than 10 points this season.

Kansas has struggled slightly with some of the top-tier teams in the nation, but they have dominated plenty of great teams on the year. They are 6-1 against opponents ranked between 26-50 in the RPI. The only team in Kansas' region that is ranked in the RPI top-25 is Georgetown, who Kansas beat on a neutral floor in November.

If Kansas isn't written into your Elite 8, they should be.