NBA Trade Rumors: Andrew Bogut and 5 Injury-Prone Players Teams Must Avoid
Earlier today, Ken Berger of CBSsports.com reported that the Milwaukee Bucks were still actively shopping center Andrew Bogut, who may miss the rest of the season with an ankle injury. This ailment is the latest in a line of many suffered by the Australian sensation, who has been limited to 12 games this year and has only played a full season twice since being drafted first overall in 2005.
The crazy part is that teams are still making offers for the guy even though he may not play again this year, but can you blame them? When healthy, Bogut is one of the premier shot blockers in the league, owning a career mark of 1.6 per game in that department.
Still, he's midway through the third season of a five-year, $60 million deal and is owed roughly $30 million over the remainder of the contract.
Thus, if I were an NBA GM looking to make a trade, I'd steer clear of Bogut and these other injury-prone players.
No. 5: Brook Lopez
Al Bello/Getty Images
In all fairness, Brook Lopez isn't the most injury player in the league. In fact, up until this season, he had never missed a game.
Yet a broken foot suffered in the short preseason kept him out until mid-February, and shortly after, he injured his ankle and is expected to be out for three weeks. This throws a huge monkey wrench into the hopes of the New Jersey Nets, who viewed Lopez as the centerpiece of a trade package that would bring in Dwight Howard from the Orlando Magic.
Now that he's injured, it's unlikely that any team will pursue him over the next couple of days.
No. 4: Tyrus Thomas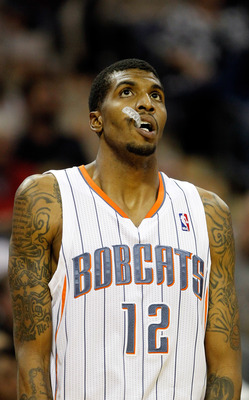 Streeter Lecka/Getty Images
Thomas is a great dunker who plays solid defense, but his health has been a problem ever since last season. A knee injury limited him to 41 games last year, and he missed time this season with "fatigued legs."
Even though the Bobcats are worst in the NBA and will most likely need to start yet another rebuilding phase, Thomas just isn't worth the risk, not to mention the roughly $28 million still owed to him over the remainder of his contract.
No. 3: Andrew Bogut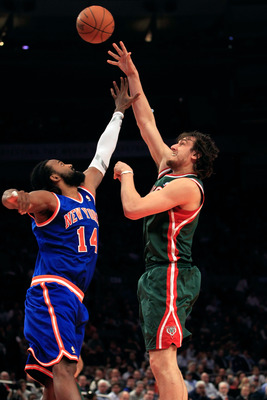 Chris Trotman/Getty Images
Now, let me start off by saying that I'm a huge Andrew Bogut fan. From his days at Utah to his many years with the Bucks, the guy's just fun to watch!
Still, he's proving to be a liability for the team, and as a result, GM John Hammond is listening to offers for his oft-injured center. According to Peter Vecsey of the New York Post, the Golden State Warriors are "drooling" over Bogut even though his broken ankle could keep him out until mid-April and are willing to include star shooter Stephen Curry in a deal.
Though I'm a fan of the one some have dubbed, "The Thunder From Down Under," I'll be the first to admit that Bogut is not worth a star player. Sure, he's good, but his injury history speaks for itself. Thus, unless he can be gotten for the right price, teams should think twice before asking the Bucks about him.
No. 2: Rashard Lewis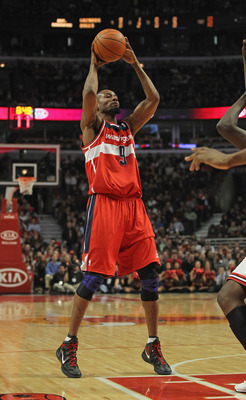 Jonathan Daniel/Getty Images
Simply put, Rashard Lewis is a joke. Once a great three-point shooter, his knees are now shot, and he can do little more than jack up jumper after jumper.
If any teams are even thinking about dealing for him, I have one reason to stay away: $29.5 million due over the next year and a half.
No. 1: Andrew Bynum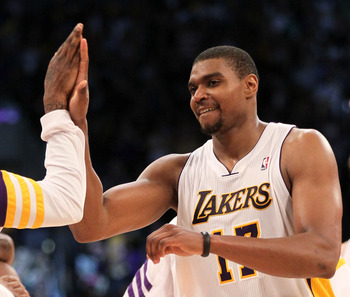 Stephen Dunn/Getty Images
I really hate to include Bynum on this list, as the 24-year-old Lakers center is having the best season of his career. On the year, he is averaging 17.1 points, 12.6 rebounds and 2.1 blocks per game. As each contest goes by, he's looking more and more like a valuable trade chip to help the Lakers land Dwight Howard.
However, prior to this season, Bynum had a reputation as one of the most injury-prone players in the league, and some fans this year are probably holding their breath until he finishes the season without getting hurt. It's hard to blame them because entering this year, Bynum only had one full season under his belt: the 2006-2007 campaign.
That being said, teams should be extremely careful if they're interested in acquiring him. Besides agreeing on which players are involved, the team receiving him should probably insist on having him take a full physical prior to any deal being finalized.
Still, I loved your poem because it does a great job of adopting a defiant voice through form and tone.
Keep Reading