2012 NFL Mock Draft: Breaking Down How the Entire First Round Will Play Out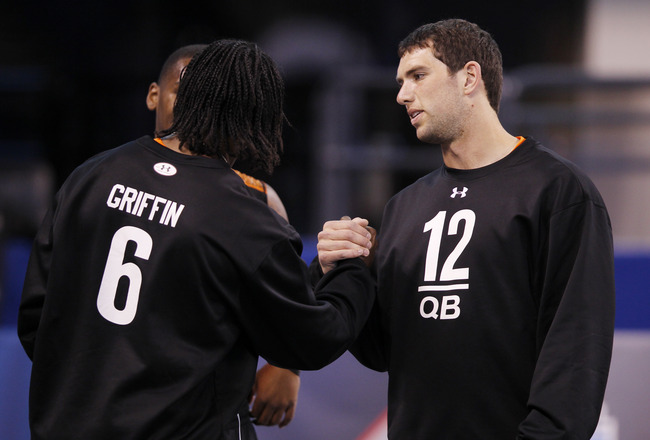 Joe Robbins/Getty Images
After Friday's blockbuster trade between the St. Louis Rams and Washington Redskins, we now have a much clearer picture of how the draft will play out.
However, once free agency opens, we will see a lot of moves that will change team needs and the dynamics of the draft.
With these new roster changes and draft positions, here are my latest first-round draft projections.
Indianapolis Colts: Andrew Luck, QB, Stanford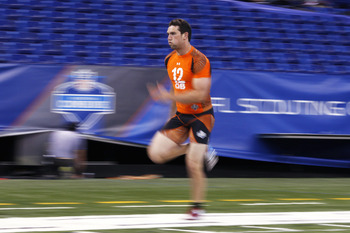 Joe Robbins/Getty Images
After the Colts cleaned house by getting rid of Dallas Clark, Joseph Addai and Gary Brackett, it is clear that they plan on starting from a completely clean slate.
At the same time, I am not so sure that they would be using this same approach if Andrew Luck were not on the board.
Luck is as close to a franchise-changing quarterback as you can get. After his excellent showing at the combine, he may have solidified himself as the best quarterback prospect ever. Not only is he a great "classic" pocket passer, but he actually outperformed Cam Newton at just about every drill at the combine. He even out-jumped the former Heisman Trophy winner.
The Colts should just focus all of their attention on their later picks, because this is a done deal. Luck is the best prospect in the draft and perhaps the best quarterback prospect ever.
Washington Redskins (From St. Louis Rams): Robert Griffin III, QB, Baylor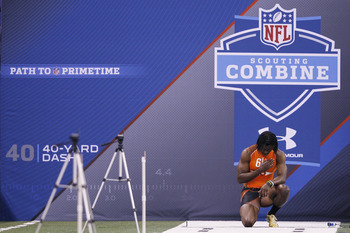 Joe Robbins/Getty Images
Bruce Allen may have sold his soul for the rights to RGIII, but it could be well worth it.
In a lot of ways, the trade makes perfect sense for both sides. The Redskins get the quarterback that they have needed for a better part of the decade, and the Rams get a boatload of picks.
Even if Griffin never pans out, the current regime will not survive long enough to suffer through the lack of first-round picks for two years.
We could talk about the value of picks all you want, but this trade comes down to whether or not Griffin pans out—there is no price too high when talking about a future elite quarterback.
Minnesota Vikings: Matt Kalil, OT, USC
Joe Robbins/Getty Images
Now that St. Louis is officially out of the way, the Vikings find themselves in the driver's seat of the draft.
Kalil is clearly the best tackle in this draft. He is athletic and quick on his feet and should be able to start right away at left tackle. He does have some flaws in his game, but his huge upside in terms of natural athletic ability suggests that his best football is ahead of him.
With all of the needs Minnesota has on the offensive line, this pick is a no-brainier. Kalil will be a franchise left tackle and a bedrock on the line for the next decade.
Cleveland Browns: Trent Richardson, RB, Alabama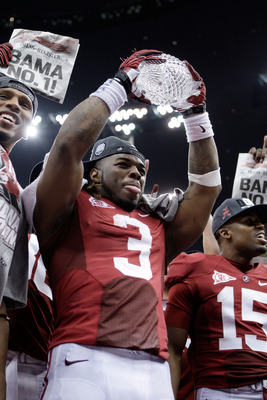 Andy Lyons/Getty Images
Taking runners in the Top Five is usually frowned upon, but Richardson is a special talent at the running back position. His unique combination of size and strength leads me to believe that he can become among the best runners in the NFL sooner rather than later.
If there is one player to break the "don't take a running back early" rule, it's Trent Richardson.
With uncertainty surrounding the future of Peyton Hillis, the Browns may elect to add the next Adrian Peterson to their team rather than deal with the drama that tends to surround Hillis.
Tampa Bay Buccaneers: Morris Claiborne, CB, LSU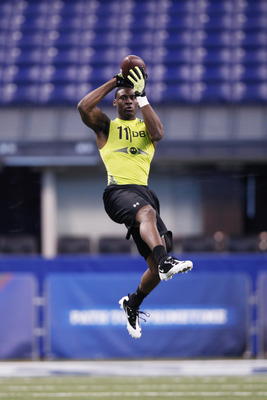 Joe Robbins/Getty Images
Unless the Browns decide to throw a curveball, the top cover man in the draft should fall into the hands of the Bucs.
Claiborne was not quite as impressive as his former LSU teammate Patrick Peterson was a year ago at the 2011 combine, but he did all he needed to do to cement himself as the top corner on the board.
He has the best combination of arm length (33.2) and 40 time (4.47) in the draft. His physical gifts, combined with his natural instincts and the coverage ability he showed on tape, should ensure that he does not make it past the Buccaneers with the fifth pick in the draft.
St. Louis Rams (from Washington Redskins): Justin Blackmon, WR, Oklahoma State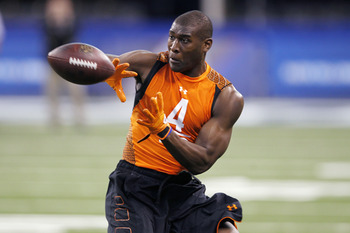 Joe Robbins/Getty Images
The Rams are able to trade back and still get the best prospect in the draft at their biggest position of need.
Blackmon is not on the same level as, say, A.J. Green or Julio Jones were as prospects, but he is a big target that knows how to get open—something Sam Bradford is not used to working with.
Blackmon is still not a big home-run threat, but at this point, the Rams need all of the talent they can get at the receiver position.
Jacksonville Jaguars: Kendall Wright, WR, Baylor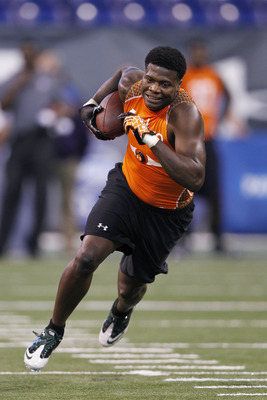 Joe Robbins/Getty Images
From the looks of things so far in free agency, the Jaguars are trying to solve their massive need at receiver—but with guys like Vincent Jackson off the board, they need to find someone who can break the game open.
Known for his great speed, Wright had a bit of a disappointing combine, posting a 4.61 in the 40-yard dash. I thought Wright would be among the fastest players at the draft, but he ended up being the 31st-fastest receiver at the event.
That number could really hurt his stock, but Wright plays much faster than a 4.61 player. He draws comparisons to Mike Wallace and DeSean Jackson, both of whom are known for elite speed and big-play ability.
Miami Dolphins: Jonathan Martin, OT, Stanford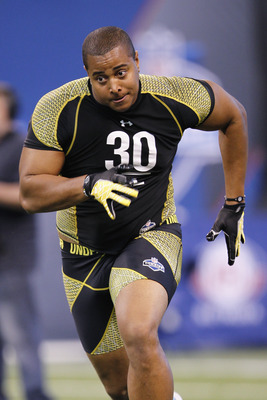 Joe Robbins/Getty Images
The Dolphins need to find a way to bring in a new right tackle at all costs. They are actively pursuing Eric Winston, but there is a good chance that they will be outbid by a team like Kansas City, which has more money to throw around.
Meanwhile, Martin has the athleticism to make the move from the left side over to the right. Getting a talent like Martin would give the Dolphins one of the best combinations of tackles in football.
Carolina Panthers: Devon Still, DT, Penn State
Joe Robbins/Getty Images
The Panthers don't seem too active in free agency in trying to address their massive need at defensive tackle.
Losing Dan Connor would put an inside linebacker in play here, but Still is the safest bet at the biggest need position for the Panthers. LSU's Michael Brockers was the former favorite, but his weak showing at the combine put to rest any hope that he could use his "athleticism" to develop into an elite player.
Buffalo Bills: Courtney Upshaw, DE/OLB, Alabama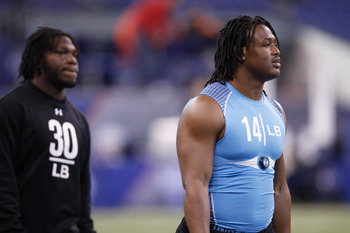 Joe Robbins/Getty Images
Now that the Bills seem poised to add Mario Williams and Robert Meachem, their massive need shifts from defensive end to secondary.
However, they still could use someone to pair with Williams, and Upshaw could fit the Bill perfectly (no pun intended).
Upshaw played outside linebacker at Alabama, but his size and skill set may be more suited for a base 4-3 end. Adding him to a line with Mario Williams, Kyle Williams and Marcel Dareus would make one scary defensive line.
Kansas City Chiefs: David DeCastro, OG, Stanford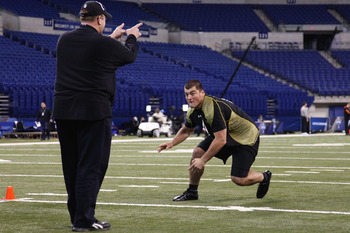 Joe Robbins/Getty Images
The Chiefs could use a lot of help on their offensive line, particularly at right tackle. Though K.C. is pursuing right tackles in free agency, David DeCastro is simply too good of a football player to pass on.
No player—not even Andrew Luck—is as weakness-free as DeCastro is. He will step in immediately as a starter and have a long NFL career.
Seattle Seahawks: Quinton Coples, DE, North Carolina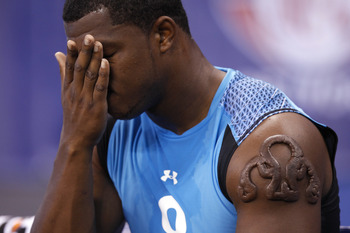 Joe Robbins/Getty Images
It seems as if Seattle is going to be on the outside looking in for the Mario Williams sweepstakes. However, their sheer interest in Williams shows that they are interested in making a serious investment into the defensive end position this spring.
Coples is a dangerous prospect because of his lousy senior season, but he is intriguing because of his stellar junior tape and combine performance.
Perhaps Seattle can slowly insert him into the lineup and give him some proper coaching, then let him unleash his talent in a full-time role down the road.
Arizona Cardinals: Riley Reiff, OT, Iowa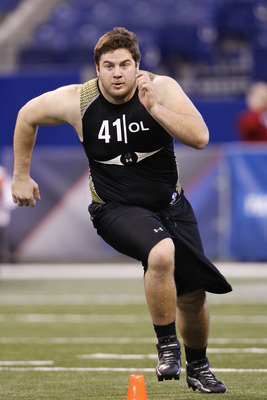 Joe Robbins/Getty Images
Arizona already needs five new offensive linemen, but after they cut Levi Brown to save themselves cap room, the need is just bigger than ever.
Reiff is a sturdy, technically sound tackle that comes from an Iowa program that is known to produce quality, polished offensive linemen. His arms are a bit shorter than ideal, but his production on tape speaks for itself.
Reiff can play both the left and right side, but on the Cardinals, he will take over the blindside protection.
Dallas Cowboys: Dre Kirkpatrick, CB, Alabama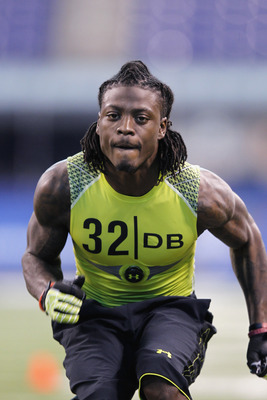 Joe Robbins/Getty Images
Even before they released Terence Newman just minutes before the opening of free agency, Dallas had some serious issues in the secondary. Being able to select Dre Kirkpatrick at this spot in the draft provides great value.
Dre has ideal size and length and is very instinctive, making him an excellent zone corner. He is also patient and physical at the line of scrimmage when in press man coverage. He is also regarded as the best tackling corner in the draft.
Dallas has also shown interest in Brandon Carr; pairing him with Kirkpatrick would make this secondary go from awful to one of the better units in football.
Philidephia Eagles: Luke Kuechly, MLB, Boston College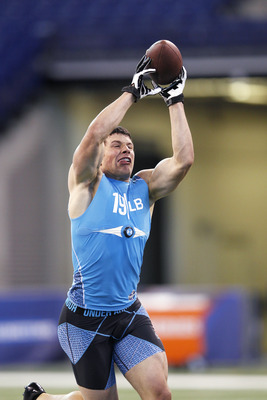 Joe Robbins/Getty Images
The Eagles are not expected to spend a ton of money on a big-time free-agent linebacker, so finding one in the draft becomes a top priority.
At the combine, Kuechly was beyond impressive, running in the 4.4s and dominating in the linebacker drills. To me, he has cemented himself as the safest linebacker prospect in the draft.
His great instincts and physicality make him an excellent fit for the Eagles, who have struggled to defend the run and desperately need linebacker help.
New York Jets: Melvin Ingram, DE/OLB, South Carolina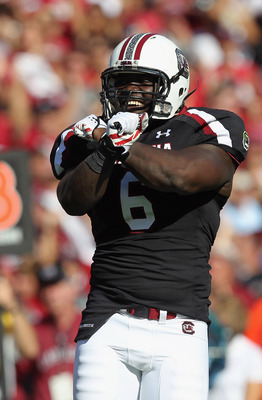 Streeter Lecka/Getty Images
Even though they were able to re-sign Bryan Thomas, the Jets still lack a legitimate, every-down pass-rusher that can get to the quarterback on his own on a consistent basis.
The Jets have been looking for a pass-rusher since they whiffed on Vernon Gholston in the 2008 draft. They have been able to use their great coverage to hide their deficiencies at outside linebacker, but at some point you have to put your hand in the dirt and get after it.
Ingram played defensive end in a 4-3 at South Carolina, but his size and athleticism suggest that he actually may be better suited to stand up as a 3-4 outside linebacker.
Cincinnati Bengals: Cordy Glenn, OG, Georgia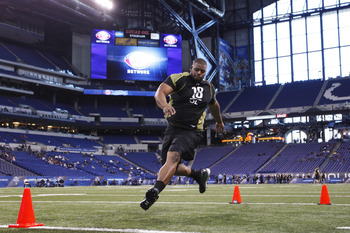 Joe Robbins/Getty Images
With 11-year veteran guard Bobbie Williams on his way out, the Bengals need to bring in another big body to keep their downhill running game on track. They will need to replace Williams with top-level talent, as the running game is a vital part of what the Bengals do on offense.
The free-agent market is a bit thin in terms of finding good value for guards, unless some team is willing to break the bank for a guy like Grubbs, Nicks or Mathis.
Glenn has enough versatility to move to tackle if needed, but he is best suited as a masher inside. He had a great combine and his stock is only rising.
San Diego Chargers: Nick Perry, DE/OLB, USC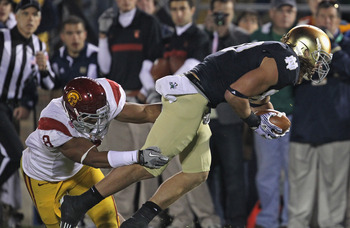 Jonathan Daniel/Getty Images
For some odd reason, the Chargers have elected to be almost non-existent in the free-agency market, outside of finding a way to keep Jared Gaither.
Nick Perry's tape at USC is a bit inconsistent, but he does flash a lot of potential as an outside linebacker in a 3-4 system, even though he lined up as a defensive end in college.
The Chargers need a pass-rusher in the worst way, and Nick Perry has the most potential of any defensive prospect left on the board. However, potential is a scary word, and the Chargers have been burned recently when selecting pass-rushers in the first round.
After missing on Larry English just three drafts ago, the Chargers need to make sure Perry is the right guy before pulling the trigger.
Chicago Bears: Mike Adams, OT, Ohio State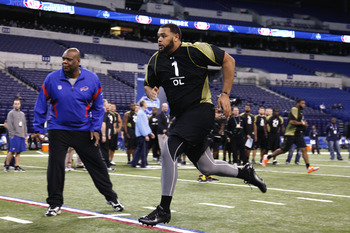 Joe Robbins/Getty Images
After a surprising (and smart) move by the Bears front office to solve their receiver need in a trade with the Dolphins for Brandon Marshall, the Bears can go in several directions with their first pick.
J'Marcus Webb's play at left tackle was simply not good enough, and the Bears may take a chance on Mike Adams, the star of the Senior Bowl.
His poor showing at the combine should raise some red flags, but he is still by far the best tackle on the board. By finally giving Jay Cutler some protection and someone to throw to, the Bears offense is going to be quite effective in 2012.
Tennessee Titans: Dontari Poe, DT, Memphis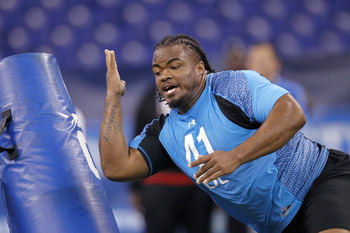 Joe Robbins/Getty Images
As Jason Jones moves closer and closer to reuniting with Jeff Fisher, the Titans will be left with a significant hole in the middle of their defensive line.
Poe's incredible combine performance has him shooting up draft boards. Some people have him in the Top 10, but I tend to think that NFL executives are too smart to elevate a player's stock so much after a workout.
He ran a 4.87 in the 40—at almost 350 lbs. That is unheard of for a man his size. Expect to see Poe fly up draft boards after his amazing performance in Indianapolis, even if his tape does not quite match his athletic prowess.
For the Titans, adding Poe would fill the hole at defensive tackle left by Jason Jones, who is expected to leave via free agency.
Cincinnati Bengals: David Wilson, RB, Virginia Tech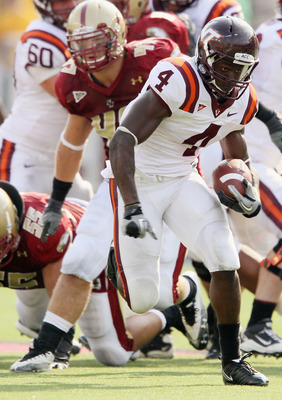 Elsa/Getty Images
With Cedric Benson all but gone, the Bengals will need to add another runner, and preferably one without a lot of mileage on him.
I am a bit higher on Wilson than most, but he is surprisingly strong and rarely goes down on first contact. He has great top-end speed and acceleration, and can be an asset in the passing game.
The knock on Wilson is that he is a bit slow to read his blocks and blocking assignments, but those are common traits in rookie runners.
Cleveland Browns: Michael Floyd, WR, Notre Dame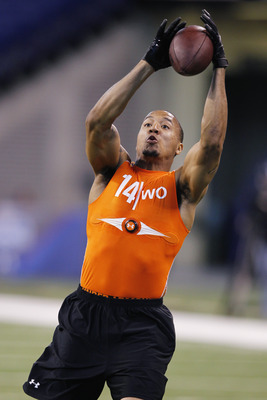 Joe Robbins/Getty Images
Now that the Bears are able to pass on Floyd after the Brandon Marshall trade, Cleveland can give its bland receiving corps a much-needed face-lift.
Floyd is not going to necessarily stretch the field, but he makes a ton of plays after the catch and knows how to get open. Whoever is playing quarterback for the Browns next year is going to have a lot of fun throwing to this guy.
The biggest issue with Floyd are the several off-field incidents he had while at Notre Dame. Floyd claims to be a changed man after spending his final season isolated in a freshman dorm, but the Browns need to do their homework in this area before they invest a first-round pick in him.
Detroit Lions: Janoris Jenkins, CB, Northern Alabama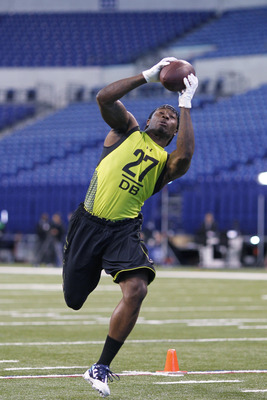 Joe Robbins/Getty Images
The Lions are a decent secondary away from having one of the elite defenses in football. With all of the best corners off the free-agency market, they will have to look to the draft to fill their needs on the back end.
Jenkins has the same talent level as guys like Dre Kirkpatrick, but his attitude problems have caused him to slide to the bottom of the first round. Whether or not he is able to win over evaluators in the meetings and interviews will have the biggest impact on his draft stock.
Pittsburgh Steelers: Dont'a Hightower, ILB, Alabama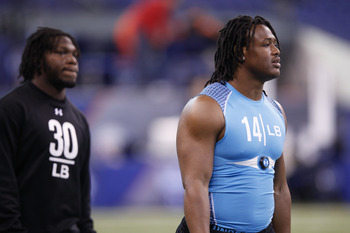 Joe Robbins/Getty Images
Unsurprisingly, the Steelers have been quiet on the free-agency front—they are busy praying that someone does not sign Mike Wallace to an offer sheet.
The Steelers have a pedigree of taking the best player available, regardless of need. In this case, the best player available also matches up well with their need at inside linebacker. James Farrior is no longer on the team, and Lawrence Timmons was forced to play out of position due to injuries to their outside linebackers.
Hightower showed us what an elite athlete he is. He has a chance to be the best inside linebacker in this draft—if he can play with a high motor all of the time.
Adding a talent like Hightower, while moving Timmons back to his more natural position, will make a huge impact on a Steeler defense that desperately needs to get younger.
Denver Broncos: Peter Konz, C, Wisconsin
Jonathan Daniel/Getty Images
Despite their impressive rushing totals, the Broncos' line is far from a quality group. Incumbent center J.D. Walton is one of the weakest parts of an overrated line.
Konz is another product of a Wisconsin line that has produced high draft picks and dominated college football over the past few seasons. He is a smart player who can gain leverage and get to the next level, finding his assignments in a hurry.
No matter who is taking snaps for the Broncos in 2012, they will appreciate the immediate upgrade at center.
Houston Texans: Michael Brockers, DT, LSU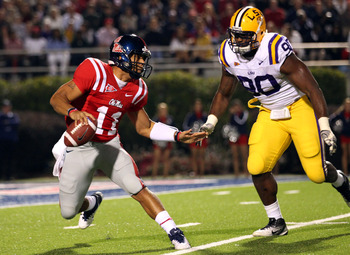 Joe Murphy/Getty Images
The Texans may be focused on trying to retain Mario Williams or making room for other players (by cutting perfectly good right tackles), but they really don't have a lot of needs to fill.
Brockers is a bit of a luxury pick for the Texans. His inability to show incredible upside at the combine will cause his stock to plummet, as he has been exposed as a player that is just not a great pass-rusher.
He shows potential on tape, but all he does is stop the run. Perhaps a move to the five technique would be the best fit for the intriguing prospect.
New England Patriots: Whitney Mercilus, DE, Illinois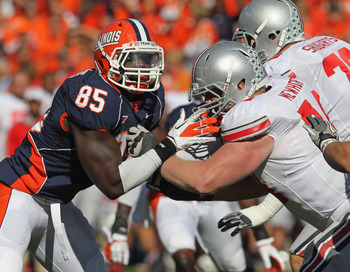 Jonathan Daniel/Getty Images
With the possibility of losing two of their best pass-rushers from 2011 to free agency, the Pats must find a way to add another body at the defensive end position.
Mercilus had a great combine, showing that he has natural pass-rush ability combined with a great athletic prowess, which is a recipe for shooting up draft boards.
However, he was not all that impressive to me on tape. He does not do things well technically. Plus, the vast majority of his sacks came from one season, making you wonder why he was not producing earlier in his college career.
Green Bay Packers: Stephon Gilmore, CB, South Carolina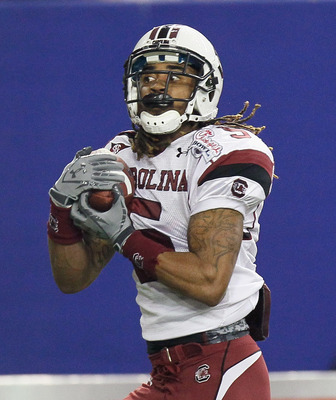 Kevin C. Cox/Getty Images
The Packers defense took a nosedive last year, falling all the way to 32nd in points allowed. They were especially vulnerable against the pass, where they gave up far too many big plays.
As good as Charles Woodson is, he was responsible for a lot of those big plays. Finding his long-term replacement must be a priority.
Gilmore is quietly rising up draft boards and could go as early as the middle of the first round. The Packers are potentially getting great value with this pick.
Baltimore Ravens: Alshon Jeffery, WR, South Carolina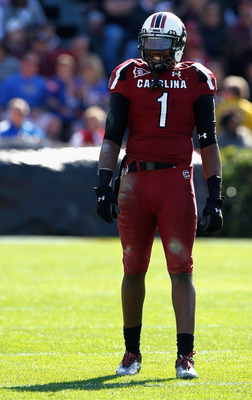 Streeter Lecka/Getty Images
Jeffery really blew an opportunity to push himself to the top of the first round by not participating in the combine drills. He silenced rumors of him blowing up to linebacker weight by showing up at the combine in shape, but not doing drills makes you curious as to exactly what kind of weight he lost.
Did he starve himself for a month and lose muscle mass in the process? Is he too weak to work out?
Either way, if there is a team that can whip Jeffery into shape, it's the Baltimore Ravens, considering the amount of veteran leaders they have in the locker room.
San Franscisco 49ers: Rueben Randle, WR, LSU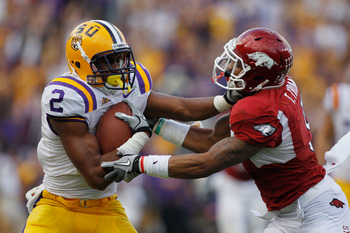 Chris Graythen/Getty Images
Even though they think they have found a deep threat with the acquisition of Randy Moss, the 49ers still could use another receiver to build around. Besides, it's not like Moss is any kind of long-term solution.
In fact, I wouldn't be surprised if all of the 49ers' picks were on the offensive side of the ball, as all 11 defensive starters from last year are under contract.
With his big frame and ability to separate with speed, Randle is going to be a nice addition to a limited 49er offense.
New England Patriots: Mark Barron, SS, Alabama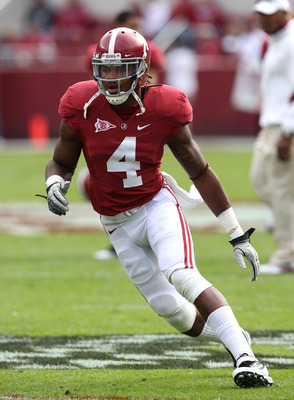 Mike Zarrilli/Getty Images
As of the writing of this article, the Patriots have not made any improvements to their secondary, or pass rush in general.
Somehow, they must find a way to upgrade the back end of their defense, and Barron appears to be the best value at this spot. His stock is down because of an injury, but we have seen Bill Belichick roll the dice on injured players and capitalize on value.
Barron is an extremely physical player who will shoot like a cannon to make plays in the backfield. He can cover a lot of ground in a hurry and has great instincts and ball skills. He has experience lining up at linebacker in nickel situations, and he has the ability to be a cover-one center fielder.
Barron has his faults, but he is still better than anyone else in the Patriots secondary.
New York Giants: Zach Brown, OLB, North Carolina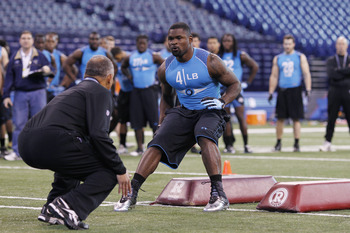 Joe Robbins/Getty Images
With each mock draft I make, the more skeptical I become of whether or not Brown will go in the first round.
He dazzled scouts at the combine, which comes as no surprise. However, as good of an athlete Brown is, he lacks the ideal toughness scouts look for in a linebacker. He is not going to run through blocks and impose his will. He also whiffs on a lot of tackles.
Either way, adding a player like Brown makes a lot of sense for the Giants. First, it gives the Giants more depth at a position that faced a lot of injuries in 2011, and will also give them another player with a lot of athleticism, which they lack outside of Michael Boley.
Second, should Osi Umenyiora leave via free agency, the Giants will be able to move Mathias Kiwanuka back to his natural spot at defensive end and move Zach Brown into the lineup. Kiwanuka was forced to move to linebacker a few seasons ago, due to the lack of athleticism the Giants had at outside linebacker and the glut of talent they had at defensive end.
Keep Reading