NCAA Tournament 2012 Predictions and Picks: Help to Fill out Your Bracket
March 13, 2012
Streeter Lecka/Getty Images
You are no doubt scrambling to absorb all the information about the NCAA Tournament that you can to make your picks. But before you make your final predictions and turn in your bracket, we have compiled a definitive list of things to look for and avoid. 
When you fill out so many brackets, your mind is going to be so shot by the time the games start that you will start breaking through doors with an ax and yelling out "Here's Johnny!"
Here is a list of things that you need to do before turning in your sheet of integrity. 
Things Not to Do
Second-Guessing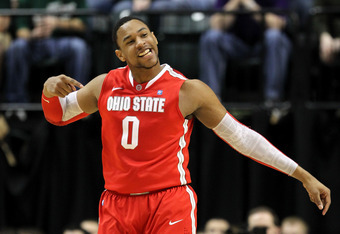 Andy Lyons/Getty Images
We all do this. 
Right before the brackets have to be turned in, like the minute prior to the games starting, you look over everything and try to talk yourself into an upset that really isn't there. 
"I don't have a No. 12 over a No. 5, but that happens every year. Which one do I take?" 
"Ohio State finished the regular season 3-3. Are they really back to being an elite team?"
Stop it!
When you start getting in your own head, it is time to put the pen down and let the picks be. 
Pick a Cinderella Just to Pick One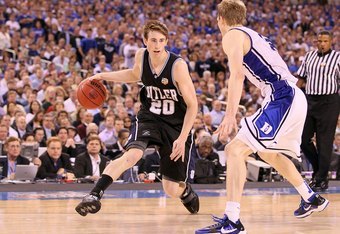 Andy Lyons/Getty Images
With VCU, Butler and George Mason making improbable tournament runs in recent years, there is a trend developing that forces many fans to feel obligated to make a Cinderella pick. 
That is where you get into trouble. The problem is, Cinderella stories don't happen every year. If they did, they wouldn't be Cinderella stories. They would just be commonplace. 
If you really study the "underdog" teams in the tournament, it should not be that hard to find a team that will come out of nowhere to make an Elite Eight or Final Four run. 
Avoid No. 1 Seeds in the Final Four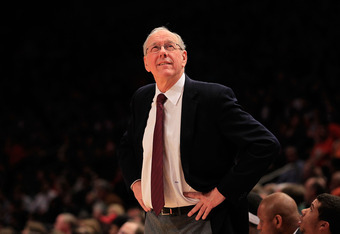 Chris Trotman/Getty Images
Parity is reigning supreme in college basketball this year. In fact, the last three years have seen just three No. 1 seeds make the Final Four. 
If you want to send one top-seeded team to New Orleans, that's OK. But don't put all your eggs in the Kentucky, Syracuse, North Carolina, Michigan State baskets expecting to be rewarded. 
Of those four teams, North Carolina has the easiest path. But even that is dicey due to the health of John Henson. 
Tread cautiously with the four big boys in this year's tournament. 
Things to Do
Play the Hot Hand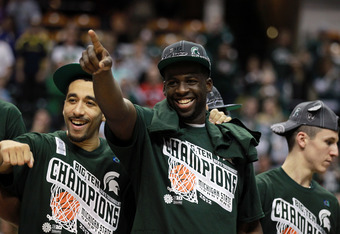 Andy Lyons/Getty Images
We have seen teams get on rolls in early March and ride that wave all the way to a national championship. It happened with Duke two years ago and Connecticut last year. 
Momentum entering the tournament is far more important than overall record. Teams that are playing the best coming in are the most likely candidates to win the whole thing. 
That means power teams like Michigan State, Missouri and Florida State, along with smaller programs like New Mexico and Saint Mary's, should be getting a lot of love on your bracket. 
Look for Veteran Teams
One of the reasons that there is so much parity in college basketball right now is due to the one-and-done rule. Powerhouse teams always load up on elite talent that is going to leave for the NBA as soon as possible, but everyone else builds a group that can gel together for a few years. 
We always talk about the importance of chemistry and cohesiveness in sports. Smaller schools are able to build that with three- and four-year starters. 
Overrated Teams to Avoid
Baylor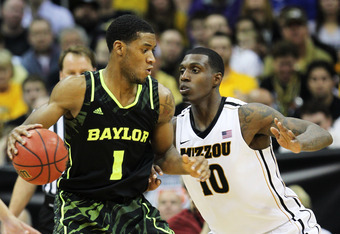 Jamie Squire/Getty Images
After losing to elite teams like Kansas and Missouri multiple times in the regular season, the Bears finally put it all together to defeat the Jayhawks in the Big 12 Tournament semifinals. 
They did fall to Missouri again in the final, but there could be a groundswell of support for them now that they have conquered one of the conference beasts. 
Don't buy into it. 
They are still too much of a finesse team and rely too much on their offense to win games. The defense has struggled against better teams, which will make them an easy target the deeper the tournament goes on. 
Syracuse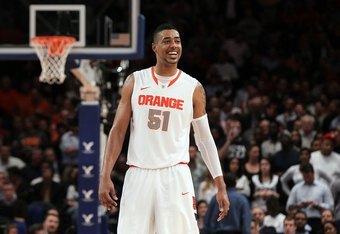 Jim McIsaac/Getty Images
Despite a 31-2 record, the Orange didn't prove much in the regular season. Nothing they did made you stand up and take notice. 
They don't have a dynamic offense that can put up a lot of points in a hurry if/when they get behind. 
While the defense is good, they don't have the size on the inside to create matchup problems for opposing teams. Fab Melo could have been that player, but he is out of action once again. 
The best team the Orange beat this year is an overrated Marquette team. It will be a quick tournament for Jim Boeheim's team.