2012 NFL Free Agents: Could RB Mike Tolbert Land in the AFC North?
March 13, 2012

Mike Ehrmann/Getty Images
The San Diego Chargers aren't expected to re-sign free agent running back Mike Tolbert, and their loss could be the gain of a team in the AFC North.

Tolbert is an extremely versatile back, rushing 121 times for 490 yards and eight touchdowns as well as notching 54 receptions for 433 yards and two more scores in 2011.

Let's take a look at the chances he could go to one of the division's four teams.


Cleveland Browns

The Cleveland Browns' general manager Tom Heckert has said the team won't be making a major splash in free agency, but picking up running back Mike Tolbert is hardly a flashy move.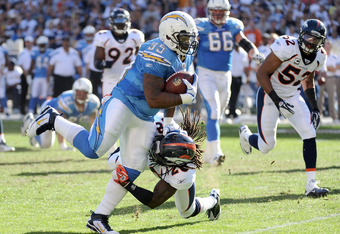 Harry How/Getty Images
The Browns are allowing their own starting running back, Peyton Hillis, to test the free-agent market before making him a new offer. If another team snags him away—or if the Browns anticipate that happening—the team will need to make additions at the position.
This can be done via the draft, of course, and the Browns are in excellent position to pick up Trent Richardson, this year's top running back prospect, with their No. 4 overall pick, but if experience and proven professional success are what they're after, Tolbert is a great fit.
Tolbert is also not a one-note back. He's got great hands and can play every down. Regardless of the quarterback at the helm of Cleveland's offense, Tolbert can provide a boost. The Browns can certainly afford him and he'd add a much-needed extra dimension to their heretofore struggling offense.
Baltimore Ravens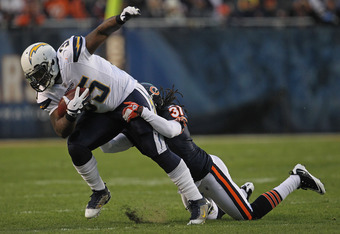 Jonathan Daniel/Getty Images
In one sense, the Baltimore Ravens bringing Tolbert on the team sounds like a smart move. He's similar in his versatility to the team's starter, Ray Rice, could help with blocking and provides a change-of-pace for Rice, allowing the star to take a rest every now and again.
But with the Ravens still hammering out a long-term deal with the franchise-tagged Rice, adding a player like Tolbert could harm negotiations if Rice's camp views it as a slap in the face.
Furthermore, Tolbert is likely looking to join a team where he can be the starter, not stuck behind a fellow back as he ended up in San Diego.
While it's an interesting option for the Ravens, they'll more than likely take a pass on Tolbert and every other free-agent running back in the coming days.
Pittsburgh Steelers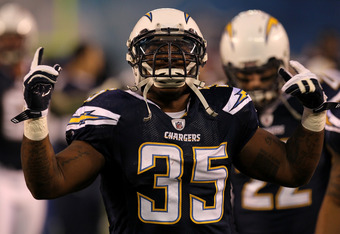 Stephen Dunn/Getty Images
No, the Pittsburgh Steelers won't have starting running back Rashard Mendenhall for almost the entirety of the 2012 season.
Yes, their cap situation isn't as dire as it was just a month ago, but those two facts don't equate to the Steelers making a veteran addition at running back this offseason.
First, there's the fact that the Steelers already have depth at running back, with Isaac Redman likely the team's No. 1 back this year, and Jonathan Dwyer, John Clay and Baron Batch will all be backing him.
The Steelers could also use a little of their cap space to re-sign Mewelde Moore if he isn't picked up by another team in free agency, and there's always the draft, where gems can be found in later rounds.
Pittsburgh's cap room is best spent making some space for a contract for wide receiver Mike Wallace, if no other team steals him away, and paying their upcoming rookie class. There's no need to add Tolbert or any other free-agent running back this year.
Cincinnati Bengals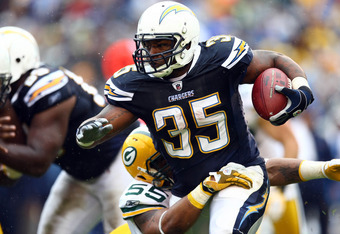 Donald Miralle/Getty Images
The Cincinnati Bengals have just over $50 million in cash to spend and aren't going to keep Cedric Benson around, so it makes sense that they consider adding Tolbert to their roster.
Tolbert has the rushing talent they need, plus the added bonus of being useful in the passing game, which has never been Benson's strong suit (he caught just 15 passes for 82 yards and no scores in 2011).
The more targets for quarterback Andy Dalton the better, especially short-yardage targets like Tolbert. Not every pass can be deep to A.J. Green, but the team needs to continue its focus on throwing the ball effectively. Adding Tolbert into the mix could easily do just that.
I see the Bengals making a bigger play for Michael Bush, another free-agent, instead. But should Bush sign elsewhere, or if they aren't actually interested in Bush, Tolbert would be worth their attention and their dollars.