Jay Bilas Bracket: What ESPN Guru Is Predicting for Michigan in NCAA Tournament
March 13, 2012

Jonathan Daniel/Getty Images
It's safe to say that Michigan Wolverines basketball is back on the map and that expectations are high going into the 2012 NCAA Tournament, but what does ESPN expert Jay Bilas think?
Ever since the Fab Five, Wolverines basketball has been struggling to find a sense of purpose, pride or relevancy within the college basketball world.
With the Michigan State Spartans being so dominant in state, and the football team being so prolific, it was easy for people to pass off the basketball squad as largely irrelevant.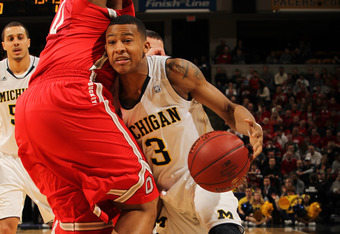 Jonathan Daniel/Getty Images
Times are changing, though.
Led by superstar freshman guard Trey Burke, the Wolverines have burst back onto the national scene and come in the the 2012 NCAA Tournament as a No. 4 seed in the Midwest Region.
Here's what Bilas has to say about the Maize and Blue:
ESPN's Jay Bilas on the Wolverines Bracket:
Round of 64—Michigan over Ohio: Ohio is solid defensively and a very good offensive rebounding team. D.J. Cooper is an outstanding guard and Nick Kellogg can really shoot it, but Michigan is better and should be able to win.
My Take: I really have no disagreement here. Ohio isn't going to just roll over and let the mighty Wolverines destroy their dreams. It will be a good game, but in the end, Michigan is the much better team.
Round of 32—No. 4 Michigan over No. 12 California: The Wolverines can shoot it, and play a different style. Cal should give them a hard game, but Michigan is better.
My Take: There's no doubting that Michigan got a great draw in this tournament. They should be able to beat Cal handily.
Sweet 16—No. 1 North Carolina over No. 4 Michigan: North Carolina should be able to speed the tempo against the Wolverines. Carolina's rebounding and shot-blocking should be the difference. But Carolina has to guard the 3-point line.
My Take: Every dream comes to an end, right? If somebody told Michigan fans that their basketball team would be in the Sweet 16 a few years ago, they would laugh at you. Now, it's a very realistic possibility. This would be a very successful tournament run for the Wolverines.
Conclusion:
Thinks are starting to look up for Michigan basketball, and Bilas's pick of them going to the Sweet 16 really says a lot about the program as a whole.
It's still going to take some serious effort over the next week, but this is a growing team and a thriving program. The school name is big enough to recruit itself, and if they can keep putting a winning team out on the floor, the sky is the limit.